Project Report

| Sep 26, 2019
Field Intervention Report: July, Aug & Sep 2019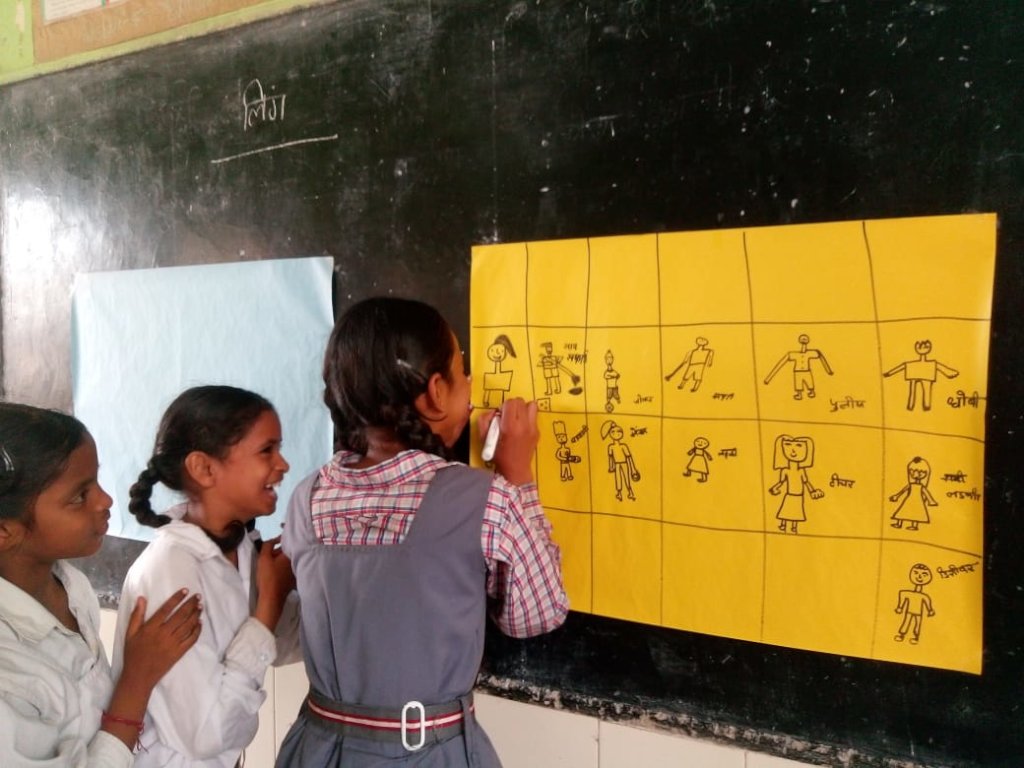 Education is the most powerful weapon which you can use to change the world- Nelson Mandela
Session on Gender Stereotypes of Occupations
Apne Aap organised a session on gender stereotypes of occupations in MCD Primary School with hundred girls. At the workshop, the girls were asked to draw painters, lawyers, doctors, teachers, driver, carpenter, engineer, etc. The images were exactly what has been taught since ages; i.e; the teachers were drawn as women, lawyers as men, carpenter as men etc. Later, we discussed with the young girls how a man can also choose to be a teacher and woman can choose to be a lawyer. Occupations are not restricted to gender, it is the practice of decades that has created these myths.

Session on Eradicating Child Sexual Abuse

The session on Eradicating Child Sexual Abuse was organized at the MCD Primary school where hundred and twenty girls participated in the workshop. The girls were shown short clips based on child exploitation and were discussed the safe and unsafe touch. Through these workshops, we also build up confidence among girls to immediately reach out to family members or teachers at the school.

Open Mic Session on International Literacy Day

On 8 September, International Literacy Day, we organised an open mic session at the school with the girls. We discussed how the day is celebrated globally and the importance of education. The girls at the school come from marginalised and isolated communities where spending time in school is considered as waste.We encouraged them to study and dream and also help other girls in the community who have not seen the school gates yet.

Art Workshop: Coloring the mountains

When everyone globally is talking about the climate change, we organised an art workshop on the theme coloring the mountains, where we handed a sheet of paper and poster colors to the girls at the school and asked them to draw and color the mountains. Later we discussed how our environment is being destroyed and the urgent measures needed to correct the damange.
Art Workshop: Using the food we eat
At this workshop, we handed a sheet of paper and asked girls to draw and decorate using the food we eat and other kitchen items. The girls made school, home, teacher, flower, tree etc.
Community Classes
The community classes are held in the evenings for school-going and drop-out children. Apne Aap members help the children finish their homework and teach the drop-out children basic English, Hindi, and Maths.