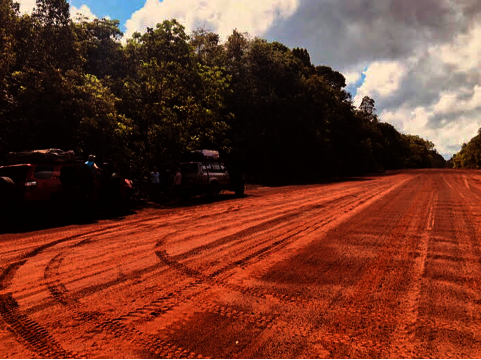 Remote Area Medical® - RAM and its volunteers are closely watching travel restrictions and updates around the world. Throughout the global pandemic, RAM has continued to hold domestic clinics which look very different from the pre-pandemic 'normal'. Many precautions have been put into place to protect patients and volunteers and stop the spread of COVID-19. However, international travel restrictions have kept RAM staff and volunteers stateside and our international clinics have been put on temporary hold following CDC guidelines. Our dedicated volunteers are looking forward to returning to Guyana as soon as possible. One such volunteer, Jacqui, has attended multiple Women's Clinics in Guyana, and has shared a wonderful recount of her time there and her anticipation of going back when she can. Please enjoy the viewpoint of this wonderful volunteer:
RAM Volunteers in the Beautiful Rupununi Savannah
RAM volunteers from all over the world meet together twice a year in the bustling capital city of Georgetown, Guyana in anticipation. They arrive as strangers and leave as lifelong friends. Vehicles loaded with clinic supplies, medical instruments and eager volunteers set off in convoy before the sun has a chance to rise over the country. Synonymous with Interior travelling, the Trail is a long, dusty orange road that cuts straight through the heart of Guyana, passing beside the luscious Iwokrama forest and opening out into the unspoiled secret jewel that is the Rupununi savannah. It's hard to sum up the beauty of the Rupununi in an article so we invite you to throw caution to the wind, sign up as a volunteer and serve the wonderful people you will meet in Guyana.
The Trail is not for the faint-hearted. To some, it's bumpy, dusty and hot but to RAM volunteers it's exciting, familiar and marks the start of yet another successful medical outreach expedition. The Trail starts in Georgetown and runs down to the border town of Lethem located in South Rupununi. Our wonderful Guyanese drivers are hard working in the face of adversity, know the land like the back of their hands and are compassionate to their core. They fix all known and unknown vehicular problems by the side of the road, know where the best bathing creeks are and have a natural understanding of what needs to be done to get medical care volunteers to where they are needed most.
The Rupununi is a vast expanse of land covering a large area of Guyana but also reaching into Brazil and Venezuela. Maps are of no use in finding the tracks the team need and new GPS devices are useful but nothing surpasses local knowledge. Sometimes a single tree or blown-out tire by the side of the road may be the only marker to indicate a village lies ahead.
Driving to different villages each day to hold clinics and provide medical care is our volunteers' raison d'être. The beautiful scenery and a plethora of native animals are the reward. A typical day might involve being awoken by a nearby troop of Howler monkeys, emptying a scorpion from a sandal before setting off for the day, catching sight of a lumbering anteater whilst driving across the plains to set up clinic, or being witness to a huge Jabiru stork taking flight. If a volunteer is especially lucky, they may catch sight of the country's elusive Jaguar as dusk settles.
If the rough and tumble of volunteering in Guyana is not for you, there are other ways to help RAM get medical care to remote villages in the Rupununi. By donating to RAM, you are helping to ensure medical care gets to where it needs to be. Just as RAM's founder, Stan Brock, would've wanted.
Jacqui, RAM Volunteer
Remote Area Medical is grateful for our volunteers like Jacqui. We could not exist without them and their dedication to RAM's mission of free, quality healthcare to those in need.