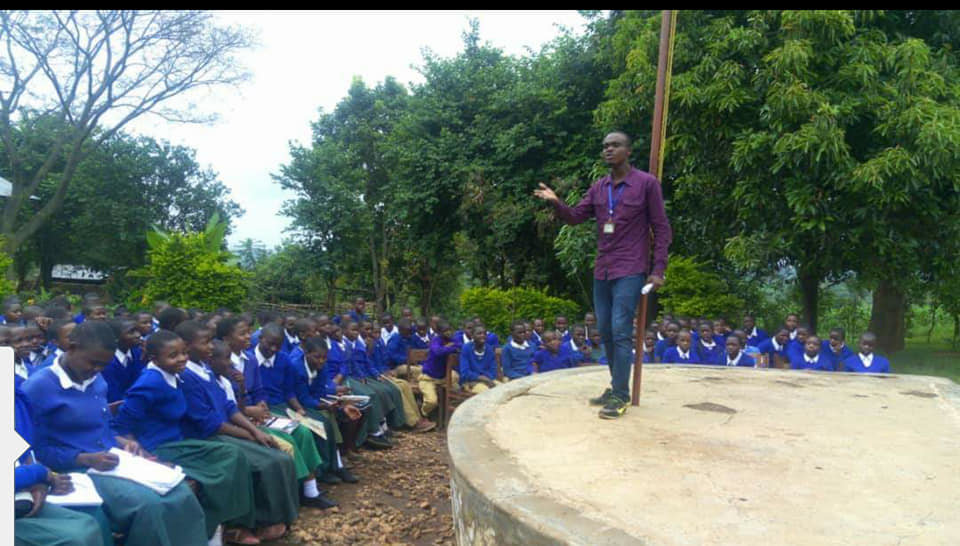 Dear Project Wezesha Supporters,
We are pleased to offer a Fall update on students in our program. Many of them have been with us for many years – because they are awesome and continue to progress along their educational paths! Check out these amazing stories:
*********************
College Graduates – May 2020
Tumsifu, Saidi and Dibeit are in their third and final year of University! They are all doing very well and are enthusiastic about their upcoming graduation and the opportunity to start work as young professional men. Tumsifu and Dibeit will be practicing medicine with a focus on maternal and child health. Saidi will be aiming for a career in banking with his degree in Economics.
Recently, Dibeit visited a secondary school and literally took the stage to talk with a captive audience of young students (see picture). He reflected on his message in the following post that he shared on Facebook:
To treat or to prevent ?? I think it's better to put more efforts to prevent diseases rather than to treat them, because to prevent is simple and costs less and does not need much technology. But treatments are costly and sometimes can lead to permanent disabilities, loss of hope, side effects from medication. Prevention is much more effective; you can educate thousands of people within one hour and 80% of them are changed and saved.
This message is for all my friends on Facebook - I need you to support me by telling your neighborhood, friends, kids, and students to avoid practices like unsafe sexual behavior, smoking cigarettes, unsafe abortion, excessive alcohol drinking, peer pressure, and drug abuse since all of these can danger their health status and destroy their future.
I'm focus on the young generation who have more time to change the world and pursue their destinations. (I'm happy and I'm doing that every day.) I hope more than 80% of my friends on Facebook are going to support me.
**************
A New Cohort of University Students
This year, four of our students completed Form 6 (High School) and recently found out that they have been accepted to University!! Huge congratulations to Waridi, Simoni, George, and Ezra.
Waridi was accepted to Mbeya University of Science and Technology and plans to pursue a BS in Electrical and Electronics Engineering, which is a 4-year program.
Simoni was accepted to the University of Dodoma and will pursue a BCS-MD – BS in Doctor of Medicine, which is a 5-year program.
George was also accepted to the University of Dodoma and will pursue a BA in Environmental Disaster Management, a 3-year program.
Ezra will attend Mpwapwa Teachers' College with the goal of attaining a Diploma in Science, Mathematics and ICT to teach in secondary school – a 3-year program.
We especially need you now as we strive to raise the necessary funds to support our next cohort of higher education students! We are happy to report that Waridi, Simoni, and George have all received partial government support, which will cover most of their fees; however, there are many costs that they will each still incur – including registration fees (average $250 each), field placement fees, transportation and lodging.
Our students' families will help as they can, but in keeping with our mission – we have always chosen to support those most in need in remote regions, which means our students' families are poor subsistence farmers who basically grow crops and/or catch fish in quantities enough to feed their families and trade for basic necessities. Even an expense of $50 is an exceptional sacrifice for them. In December, we should know precisely what the exact fees for each young man will be. Stay tuned, and in the meantime – please consider making a donation so we have the funds for these university dreamers!
****************
Khadija – A New Business Owner
Another student from one of our earliest cohorts of students is Khadija. Khadija is the daughter of former Mgaraganza Village Chief, Bitata. Her brother Ashahadu and sister-in-law Janny have been generous hosts to Lucas, me and several of our volunteers and guests over the years. It makes all of us very happy and proud to see Khadija in her newest role as an entrepreneur. With the support of Project Wezesha donors, Khadija was able to complete secondary school and then attend vocational school to earn a certificate in clerical studies. She completed internships in offices in Kigoma and Kasulu. Then for three years she made a brave move to work in Muscat, Oman through a family connection.
She saved most of her salary and returned home to Kigoma last year with the capital she needed to launch her own business -- she fulfilled her dream of opening a stationary shop in Kigoma town (see picture). She sells office and school supplies and has a copy machine that allows her to offer much needed copy, fax, and scanning services to hundreds of citizens in Kigoma. Fortunately for Khadija, she married a young professional man who stands by her choice to continue working.
****************
Rabia – A Tailor in the Making
Another long-time student with Project Wezesha is Rabia. She is now sponsored through Girls Education International, however she joined our program years ago as a Form 1 secondary school student. We supported Rabia through secondary school and she had the opportunity to attend several of our academic study camps. After completing Form 4, Rabia chose to take a long course in tailoring at the Vocational Training and Education Authority (VETA). At VETA, she studies a number of courses including English for engineering, engineering science, math, life skills, technical drawing, entrepreneurship, theory, and a tailoring practicum. She is excelling in her math, theory, life skills and practicum courses. Engineering science and English are challenging for her. Nonetheless, her skills are progressing and we can't wait to learn about her professional future path! (See pictures of Rabia and some of the items she has sewn.)
****************
You are the key to their success and we need you now more than ever!
Share this report with friends via your social media channels (sharing buttons below).
Invite friends to contribute so we can add to this great collection of success stories.
Consider hosting your own fundraiser for this campaign or simply donate by clicking Give Now.
With sincere gratitude,
Rai Farrelly & Lucas Lameck
Co-Founders, Project Wezesha
www.projectwezesha.org