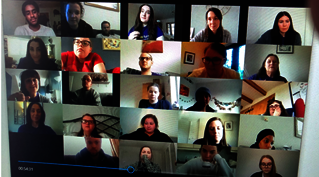 Young people fighting cancer are stripped of their confidence and self-esteem, they are unable to see a future beyond their illness. And that's what Discover You, is all about - motivating the young people to reinvent themselves, to grow, learn new skills, meet interesting and inspiring people, and to leave the conference feeling like the world outside is theirs to command.
The Covid-19 Crisis of 2020/21 meant that we have had to rethink our beneficiary service delivery – and we have not been afraid to reinvent ourselves. True to our values, we did not let the pandemic stop this positive and powerful opportunity bringing together over 60 young people aged 13-24, from across the UK, who are all fighting cancer.
Discover You 2021became an online conference with the same objectives of delivering positive, powerful insights and amazing take-aways to ensure that the beneficiaries
gave themselves time and space to think
created new visions, set realistic goals, and increased motivation
had access to influential keynote speakers, collaborators and mentors who provided guidance and perspective and acted as role models
learned practical, powerful skills which will help them to rebuild their confidence to return to education or early employment
explored some lifestyle, and self-care choices needed to move on positively
learned how to integrate peace and calm into their daily lives
And importantly,
met other young people who genuinely know what it is like to face cancer in your teenage and early adult years
As the young people registered for the event, they were sent a welcome pack which contained a small selection of gifts to help with the objectives of the event – self-care items such as hand cream, lip-balm, calming teas and some delicious, sweet treats, as well as adult colouring and puzzle books to help with mindfulness and relaxation and positive thought cards for daily reminders about the importance of being kind to yourself.
We welcomed 67 Teens to Discover You 2021, kicking off the event with a high energy ice breaker hosted by the amazingly talented and incredibly engaging MC Zani. As much as this high-octane ice breaker was great fun and had the group "boots and cats"- ing like professionals, there are documented health benefits of beat boxing. It's known to improve your vocal cords and your breath control, its increases creativity and allows participants to really express themselves. Being able to identify and express feelings through creativity, improves the physical, mental and emotional well-being of the Teens, so many of whom suffer anxiety following their diagnosis and treatment.
Following this uplifting start to the day, the Teens headed to their chosen breakout group.
Some chose a fitness session with the guys from FLX Fitness which gave them an opportunity to test both their physical and mental strength. They were supported and encouraged and learned ways to rebuild not just their physical strength, but also their confidence and self-esteem. For some, it had been some time since they had done any activity, and the session left them with a real sense of achievement to resume physical activity helping them to understand what they can achieve in all aspects of their life.
Others chose a Yoga and Mindfulness session with Tara Trautman. The Teens learned techniques that helped to calm them, reduce their anxiety and fear. They learned how to combat the fatigue commonly felt by people with cancer. This kind of fatigue is different from the fatigue of daily life and different from the tired feeling people might remember having before they had cancer. It is commonly described as feeling very weak, listless, drained, or "washed out" and a feeling that may decrease for a while but then comes back. The skills they learned here, with Tara, will help them going forward to address this feeling as well as improving their sleep and slowly start to rebuild their physical strength.
The remaining Teens headed to the Self Care Talk Lounge, an informal session hosted by our own team, where they offered support to each other on a whole range of physical, mental and emotional issues. Hearing the young people telling each other the importance of self-care, encouraging each other to create and maintain healthy relationships with themselves, and offering suggestions for simple things they can do to look after themselves, from regular sleep and a healthy diet through to having a warm bath and reading a book or listening to music, was just heart-warming, and shows how very special this little Community we have created is. The support they offer each other crosses the boundaries of age, it crosses the boundaries of gender, ethnicity, religion, social class and education. Their strength lies in the thing that unites them, their common experience – facing a life-threatening illness in their teenage and young adult years. And the self-care talk lounge demonstrated this with abundance.
After a break for lunch, we all returned and had the absolute privilege of meeting three young people who have been supported by Teens Unite on their cancer journeys. They bravely shared their stories of derailment, disappointment and determination, stories of isolation, loneliness and finding lifelong friends, they faced questions from the Teens about how they found strength and built resilience and how they returned from serious illness to have happy, fulfilled lives, facing the future with strength and determination.
Totally motivated by the stories of their peers who had returned to education and employment following their cancer battles, the teens headed to further breakout sessions, this time focussed on careers, education and a return. Almost three quarters of young people diagnosed with cancer worry about the impact it will have on their future education or employment, and these sessions were designed to address those worries, and help the young people to see that their chances of success have not been impacted by the time they have had to take out. The Teens chose to attend sessions about fashion design with FVCK Cancer, web and app design with The Life Group, returning from cancer with Dr Anisha (a cancer survivor herself), or a talk called Discovering your Strengths by founder of The Comeback Club. Some of these sessions offered work experience opportunities which the Teens relished and were keen to explore. They provided an excellent opportunity to learn from the best in the business and to provide the confidence to look forward to a future beyond illness.
The day ended in the most inspirational of ways as we were joined by international motivational speaker, former Teens Unite Trustee, and teenage cancer survivor, Chris Lambert-Gorwyn. Chris's high energy session told how he sees himself as the lucky one having had cancer as a teenager; how it has taught him to take the positives from all situations; to celebrate small successes and to see every step, not matter how small, as a step towards your goals and aspirations. This was a very fitting end to a day of positivity and motivation and ensured that the Teens left the event having met the objectives of the day – they learned some new skills, met interesting and inspiring people, and left feeling like the world outside is theirs to command.
91% felt more inspired after attending Discover You
91% felt more motivated
87% felt like they could challenge themselves more
83% felt more connected with other young people in a similar situation
This is an incredible legacy for our GlobalGiving Supporters to have helped create and we are very thankful for the generous finding that has enabled these opportunities.
From all at Teens Unite, thank you!