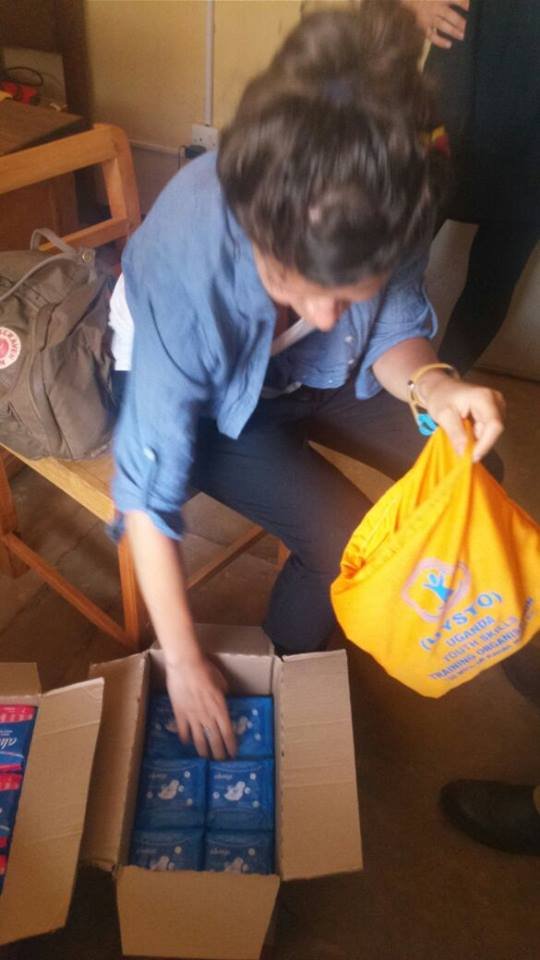 There time came and GlobalGiving disburses donations collected for buying sanitary pads for the poor urban school girl child to Uganda Youth skills Training Organization. The process of delivering sanitary pads was underwent, preparations were arranged together with volunteers from Lithuania and Uganda as well as youths at UYSTO training center, something that kept their mind unsteady, to find out that girls in schools cannot access sanitary pads, as this one was not enough, they also got it on their arrival at school from the teachers, that teachers too cannot afford to buy sanitary pads.
While on arrival, joyous groups of cubs surrounded us with marvelous songs, praising us for the support rendered to their sisters, this inspired us to raise up our banner written on "Uganda Youth skills Training Organization together with its individual donors through Globalgiving donates sanitary pads to poor urban school girl child"
UYSTO voluntary staff and the director, were welcomed by the deputy head teacher at Namungona Kigobe primary school and presented the visitors book for signing, thereafter we had meet the teens who were full of joy and ready to receive their packages.
The deputy head teacher welcomed us once again and presented her speech and in her words, she appreciated the package and the work done for the young girl of Uganda, and requested UYSTO and Globalgiving to continue what she called "unusual work" helping those that you have never met.
I cannot believe that what you are telling is true, that you got this support to us from individuals who do not know us, the deputy head teacher Rebecca said.
Rebecca, after her speech called UYSTO director to talk to the cubs and the UYSTO director assured the learners that its true all these are from people who do not know you but felt touched when they came to learn from UYSTO that girls drop out of school due to lack of sanitary pads as a result of parents being unable to afford sanitary pads for their children to be in school. They tiredly work hard to see that you stay in school, learn and be productive citizens of your country and the world at large. Bob the director Uganda youth Skills Training Organization, appreciated the management and staff of Namungona Kigobe primary school for the efforts put forward in upraising the girl child in Uganda. Added that "when you educate a woman, you educate the entire nation"
The handing over of the sanitary pad kits to the beneficiaries, was by the two volunteers from Lithuania and these were Donata and Fausta, who did it in the most wonderful and amusing way, full of joy and wonderful presentation.
One of the beneficiary Racheal, was requested to say a word of appreciation and in her words, she said " it's the prayers that we have been saying every morning on the assembly, that UYSTO and her kind hearted partners are able to keep us in school with this kind of support ,and requested UYSTO staff to extend couples of thankful messages to Globalgiving and that most especially to those who donated without knowing the beneficiaries.Since we now have everything required of us to be at school,we promise that, they are no more excuses. Racheal said.
Ended the function with praising songs from cubs following us to our old Regius car, entered 20 of us in number off back to UYSTO.
Thanks to all of you our most loved and wonderful donors for the love, kind and generous support you have put in place for the betterment of Ugandan girl child to attain education for future shining child and Uganda