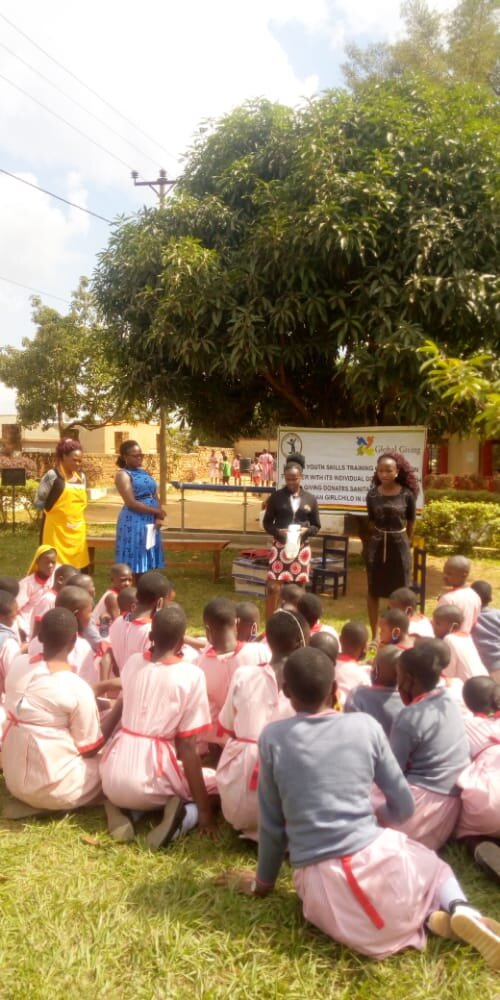 We are living a post covid impacts and this is worse than covid lockdowns. The support rendered came in the right time when the beneficiaries needed it. Unlike previously when targeted Namungona Kigobe primary school and Uganda Youth Skills Training Organization (UYSTO) young girls, this time we included Tula primary school Kawempe. A total of 130 beneficiaries has been reached, during the second term but this would cover up a period of 3 months.
Truth to be told, whenever UYSTO conducts field activities, the happiness is exhibited in the faces of young girls. Their testimonies have it all, the likes of Nakato, she confessed how she was using toilet papers, old cloths and sometimes her young brother's old stockings which were all never safe, reliable and sustainable. So, its worth to note that the provision of sanitary pads, usage and general awareness information save young girls from regularabsenteeism.
Great appreciations go to our donors who are always able to respond to our cause and cry for help with a drastic support of providing funds for conductingawareness, buying sanitary pads and promote the menstrual hygiene management lessonsto poor urban undergoing school girl child in our catchment areas.
Besides having been able to reach for 130 girls in three urban schools with sanitary pads and menstrual hygiene management information, there are other challenges in relation to menstrual health for example disposing off the used sanitary pads. Along side the project, we plan to upload fundraising project for construction of incinerators at the two beneficiary locations.
This is valuable enough to appreciate every one's contribution in every capacity towards empowering and bridging the next generation with the empowerment of young girls through promoting their menstrual health, where tendencies of absenteeism from school and missing classes due to unmonitored and uninformed menstruation periods, would be managed by theschool management teams. Following the previous trends of sanitary pads support to the girls, its manifested that numbers of girls in schools have increased and class performance enhanced. For sure its worthy to support a girl child's education.