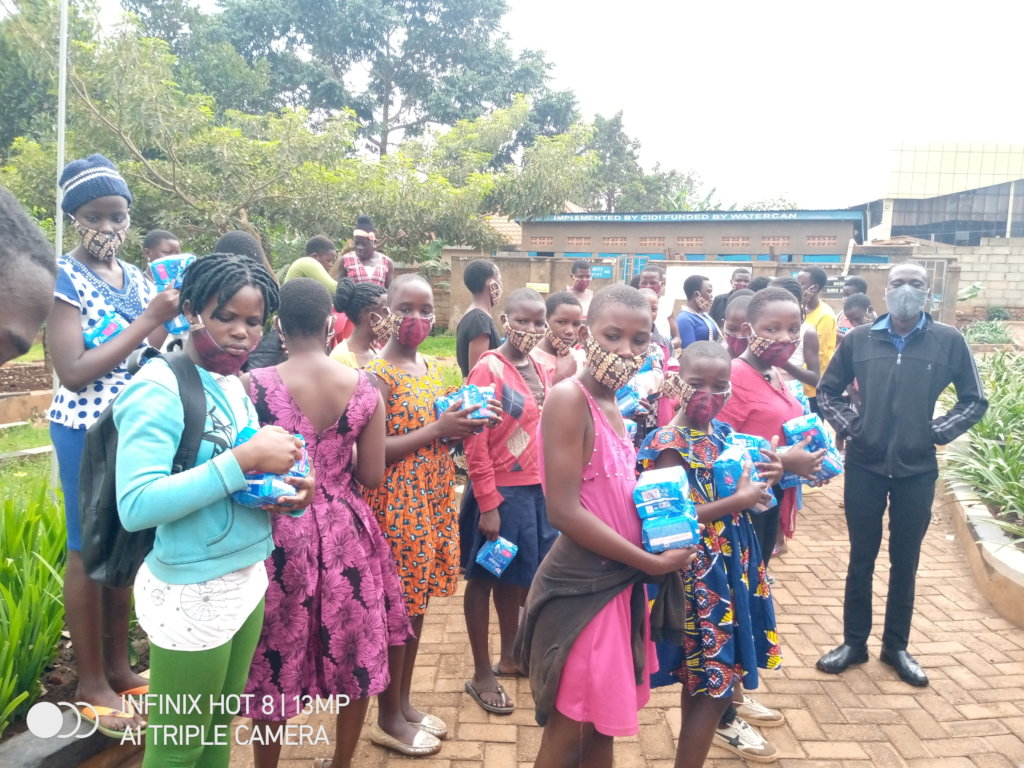 "It was one day, when the bad news of the lockdown clocked into our ears while at school, the schools are closing, this sounded like a joke, true to us as children, we could not believe it, but for sure it happened." Daphine our programs Assistant at UYSTO quoted Sarah saying.
In our last sanitary pads distribution event, I looked at these poor children with their innocence and rely got touched more, the pandemic has not only affected the economies of the world, but individually too, most specially the children and the women.
The situation looked worse with these girl's daily living life but nothing much that can be done without the intervention of the children activists, donors and the well-wishers. Thank you very much to all those who have managed to donate even in this economic crisis. The children through, Uganda Youth Skills Training Organization and GlobalGiving, do appreciate your support towards their well being.
During the distribution of the pads, we noticed other challenges, these included:
Using of the handkerchiefs as their masks, some came along with their parents also requesting for sanitary pads,masks,soap among others. This indicated to us that people are rely badly-off, need COVID-19 relief, looked like meeting the basic needs was something that could not be dreamt of soon.
Similarly, on the day of the sanitary pads distribution, we conducted a counselling session and we noticed a lot from these young girls, some were tricked into things like: I will be buying food, sanitary pads, masks to your family as this disease kills people without all those and you will be my girl friend, this is the only way you support your family as a girl. This put many girls into problems, as it was found out that some got pregnant through such tricks.
We were also able along side the distribution of sanitary pads, to distribute 5 masks to each girl who had come to pick the menstrual products. Help is seriously needed in all areas of relief. The analysis made from this, is that the period poverty is combining with survival poverty to cripple the success of humanity in life.
In this Covid, time, we have not only supported the girls with menstrual products but also involved them in some sports activities and sharing of other life experiences.The project was increased from 5o to 500 beneficiaries and this included in the UYSTO training centre teen girls as beneficieries too.
Girls sung the song, "long live UYSTO, GlobalGiving and Our beloved Donors, you rely matter a lot to us"
UYSTO message to our donors, thank you very much for all that long you have trusted us to be the link to your support to the poor urban girl child in the Universal Primary Education in Uganda though us,Uganda Youth Skills Training Organization, friends of the humanity and source of opportunities.
Donation message: Children are back to school, they still need your support, kindly continue donating for the next distribution phase, which will take place in early December 2020.