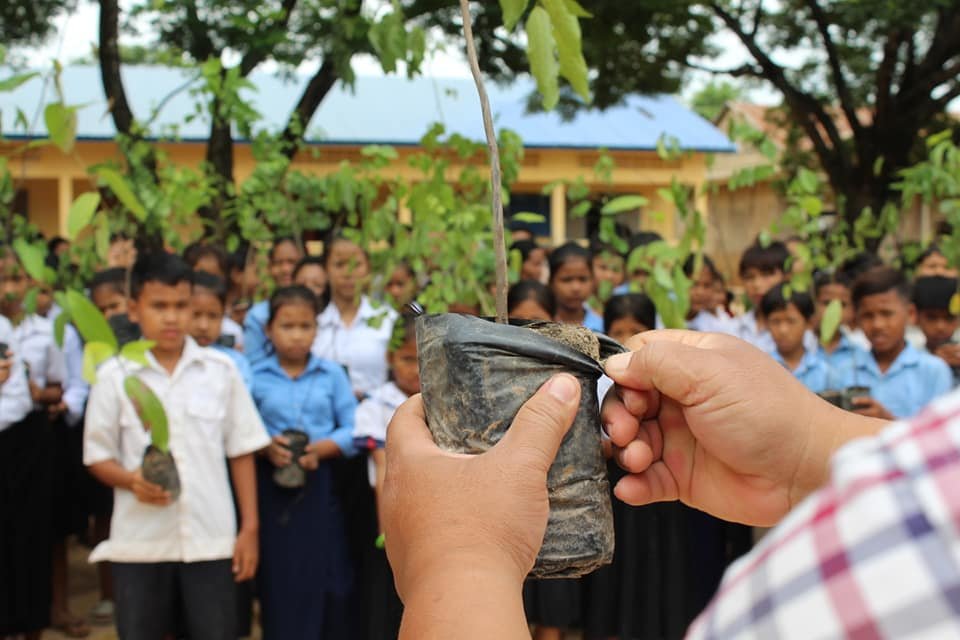 Cutting trees creates an immediate heating effect in the area. In fact, cities without trees are usually about 5 degrees Celsius (9 degrees F) hotter than forested places. Clearing trees contributes to climate change by releasing carbon into the atmosphere. It reduces the fertility of the soil. It causes erosion and dries out the soil. It diminishes the water table. Animals lose their habitat. People lose access to food, supplies, shelter, and sacred places.
This is a lot of bad news. Here's a bit of good news.
Peace Bridges Organization recently used funds from supporters like you to plant more trees in Prey Veng province. Prey Veng literally means "long forest" in Khmer. Unfortunately, very little of that forest is there. In Prey Veng, Peace Bridges staff also hosted workshops about the changing environment in Cambodia and climate change.
On the 7th of August, Peace Bridges met with 49 Christians in Preah Sdach district (Prey Veng) to facilitate discussions on the topic of "Jesus's Call to Care for God's Earth." Our facilitators shared some of the negative effects of cutting down the forest with participants. Some of them had never heard about their own forests, like Prey Lang and Preah Rokar. There was a great turnout and people were very interested in this important issue.
Later, we all went to Praposroluy Primary School to plant trees with the young students. They had a lot of fun digging holes and planting rosewood saplings. The teachers were pleased that they will one day have more shade on their school grounds.
Thank you for supporting our environmental education and reforestation initiatives. Though we are not a formal reforestation program, we believe these activities are important ways to engage people with hands-on learning about the importance of trees. When they see, hear, touch, and plant a tree for themselves, the theoretical becomes real and they feel more connected to the earth.
Thank you for your interest and support!