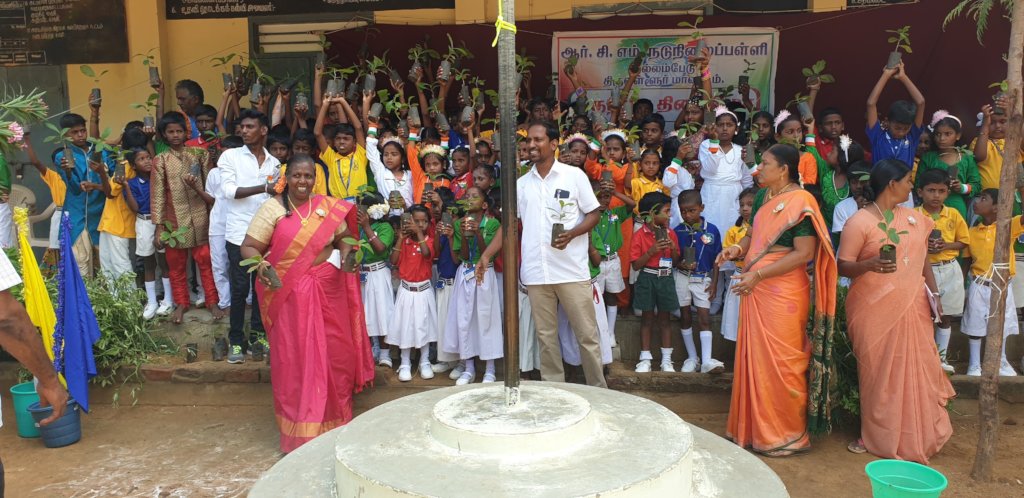 Respected Donor,
Warm Greetings from CHHASE.
Thank you for all your generous support for the Tree planting program through esteemed organization GlobalGiving.
With your generous support, CHHASE provided free distribution of palnts to 500 school children to plant at their homes, take care and grow.This kind of action will implant the habit of planting trees among the children. 50 trees were planted in schools during Independence day-15.08.2019.
RED ALERT
Fires spread in the Amazon protected reserve, turning the forest into ashes. The Amazon is helping regulate the climate of our entire planet. Any intact patch of forest matters. Fire fighting in the amazon will help us ensure we keep our planet healthy - for us and for our future generations.
We must look into already destroyed forest cover in amazon, which is going to affect over planet climate. Due to globalization, industrialization, already we are facing untimely strong cyclones all over the world.
Since long, CHHASE is taking action to plant trees more and more to offset the carbon. Now it is high time to balance our earth climate, which needs your planting as much as possible. This is a man made disaster and it has to be corrected by us.
We alert you to help to either plant more trees or provide trees to neighbours, friends and children to save our earth.
One of the school Head Master said" CHHASE is providing plants to our school children from last 10 years. Around 300 plants are planted in our school surroundings and are now they all grown well. CHHASE staff visit the children homes to select the best grown tree and they give prizes to children. Every year, they conduct not only awareness camps, but also they conduct essay Competition about how to save earth from climate change. With their support, we started environmental club. I appreciate this NGO for their responsibility towards environment."
Doctorate for Outstanding Performance for CHHASE Vincent Paul
CHHASE and staff are so glad to inform you that Mr.Vincent paul, secretary has been awarded Doctorate for his tireless social work towards Women empowerment, Girls Education, Better Livelihood, Health and environment by International peace university, Stuttgart, Germany. This doctorate made possible because of the support of all respectable donors and supporters along with the dedicated performance of CHHASE team.
Thanking you for your financial support and kind cooperation.
Respected donors, we welcome your valuable suggestions and feedback for this noble work. Please do provide your suggestions in the comment box to be more successful.

Many thanks again for your support!