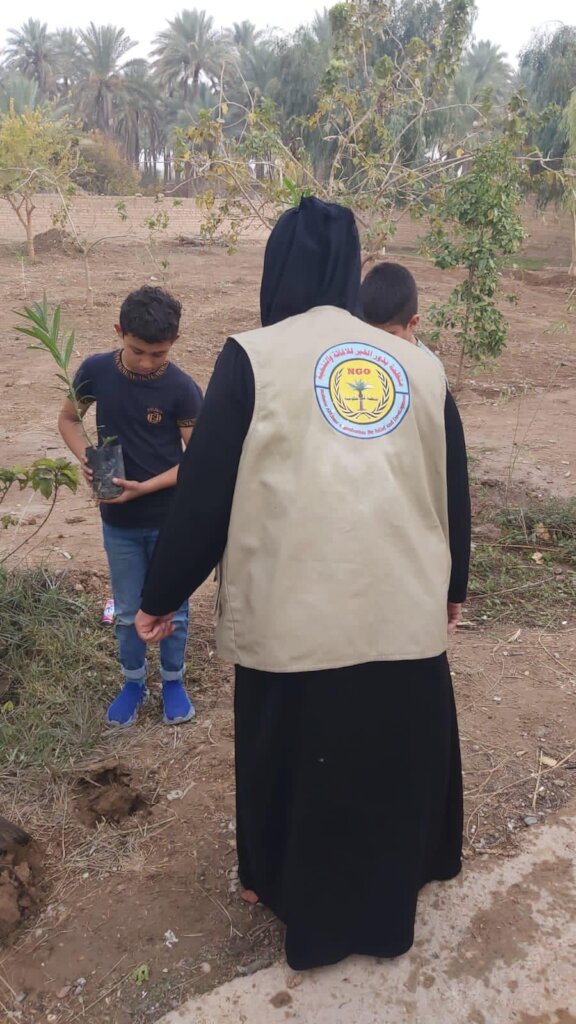 Our organization, through donations for this project, launched awareness campaigns for children in 10 primary schools, and planted trees in several governorates, where more than 1,200 trees were planted in schools, roads, and forests to preserve the environment, and held seminars with government agencies regarding climate changes and their consequences for society and the world. Your support for this project It has great results in saving the planet
Iraq is a country that is facing daunting and interconnected environmental, security, political, and
economic challenges. The impacts of climate change - many of which are already evident - will exacerbate
these challenges. Rising temperatures, intensifying droughts, declining precipitation, increasing
salinization, and the heightening prevalence of dust storms have undermined Iraq's productive sectors
and contributed to internal displacement of communities. Compounding these trends is the threat of water
scarcity as Iraq's water security is based on the Tigris and Euphrates Rivers whose annual water
discharge levels have decreased dramatically over the past 50 years due to expanding upstream
rainfall in the southeast part of the country has been decreasing at a rate of about 0.88 mm/month per
century while the number of rainy days has also been decreasing. The frequency of dust and sandstorms
has also been increasing across Iraq, with dry and dusty winds from the northwest occasionally reaching
108 km/hour at 300 meters above ground from April to early June and again from later September through
November. While the maximum number of annual dust storms during 1951-1990 was about 24, sources
Page 7 of 32
suggest1 that within the next ten years Iraq could witness 300 sand dust storms per year due to climatic
changes within the region, especially decreases in annual rainfall, as well as the drying of marshland
areas. Recurrent drought is also common throughout Iraq and has produced enormous economic,
environmental, and social impacts. For example, the average number of drought episodes per decade in
the Basrah region increased from 22 during 1990-2000 to 35 during 2000-2010, 2 sparking the
development of drought risk management plans in coordination with multilateral organizations.
3. In the future, projected climatic changes by 2050 include increases in average annual temperatures of
2°C, more frequent heat waves and fewer frost days, an overall decrease in average annual average
rainfall by 9%, with nearly double the reduction during winter months, an increase in heavy rainfall events,
and a decrease in run-off by 22%. Surface runoff and discharge associated the Tigris and Euphrates river
headwaters is projected to significantly decline through 2100, with an average change in discharge by
the latter part of the 21st Century between 20% and 30% for the Tigris River and between 20% and 35%
for the Euphrates River. Iraq's Initial Nationally Determined Contribution (INDC) in 2015 underscored that
such future climatic changes are expected to adversely impact several key sectors such as agriculture,
energy/infrastructure, public health, and water resources.