Project Report

| Sep 13, 2021
Helping Girls Get to School in Cambodia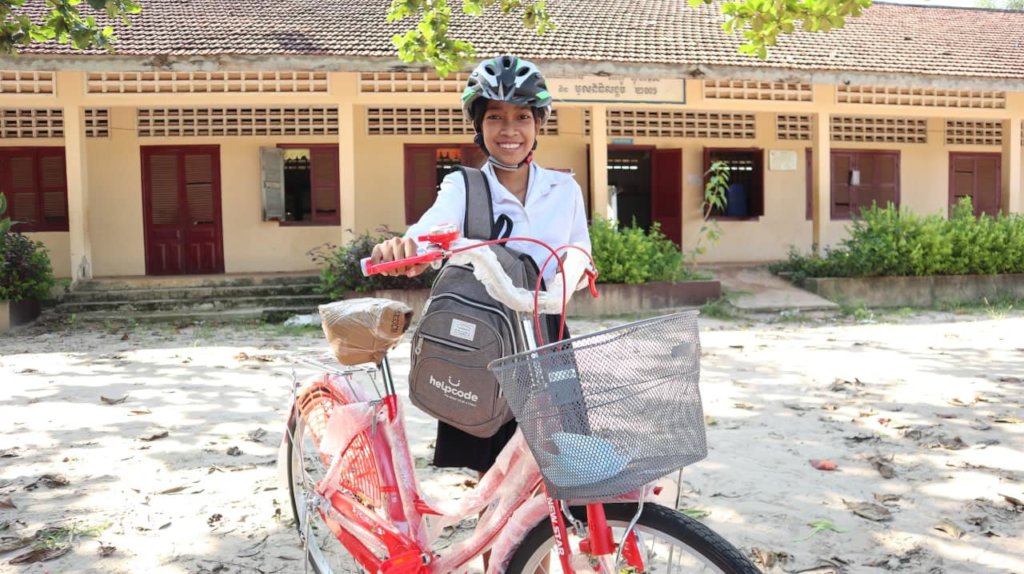 Poverty is the most disruptive factor for girls' education in Cambodia. Women in poorer provinces often face increased difficulty pursuing education. Besides needing to leave school to work for money, the distance from school is also a big challenge and prevents many girls from getting to school and having the chance of a better life. Many Cambodian girls face this problem; according to the World Bank, 79% of the Cambodian population lived in rural areas in 2018.
Helpcode Cambodia plan to buy 100 Bicycles to support girls from the poorest communities in the South of Cambodia get to school and begin peddling their way out of poverty to an education and a better life!
The project to date has raised 1340 EUR. The project has been significantly impacted by the COVID 19 Pandemic with schools closed again since February 20 2021 and government residential zonal lockdowns in place in Phnom Penh, Sihanoukville and Kandal and restrictions on public gatherings and regional travel.
To enable progress of the project with the funds raised to date the Helpcode Project Team has been working closely with School Directors to identify recipient female students of a Bicycle based on the national Poverty ID scale. All 100 girls most in need have now been identified from 40 villages in the provinces of Sihanoukville, Kampot, Kandal and the informal settlements on the outskirts of Phnom Penh to receive a Bicycle once the project goal of 9,000 Euros is reached.
The Project Team have purchased an initial 10 Bicycles with the funds already raised and have worked with School Directors and Village Leaders to identify 10 girls from the list across the 4 target provinces to receive these first 10 Bicycles. To this end the team worked to identify a supplier and have purchased the Bicycles, Helmets and Bicycle Locks for the first 10 participants in the program. The Team have also worked with the School Directors and Village Leaders to complete due diligence requirements with documents drafted for signing off by identified recipients on receipt of each Bicycle and outlining commitment to care of the Bicycle for recipients and their families to be signed on Bicycle Handover.
On World Bicycle Day June 03 2021 Helpcode Cambodia delivered the first 10 Bicycles to the first 10 girls participating in the program. All the girls and their families were very happy to receive their Bicycles and very grateful to have this support to assist the girls chosen continue to get to school and be able to do this safely every day.
Srey, thirteen years old, was one of the girls receiving a Bicycle on World Bicycle Day.
Srey has 4 siblings, 2 sisters and 2 brothers and she is the youngest in the family. Her family earns a living selling charcoal and fishing. Srey's mother Chann says the family struggle in supporting the whole family on the little money they manage to earn through this work. Chann explained Srey's siblings were only able to study up until grade 3 or 4 and then had to stop studying due to family poverty. Chann would like Srey to be able to complete High School, she's a good girl and studies hard.
Srey and her parents are very grateful to Helpcode for the support to her ongoing education: "With studying materials are enough from year to year and right now receive new bicycle, it is very useful for Srey to come to school, and thank so much Helpcode supporting our family and community."
To ensure the safe implementation of the Pink Bicycle Project moving forward Helpcode Cambodia has developed and implemented a COVID 19 School Re Engagement Protocol. The purpose of this document is to provide clear and actionable guidance for safe operations by and for Helpcode staff in the prevention, early detection and control of COVID19 when operating in schools and other educational facilities.
The Ministry of Education is hoping to be able to reopen all public schools in Cambodia soon as the COVID 19 cases here in country begin to go down.
The "Pink Bicycle" Project initiative aims to support the most vulnerable children in Cambodia with access to an education and to create supportive environments for children's health and wellbeing within the communities and schools in which we work.