Project Report

| May 19, 2021
10 new bikes to ride to education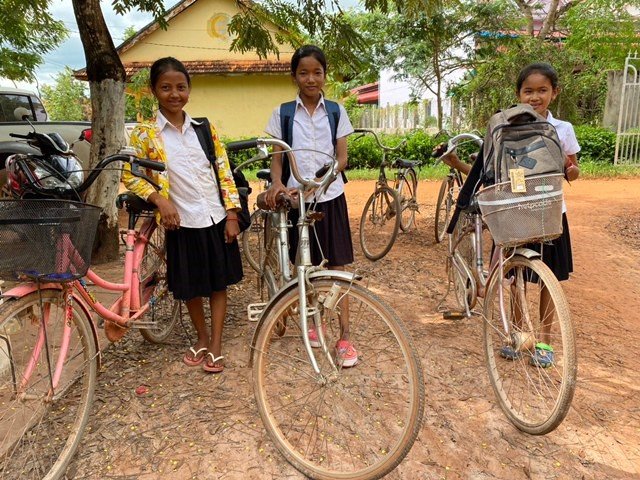 Our project will make a difference in the lives of children and their families in a simple way that has proven to be highly effective – providing them with bikes.
In Cambodia a bike is literally a ride to education:
Many students – in particular girls - have to travel a long distance to school, which is a big deterrent to attendance. A bicycle allows them to get to school and they can take one and sometimes two of their siblings with them.
The students' families can also use the bikes to get to clinics and to local markets.
This initiative supports local families that sell and fix bicycles.
Thanks to your donation, we reach a fifth of the budget. The project has been significantly impacted by the COVID-19 pandemic with schools closed again since February 20 2021 and government residential zonal lockdowns in place in Phnom Penh, Sihanoukville and Kandal and restrictions on public gatherings and regional travel.
Even in the time of Covid-19, cycling is encouraged, according to a statement from the World Health Organization (WHO). As long as you maintain safe social distancing practices, cycling to work or to go to school can help you avoid unnecessary contact with others, helping to limit the spread of the virus, and also help meet daily recommendations for physical activity to keep a good mental health.
To enable progress of the project with the funds raised to date, the Helpcode Project Team has been working closely with School Directors to identify recipient female students of a Bicycle based on the national Poverty ID scale. All 100 girls most in need have now been identified from 40 villages in the provinces of Sihanoukville, Kampot, Kandal and the informal settlements on the outskirts of Phnom Penh.
An initial stock of 10 bicycles has been selected from a local supplier for purchase of the Bicycles, Helmets and Bicycle Locks. The Team have also worked with the School Directors and Village Leaders to complete due diligence requirements with documents drafted for signing off by identified recipients on receipt of each Bicycle and outlining commitment to care of the Bicycle for recipients and their families to be signed on Bicycle Handover.
The Ministry of Education have not as yet made any announcement for the planned reopening of all public schools in Cambodia. Cambodia also received a good ranking from UNESCO as one of only 17 countries in the world that have given priority to vaccination against Covid-19 for teachers.
And when the schools will re-open… our girls will have a new bike to ride to education!