Project Report

| Sep 8, 2022
Girls education for future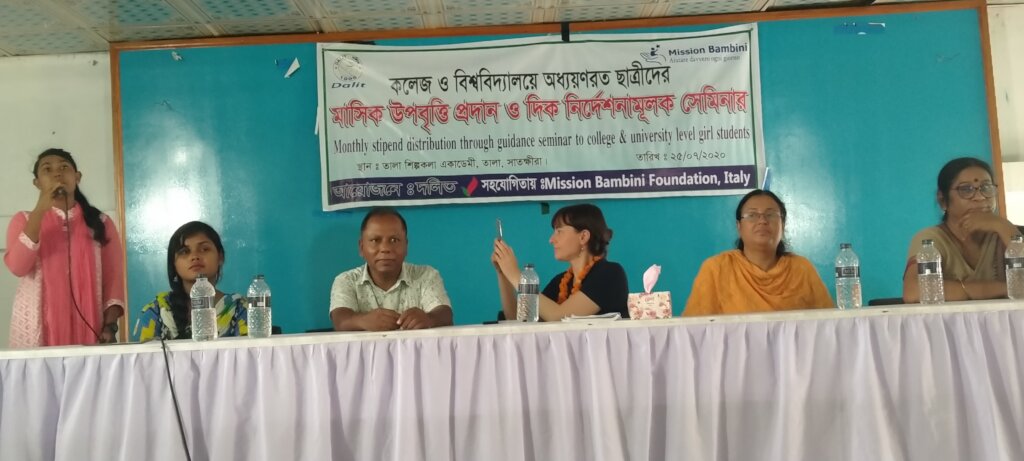 The intervention focuses on access to education for DALIT girls. Dalits are about 5% of the population but there has never been an official census because, according to the
Constitution of Bangladesh, castes no longer exist. In practice, however, the system is still in place,
despite the fact that 94% of the population is Muslim and less than 6% Hindu, due to the mass movement mass displacements of Hindus in India after the 1971 war and the relocation of some families still, given the violent incursions by Islamic fundamentalists into some villages where content deemed to be blasphemous on social media. According to the government there are 6 million Dalits but it is estimated that there are considerably more (around 9-10 million).
There is an increased awareness of Dalit rights at all levels of government. For example, currently
5% of seats in technical schools are reserved for Dalits and 1% at the political level. In the area of
DALIT, since January 2022, 54 boys have been admitted to government technical schools and, in the last elections in 2021, 10 leaders were elected to the basic level of the administrative subdivisions (known as the 'union or 'union council').
The socio-economic conditions of the population, including Dalits, have worsened due to both the pandemic covid-19 pandemic, which was met in Bangladesh with repeated extended lockdowns, and due to the war in Ukraine that has more than doubled the price of cooking oil and significantly increased the price of rice, which is the staple food. Many foods are also imported because the population is too high compared to locally produced resources.
Another important factor is climate change, which is making itself felt with a prolonged
drought in the south of the country where the rains, expected in May, were still sporadic and insufficient, which has greatly damaged the rice harvest.
All this has led to a general rise in prices and has pushed some families to send their children to work
even minors, generally allowing them to continue school. This makes it desirable to
increase in subsidies for the purchase of educational materials.
The situation of early marriages worsened considerably during the covid-19 pandemic as
some parents saw fit to marry off their daughters so that they would be better off in the family of their
husband's family and/or no longer have to take care of their subsistence. In addition, the prolonged lockdowns prevented the DALIT staff from carrying out monitoring activities for many months and only the local only the teachers, who have a real role as social activists. It should be noted, however, that without the economic support received and without the supervision of the teachers, the number of early marriages would have been even higher. Since the end of the lockdown, awareness-raising activities have resumed at all levels. The scale of the phenomenon has also been confirmed by the local authorities: in July alone 2022, 12 marriages were prevented while in June there were 9. In August 2021, there was a record number of prevented marriages, 15. During the covid-19 pandemic, early marriages increased greatly because the parents did not know when the lockdown would end and also because of access to social media which increased the consensual early marriages.
Contraception is available at village level by various methods but the decision is up to the husband. Also for cases of sexual violence it is believed tha
VOICES FROM THE FIELD
A girl who got married too early: 'My parents forced me to get married when I was an
V. My family is very poor and they could not have supported me. They paid 25,000 taka (about 250
euro) for the dowry, even though in theory it would be forbidden by law, but my husband still demands a supplement.
If I think of my daughter, surely this will not happen to her, she will have to finish her studies before she gets married".

An unmarried girl: "It is very useful to hear the stories of girls who unfortunately had to
get married before coming of age. I have decided that I want to continue my studies and only get married after I have found a job. There is no reason for us to get married earlier. For example, even though our grandparents are dying and would like to see us married, we have to say that what matters is our future. I am currently in the 12th grade and would like to become a policewoman'.
An adult mother: 'I never went to school. I don't know exactly how old I am, but I think around 40.
Hearing these speeches, it almost makes me want to go to school too. It is really important
that our children continue to study".
An adult father: "In the past, our village was known because we ate the meat of cows that had died
of disease that had been thrown into the river. Now this practice is a thing of the past. But now we don't have to look at the past, what is past is past. I got my daughter married when she was attending
the 8th. Four months ago her husband disowned her and she returned home. I realised I was wrong. If DALIT canhelp us out, I have decided that she can resume her studies."
Daughter: 'I would like to resume my studies. I am 17 years old and would like to become a policewoman"
A girl in higher education: "I was admitted to the post-matura nursing course and I am
very happy because I never hoped to realise this dream".
A girl at university, during the monthly meeting: "I study law in Khulna and I would like to become a
judge. It is very interesting to see two women here with us today: one (Nazmun Nahar, Upazila Women's Affairs Officer from Tala, Ed) is a living example of what can be done to prevent early marriages, the other one came from abroad so she is proof that even women can travel alone if they study. Before, there were no educational opportunities for Dalits, we had no choice. Now we have to change our mentality: we women, together with men, can be agents of change. We girls must always
We girls must always remember that we must be gentle as flowers but also strong as fire.
Another girl in higher education: "We girls supported by the project feel the need to
need to give back at least part of what we are receiving, and we have set up a small fund through
which we help poor people in need or some of us who are unable to pay the fee
examination fees. In addition to this, we always intervene when we hear that in the village an
an early marriage is being organised in the village, we talk to the parents and, if they don't change their minds, we contact DALIT and the police"