Project Report

| Oct 28, 2022
BRING O2 To Fill Oxygen Gap in Five Countries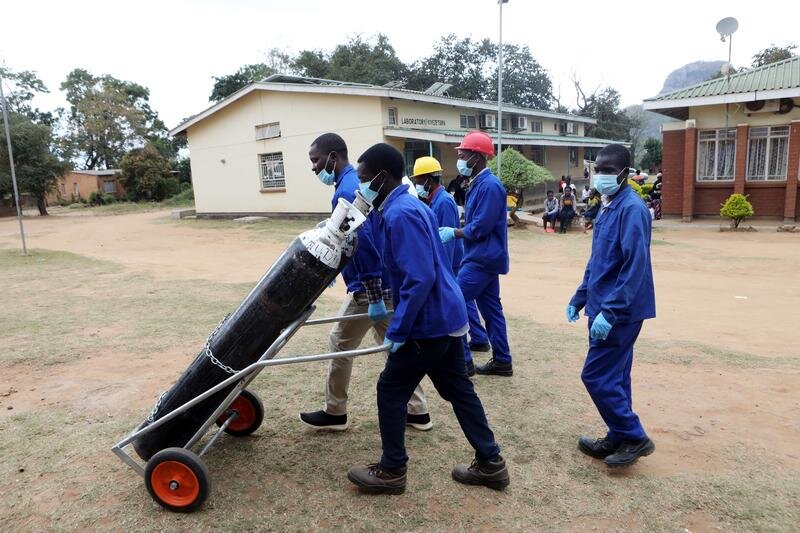 Workers at Mwanza District Hospital inspect and replace empty oxygen tanks with full ones. Medical oxygen is used by clinicians to help patients with a variety of needs (Photo and edit by Thomas P for PIH).
Dear Friends,
First and foremost, thank you so much for your immense support of PIH's Emergency COVID-19 Response. Your gift helps battle the lasting effect of COVID-19 while transforming the lives of so many people in need of hope and health care worldwide.
Oxygen is one of many critical building blocks of a functional and equitable health system—like running water and 24-hour power—low oxygen levels in the blood—which can be caused by a multitude of conditions from tuberculosis to heart failure to newborn prematurity. Yet most medical facilities in low- and middle-income countries lack access to this crucial resource. COVID-19 is especially demanding on oxygen supply, with the most severely ill patients requiring over 1,000 liters of oxygen per hour.
Even before the COVID-19 pandemic, the lack of medical oxygen in impoverished regions worldwide was a crisis: 9 in 10 hospitals in low-and middle-income countries lacked access to oxygen therapy. It's hard to quantify the number of deaths linked directly to the oxygen gap, but it is estimated that as many as 320,000 pneumonia deaths a year could be prevented by increasing access to oxygen therapy. And that doesn't include COVID-19.
COVID-19, a respiratory virus that, in severe cases, can leave patients desperate for supplemental oxygen, only deepened the crisis. A year into the pandemic, it is estimated that only 40% of health care facilities in low-to-middle income countries have a reliable oxygen supply. Without medical oxygen, nearly 1 in 5 people with COVID-19 will die. In hard hit countries, thousands of people literally suffocate to death due to inadequate supply of affordable oxygen.
With funding from Unitaid and in partnership with Build Health International (BHI) and PIVOT Health Madagascar, PIH has launched Building Reliable Integrated and Next Generation Oxygen Services, or BRING O2, to accelerate access to safe, reliable, and quality oxygen in Malawi, Rwanda, Peru, Lesotho, and Madagascar.
BRINGO2 is helping fight the global oxygen crisis by supporting the repair and maintenance of piping systems and cylinders, training technical and clinical staff, and planning long-term oxygen distribution networks, among other efforts. So far, significant improvements have been made across countries: a high-tech remote monitoring system was installed at the Botsabelo pressure swing adsorption (PSA) plant in Lesotho, biomedical technicians repaired 76 oxygen concentrators in Malawi and are actively repairing 20 PSA plants in Peru, and a new PSA plant is being installed at Butaro District Hospital in Rwanda.
Your solidarity with our staff and patients helps us continue to respond to the pandemic in four different continents and bring quality health care to people in the most impoverished communities all over the world. This work would not be possible without you! Thank you again for your partnership and kindness.
In Solidarity,
Partners In Health
Dr. Boti meets with John, a patient at Neno District Hospital who suffers from reduced lung capacity will rely on medical oxygen for the rest of his life. (Photo by Thomas P for PIH).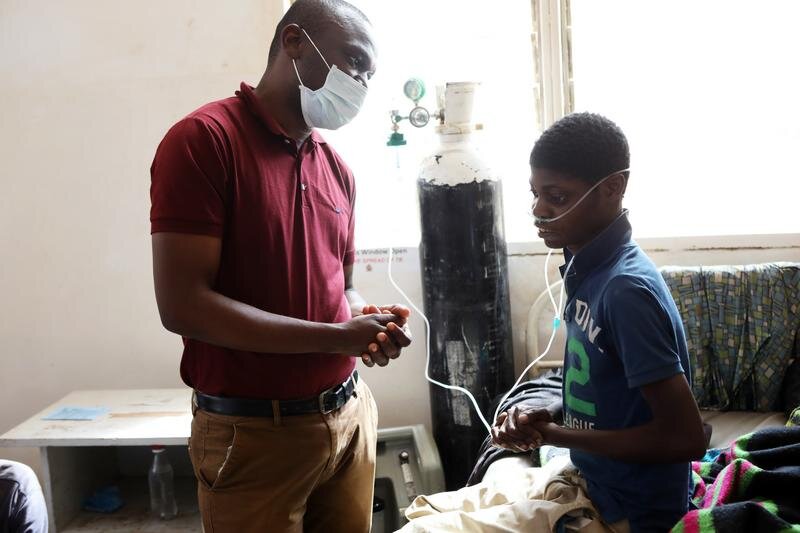 Links: