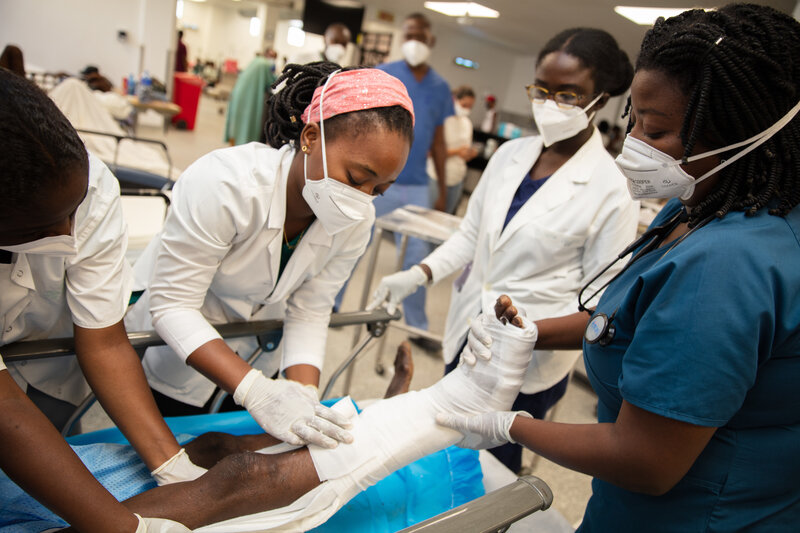 Paul (48 years old) is treated at HUM after arriving via air ambulance. Photo by Nadia Todres for Partners in Health (Zanmi Lasante).
Dear Friends,
It has been almost a year since the 7.2 magnitude earthquake struck southwestern Haiti, leaving thousands dead, injured, and displaced.In response to the 2021 earthquake in Haiti, Zanmi Lasante (ZL), as Partners In Health is known locally, continued to support the provision of urgent care and support the continuum of care for all patients. Since August 2021, PIH/ZL has received and treated 67,658 patients, including those with severe conditions as a result of the earthquake requiring orthopedic surgery, at its tertiary referral hospital, Hôpital Universitaire de Mirebalais (HUM).
PIH/ZL has provided psychosocial assistance to more than 3,113 patients who were affected by the earthquake which included food and hygiene products, and school materials. Via mobile clinics, a total of 36,825 patients have been seen in the hard-hit areas of Grand-Anse and Sud. PIH/ZL is continuing to support interventions for the management of malnutrition and mental health, strengthening psychosocial support for victims, and continuing to provide needed medical supplies and equipment across the earthquake-impacted regions, as well as support the construction of three permanent health centers in Gauthier Civil, (Plaisance du Sud, Nippes), Baie Dumesle (Saint Louis du Sud, South), and Basse Rivière Desormeaux (Bonbon, Grand Anse). A meeting took place on June 24, 2022, with health authorities to review and approve construction plans.
Moving forward, PIH/ZL will continue to provide social support and mental health services to both patients and staff through its networks across rural Haiti, and seek to establish a new partnership with the Haiti National Ambulance Center (CAN) to improve services for emergency care and provide enhanced malnutrition support for pediatric patients across our network, particularly in Boucan Carre, where the highest number of children experiencing malnutrition have been reported.
The August 2021 earthquake in Haiti continues to make evident the importance of a long-term effort to strengthen the public health system in Haiti. Zanmi Lasante (ZL) is committed to this work and continues to prioritize targeted interventions that will build long-term resiliency into the public health sector and ensure that Haiti is better prepared for the next emergency. Looking forward, PIH/ZL's earthquake response and recovery strategy will continue to center on strengthening Haiti's public health sector, building capacity through education and training of the Haitian health workforce, and prioritizing support for the most vulnerable.
On behalf of those we serve, thank you so much for your invaluable partnership and kindness to support thousands of Haitians impacted by the earthquake. Your support today saves lives and heals families in some of the world's poorest communities, where we stand beside ailing, marginalized people -- who face the kind of everyday hardships most of us can only imagine.
In Solidarity,
Partners In Health
Medical team at Hospital Universitaire de Mirebalais (Mirebalais, Haiti) August 19, 2021. Photo by Todres for Partners in Health (Zanmi Lasante).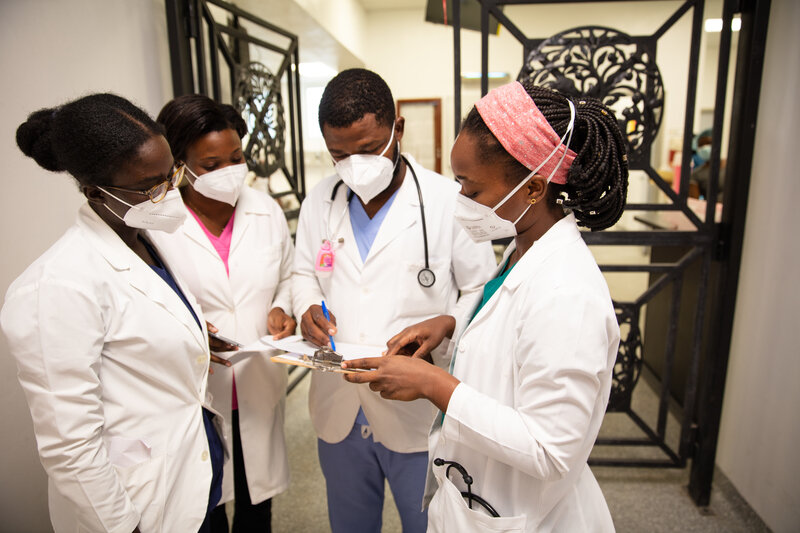 Links: