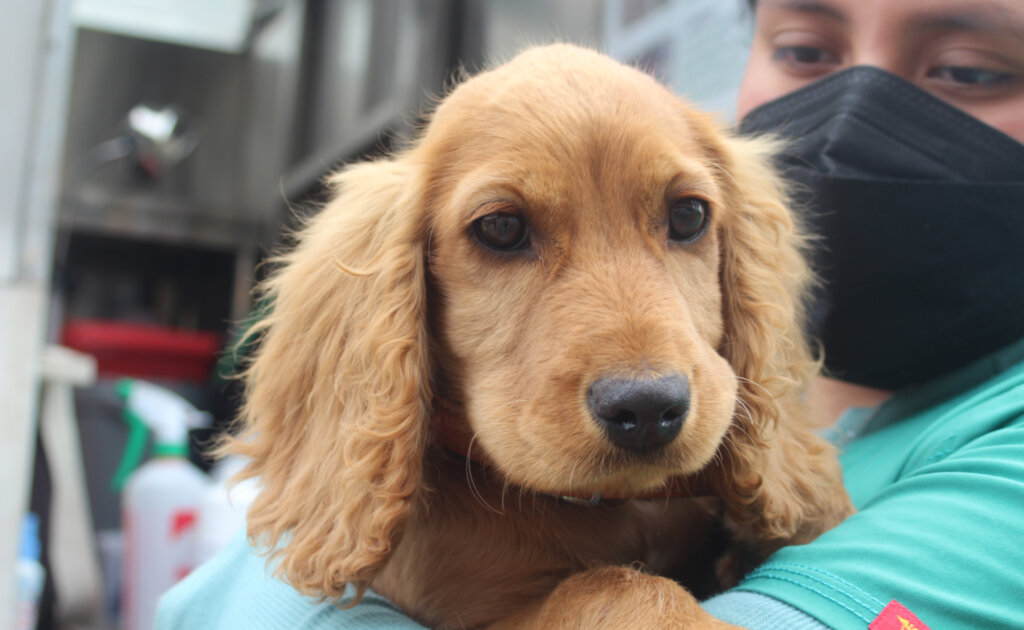 Since we started the mobile veterinary clinic in April, we have had great success in improving the health of thousands of roaming cats and dogs, through access to veterinary care and starting the big job of neutering them. However, it has become clearer than ever that, in order to have the biggest possible impact, the human population needs to make big changes!
Alongside the continued provision of veterinary and neutering, a key focus for the last quarter has been restructuring the project to see how we can improve its impact. With the restructured project has come a new team, headed up by Lucho, our project coordinator, and Q'antu, our new head vet. Q'antu is a resident of Ccorao, one of the villages we work in, so she brings local insight, as well as lots of clinical experience.
Restructuring the Program
Challenge 1: Missed surgeries
Despite continued efforts to combat missed surgeries, we have been finding that people still don't show up with their animals for neutering appointments. This means that our vets often spend time waiting for people to show up and our neutering rate drops.
Solution 1: Specific focus each day
In December, we trialed a new timetable of specific activities each day, with one day a week for neutering. We booked dog owners in for appointments in advance, but this time issued "vouchers" for the service. Although we neuter free of charge, the vouchers helped owners attach a monetary value to the service, which seemed to really increase follow through. We also called people on surgery day to remind them, and had a waiting list to reach out to in case someone couldn't turn up. This trial went well and resulted in our highest neutering rate so far: our team neutered 12 animals in one day!
Challenge 2: Using resources effectively
A large portion of project time is spent on routine tasks like administering de-worming treatments and flea spray or vaccinations. This means that our highly qualified and experienced head vet sometimes spends a lot of their time doing something that veterinary assistants, or even owners can do.
Solution 2: Task allocation
We have restructured the team, so we now have two part time assistant vets, overseen by our part time head vet. This means that our resources can be more effectively used, as the assistant vets carry out the more routine tasks and support surgeries, while our head vet is available for surgeries and for any more serious cases that present at the clinic.
Challenge 3: Population stabilisation
The aim of veterinary care and neutering programmes is to help dogs live healthier, longer lives and reduce future numbers of dogs on the streets. However, these aims rely on people bringing their animals to the clinic, getting them neutered, keeping dogs with them when outside the house and not poisoning roaming dogs. Without a change in human behaviour, we'll be continuously "chasing our tails" as animals die and are replaced by new ones.
Solution 3: Education for Human Behaviour Change
We spent this quarter discussing ideas and needs with the communities and have designed a new education programme to start in earnest next quarter. This will include animal care and welfare classes, dog-training sessions, implementation of community rules and installation of signage.
The Importance of Vaccination Programmes
During the team's visit to Taray in December, they met sweet-natured Benito (pictured below). Sadly he seems to have suffered from distemper in the past. Although he survived, he now has a constant tic in one of his legs, due to permanent nervous system damage caused by the disease.
Simba (pictured below) was also brought to the clinic; he was suffering from a current infection of distemper. Distemper is a highly contagious and potentially lethal disease that is difficult to treat once contracted, so all our vets could do for Simba was to administer treatments to help make him comfortable and give him the best chances of overcoming the disease.
If Simba and Benito had been vaccinated against distemper, neither would have contracted the disease or been able to pass the infection to other dogs. This is why our work in the villages is important: we need to increase availability of vaccines and ensure owners truly understand the importance of vaccination.
We are so excited about the new challenges and successes that 2022 has in store for us! We hope you join us on the ride, by following us on Facebook and Instagram. And if you'd like your contributions to have a bigger impact, please consider donating monthly, or contact Jenny (project.development@globalteer.org) to find out about other ways you can be part of our work to stop unnecessary suffering and improve the lives of thousands of animals.