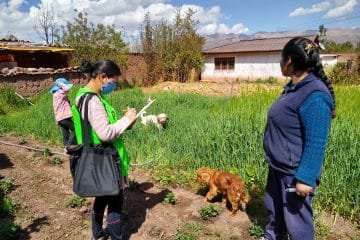 With our last update, we reported that many street dogs in Cusco were suffering due to restaurant closures throughout the city. Many dogs rely on these restaurants for daily scraps, and without them, they have few other places to turn to for food. During that time, we stepped in and provided street dogs with daily food. We are glad to report that some restrictions have been lifted in Peru's strict quarantine, and restaurants are open again! This means that street dogs without families can be fed by restaurants with scraps, somewhat relieving the stress of their situation. In the meanwhile, we still continue to provide food and care to the street dogs within our immediate reach in our local community.
PAWS Dog Warden Programme
During the last few months, we began our "Dog Warden Programme," which specifies a local volunteer member of each community to work with us and make a great connection between PAWS and the village, helping us become even more trusted and effective. Through a dog warden, we receive valuable information in a timely manner to help the dogs in the community: when there are new puppies, when an injured dog needs assistance, or if a case of animal abuse occurs.
Recently, when a group of dogs was purposefully poisoned in a local village, our dog warden was alerted and contacted us immediately. We were able to reach the dogs in time to get them veterinary care, conduct an investigation, and by making our presence known in the area, help prevent such an incident from happening again. Without our Warden Programme and such a system of communication, the dogs may not be alive and healthy today.
Continuing Work
The conditions due to the Covid-19 pandemic have still restricted our ability to run mobile clinic health campaigns, but we remain vigilant and are anxiously awaiting the day that we can continue our valuable work, while still keeping all of our staff, volunteers, and community members safe.
Can you help us spread the word? We hope that you can! And be sure to check out and follow our PAWS Facebook page! We're also on Instagram!
Thank you, as always, for your continued and invaluable support!