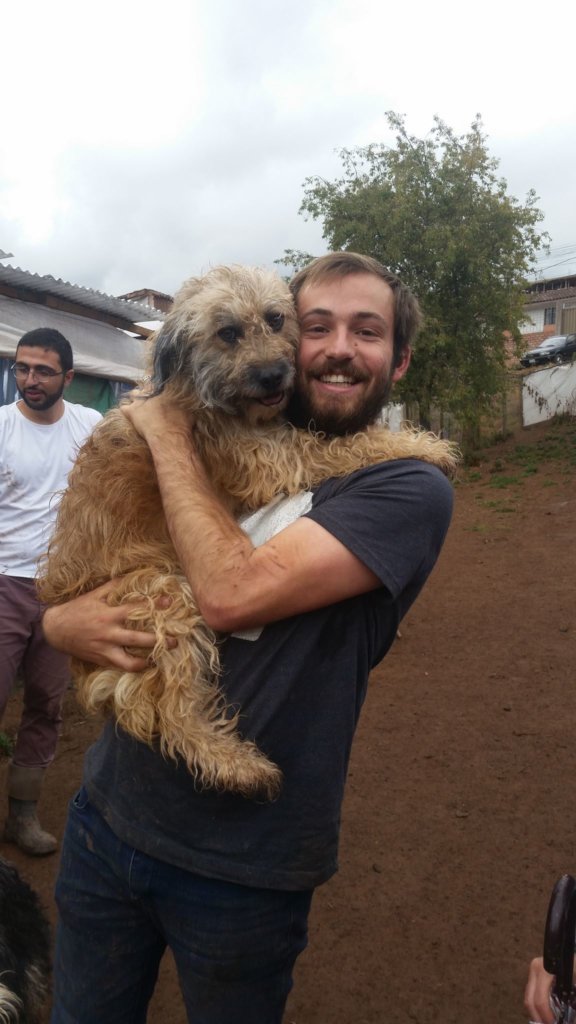 Mateo first arrived at our partner shelter in Cusco in 2015. He was severely malnourished and had a serious respiratory infection. The shelter managers, Maite and Anyelo, nursed him back to health, and over time, he recovered completely. Without their intervention and donations for his veterinary treatment, he never would have survived. But with their love and care, he transformed from a desolate, dejected street dog into a happy, delightful member of the shelter with high spirits and a friendly personality.
During his time at the shelter, Mateo quickly became a favourite among visiting volunteers. He captured many hearts with his scruffy face and soulful eyes. Then one fateful day this year, he met a volunteer who would give him his new forever home, changing Mateo's life…
This past June and July, Eli volunteered at two of Globalteer's other projects within Peru – the Rainforest Wildlife sanctuary and Community project. He was an extremely motivated volunteer, so during his time in Cusco, he also spent time volunteering at the dog shelter, where he first met Mateo. He was enamoured. When Eli's parents came for a visit to Peru, they also made a trip to the shelter, and they also fell in love with Mateo! They decided that they couldn't leave without him and would adopt him.
A few weeks later, Mateo was on an airplane to the USA. After 3 long years of waiting at the shelter, Mateo finally has a loving, forever home. He is greatly missed in Peru, but they know that he is living a better life, full of constant attention, his own bed, and a life most dogs in Cusco could only dream of.
We are so excited to be a small part of this story. Without volunteers and donors like Eli coming to Peru, success stories like this would not be possible.
If you'd like to know how you could come meet the pooches of the Cusco dog shelter or would like to know how you can help dogs like Mateo live better lives, please visit our Global Giving page. You can also subscribe to our newsletter for regular Globalteer updates regarding this and all of our other projects!