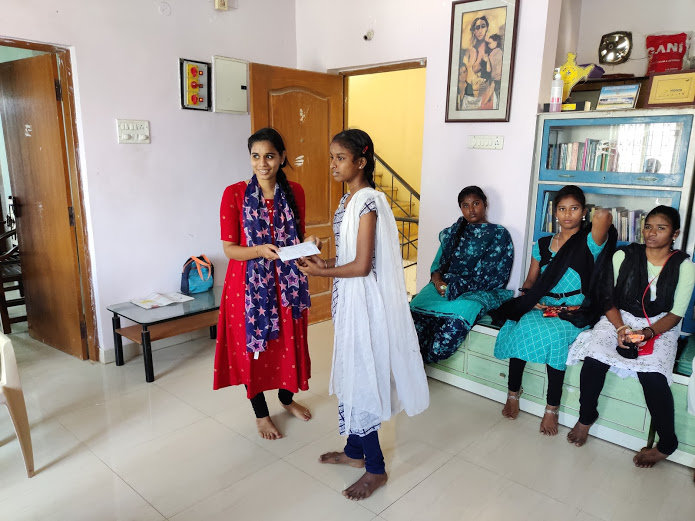 Centre for Women's Development and Research-CWDR
Periods Don't stop for Covid -19 Pandemic, Help Girls
Project No: #46567
Update April 2021
'Periods Don't stop for Covid-19 Pandemic, Help Girls' when we uploaded this project during April 2020, we thought we will remove it within 6 months but we could not do that because the Covid 19 cases are now increasing manyfold in India and Chennai city. Yesterday the Covid 19 cases exceeded 200,000 the highest in the world and India overtaken USA and become first. In Chennai from March 500 cases yesterday it is more than 2000 cases. The 10th and 12 standard classes were opened briefly during January but again now closed because of the increase in Covid cases all the examinations up to 10th standard is cancelled. Now 12th standard examination is postponed. When schools close down children not only lose their education they also lose their mid-day meals. For adolescent girls lose the free sanitary pads and supplementary nutrition because all these are distributed through schools.
On the other During Covid lock down the number of rapes, violence against women, illegal abortions, child marriages increased.side. UN called it as 'Shadow Pandemic". The Tamilnadu assembly adopted a bill to increase the punishment for offences against women and children. The maximum punishment is now 10 years increased from earlier 7 years. But India has so many laws but implementation is poor. During the last few years the various institutional failures of state machinery
from parliament to the judiciary to law enforcement officers have contributed to the dismal state of women's rights in India. Last year the chief justice of India was accused of sexual harassment of Dalit woman employee. A woman IPS-Indian Police Service officer, complained against the DGP-Director General of Police in Chennai during March 2021. During January 2021 the Bombay high court in a judgement said that pressing the breast of a 12-year old child without removing her top will not fall within the definition of 'sexual assault' under Section 7 the Protection of Children from Sexual Offences Act(POCSO). The Judge given this verdict is a woman judge. Fortunately Suprema court stayed this judgement.
In such conditions our only hope is the Adolescent girls that is our 'Snehidhi' adolescent girls association members and our field staff. We continued all our activities except the supplementary education classes. Our field workers and slum level Snehidhi leaders carried out most of the activities like life skill, sexuality education with necessary precautions, preventive measure to avoid Covid 19 through house visits and small group meetings. 400 adolescent girls benefitted from these activities. The best part we continued our advocacy activities demanding the government to provide free sanitary pads, clean toilets and clean water in the public places. They also organized human chains, signature campaigns in the slums. We have also popularized our mobile app 'Snehidhi' among adolescent girls. Nearly 2000 girls benefitted from these activities.
Most of the adolescent girls lost interest in online classes one of the reasons is they do not have the necessary gadgets like smartphones and broadband connections. They also said it is boring because most of the teachers just play YouTube videos instead of interactive teaching. Their parents are yet to get regular work, particularly their mothers women domestic workers. All of them lost their work, now people are hesitating to take them back because they are from slums, may come and infect hem with corona virus. In this situation in the next academic year that is May/June they may not able to pay the school fees. The first causality will be girl children's education. During January with local donations we have distributed Rs.1000 motivational scholarships for 75 girls to motivate them to continue their education and not to drop out. Our staff members have also organize field level mothers meeting, to find ways of solving these issues, and make sure their daughters continue their education.
There is also funding crunch we could not mobilize enough funds for this cause. We also could not get whatever funds we have raised through GlobalGiving site because of some administrative issues like they could not get the permission under FCRA-Foreign Contribution Regulations act. But the situation also helps the girl, parents they cannot depend on outside help for their survival and education, they have to find ways of becoming self-reliant and self-sustainable. We are also discussing with them to develop strategies to become self-reliant and self-sustainable and face new increased Covid pandemic.