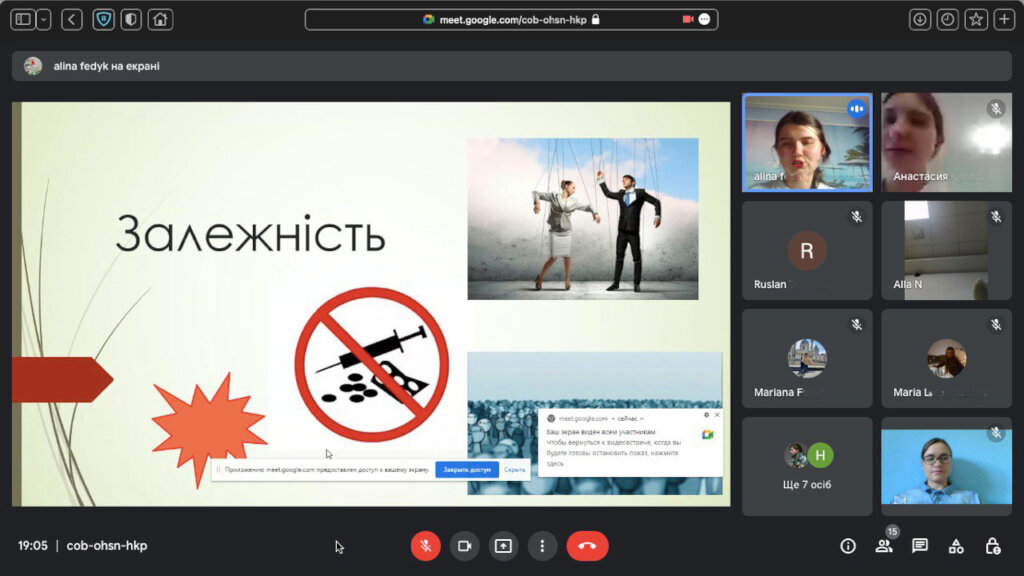 On June 19, 2022, Alina F. held a conference on "Addiction". It was not about the usual alcohol or drug addiction for us, but about social addiction. The addiction that each of us feels because we are a member of society:
— what do those around me think about me;
— will I be praised for a certain action?
— what position I occupy in this group of people.
13 people participated in the conference. Two participants were very active and asked questions even during the presentation.
In general, the speaker herself was active and clearly conveyed her opinion, so it was interesting to listen to her throughout the conference.
Participants had the opportunity to answer their questions about relationships.
Also, Diana K. gave a presentation on "Healthy Habits".
It was interesting to observe not only morning exercises, but also such small habits as washing hands, making the bed, and the habit of running.
During the presentation, Diana asked questions to participants. It activated the process and was interesting.
At the end of the presentation, there was an interesting slide with a call for a challenge – to opt out sugar for three days and share your impressions on your Instagram page, as well as to run and post the results for a week.
For the next three days, the participants who accepted the challenge of not consuming sugar shared how difficult and unusual it was. The conference turned out to be practical.