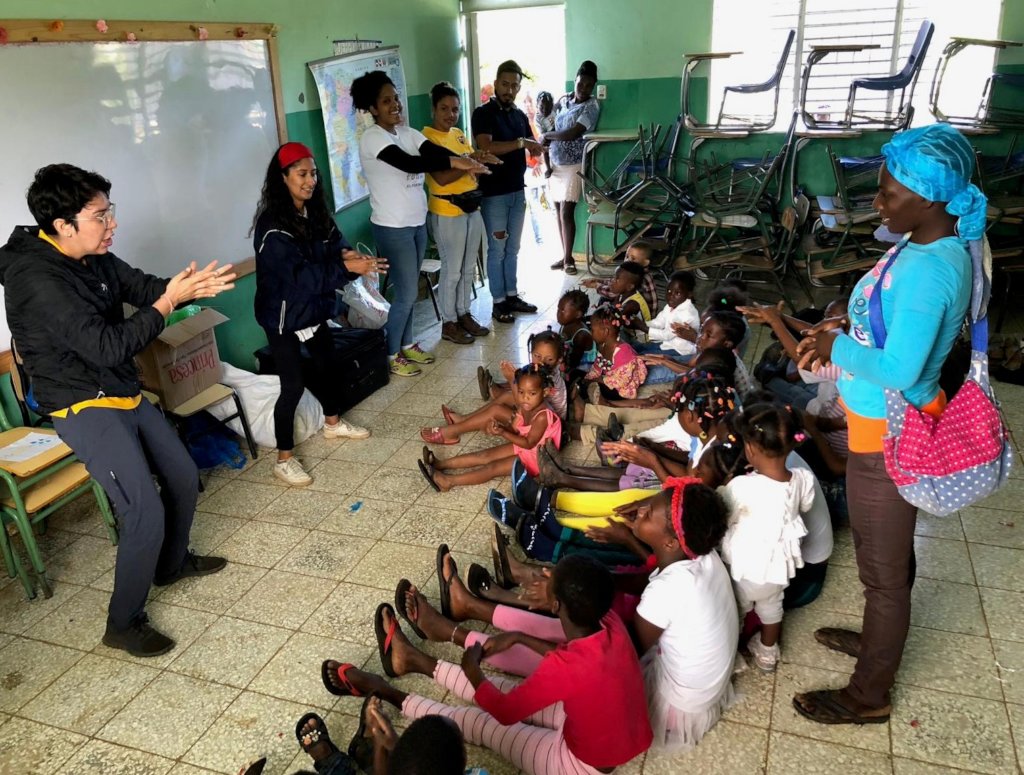 About a year ago, we were invited to come to the Dominican Republic (DR) by Marlennis, one of our former students from an Environmental Technology college program here in the US. She had been doing volunteer work in the border region between the DR and Haiti. The border is somewhat open with many poor Haitians who live in informal settlements and camps on the DR side of the border. The area lacks electricity, clean water, and sanitation. Marlennis asked if we could come and provide water testing and distribute WAPIs (water pasteurization indicators).
Our trip was planned for the week after New Year's, when it was still a school holiday so Marlennis was free to help. We had planned to visit Haiti as well, but that part of the trip was cancelled due to a US State Department travel ban. One of our long-time volunteers Jim, who has worked with us in Honduras, volunteered to come along. The two of us met up with Hovard and Jerome, two of our Haitian volunteers.

Marlennis recruited 6 Peace Corps volunteers who were also off from their teaching jobs for the holidays. Their assignment didn't really include water testing, but they wanted to participate and assist because of the importance of health and sanitation for their schools. I trained Marlennis and the other volunteers in water testing, use of WAPI's (water pasteurization indicators), and hand washing.
We offered the same program two days in a row at local school. The first day, there were approximately 20 families, but twice that many came the next day when they heard about the project. Presenters showed pictures of the contaminated water in their community and we distributed WAPIs. We heated some local water and pasteurized it to demonstrate that the WAPIs were effective in eliminating harmful bacteria. A Sawyer filter was donated to the school and the teacher learned how to maintain it. We also demonstrated how they could make a handwash station from a 2 liter soda bottle. The wash station we made for hand washing, next to the latrine, was a big hit!
The project was shorter than was originally planned due to difficult transportation and long travel times. The community was only accessible using high clearance vehicles and took several hours to get there. Although there wasn't electricity, there was an elementary school for conducting our presentations. Because most of the audience was Haitian, very few people spoke Spanish. Fortunately, we had invited Creole speakers Hovard and Jerome to help translate our presentations both linguistically and culturally.
The volunteers seemed to really enjoy the program and several decided to make a presentation to the entire Peace Corps staff in the DR. It is probable that we will get requests from volunteers for help with sanitation needs in their schools. Also, a professor of sociology at a large University in Santo Domingo, who has been studying the region for a number of years, was very interested in our project. He invited us to make a presentation to his students at the university on the Monday morning before our flight back home. It's possible he will be interested in some future joint-projects with us.
We are proud of how many community members and volunteers were able to learn more about water and sanitation in the DR in just a week. See the Agua Pura webpage for more stories! We appreciate the on-going support for this work for clean water from you, our donors! Thank You!
PS: The last photo includes Marlennis and Peace Corps vounteers from Dominican Republic, as well as volunteers from Agua Pura from Haiti, and Tom and Jim from USA in the back.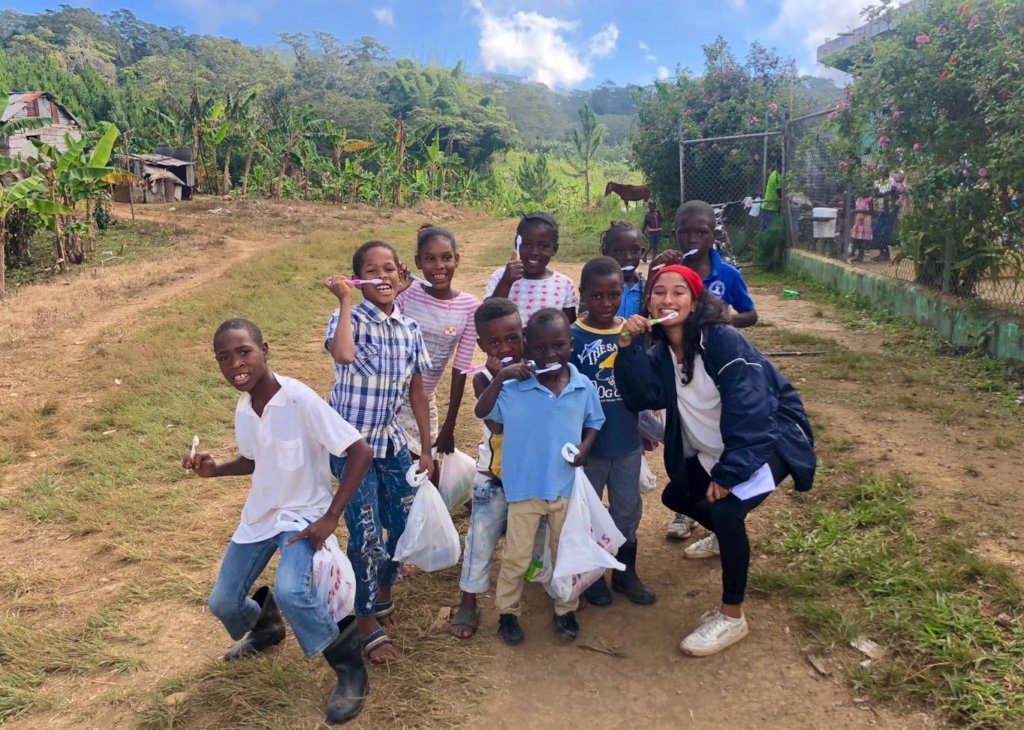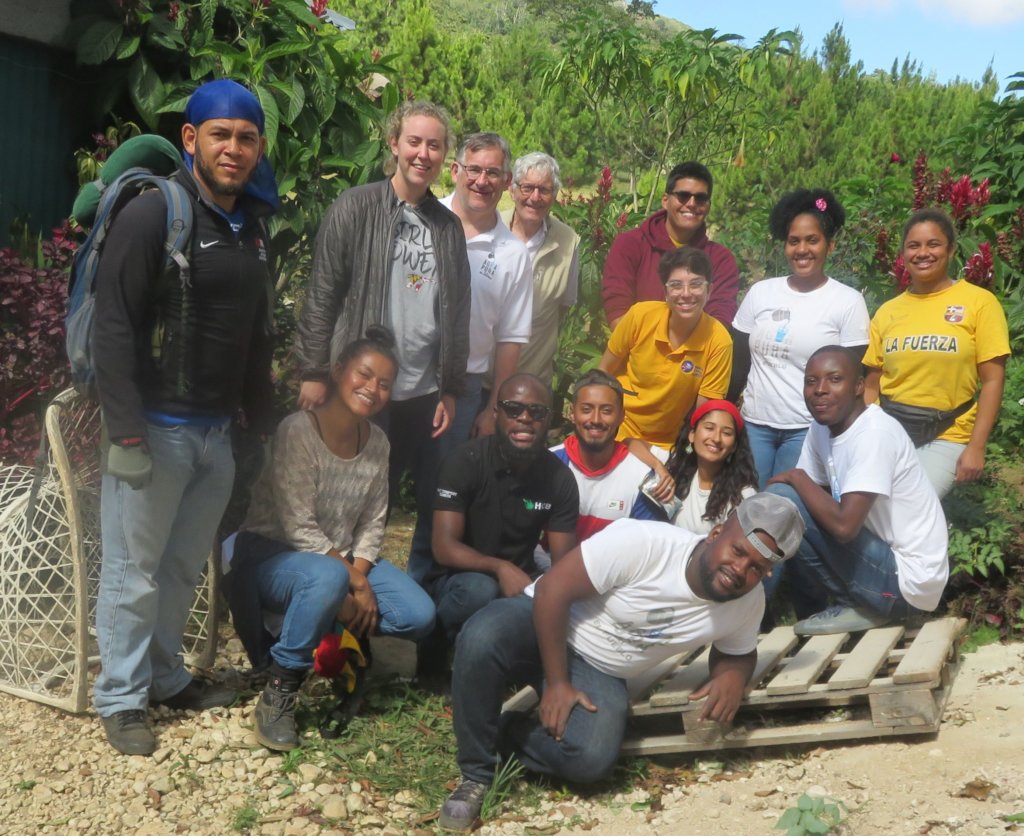 Links: