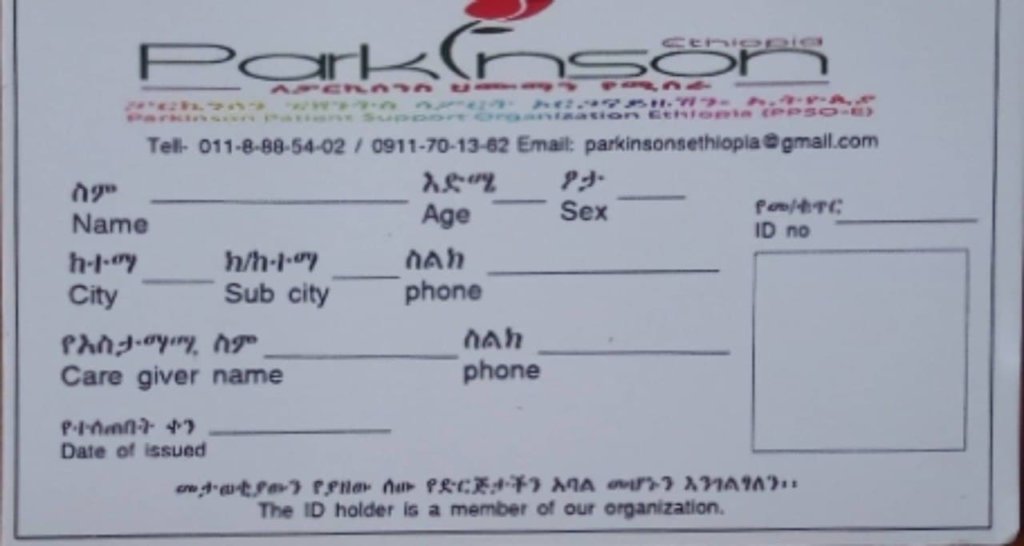 Project Summary
PD are marginalized & stigmatized in Ethiopia for lack of information. They are also economically poor. We were toughly working towards creating awareness on the disease & side by side generate funds for patients by incorporating the activities with other project interventions undertaking by the organization.
1. Major Activity Undertaking
- Buy Identification badge for 50 Patients
Since the implementation of this initiative, fifty PD patients got identification budges which enable them to access the Parkinson's medication in the operational areas. It is critical to knows that, PD medications are not accessible as others due to various reasons like community awareness and less attention given for the disease even if the number of patients is dramatically increasing as time goes on and impacted the patients, families, and the community at large.
- Buy walking sticks for 50 patients
It is real that as the level of Parkinson's disease stage increases, the demand of PD patients will remain the same due to the reason they experience all their day-to-day life. Among them, they can't able to walk as usual and they are persuaded to remain home and which restricts their movement. So, knowing these challenges, the organization are identified the right targets, and about 50 PD patients have received the walking stick and start to take care of their needs without human assistance and reach places they need.
- Medical treatment for 50 patients for 1 month
With the government-selected hospitals and one private eye care center, more than the targeted PD patients were acquire various medication treatments and get access to care and support programs( physiotherapy, speech therapy, eyeglass, etc.
- Drug purchase for fifty PD patients 2 months
With the fund obtained so far with this initiative, PPSO-E have been strongly working with zero tolerance on issues that mostly required for ensuring quality life of PD patients. And medication (Drug provision) is a prior issue for all PD patients. But, if they failed to take their medication, the disease becoming worse to treat and its progressive nature will increase. So, PPSO-E is working very closely with the government and get access to import PD medication to have to distribute with free of charge by covering the cost. So far, more than 146 economically poor PD patients get an ID and medication support.
2. Living Story
A few years back, this elder woman at the age of 76 was leading her life with happiness and the healthiest style. but now she can't make it anymore due to Parkinson's. she requires assistive equipment like a walking stick beside PD medication. she is now so happy to have the support and thank the donors and our organization to give her back what she demands most by now.