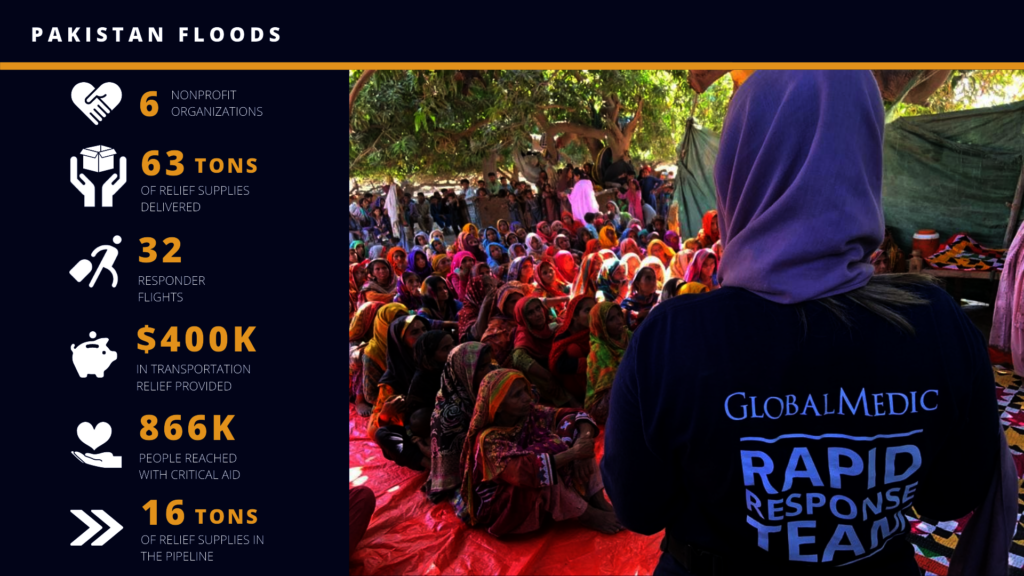 Pakistan has, over the last almost 6 months, been grappling with the effects of the worst monsoon flooding in living memory. An estimated one-third of the country was underwater - a lake the size of Colorado was created by the rains. More than 30 million people were affected, of which 20 million are still living in dire conditions. And now that the country has entered winter, many affected communities face a daunting new challenge of how to survive without housing, food, clean water, and fuel sources for warmth.
As soon as the flooding was reported and a call for assistance was sent out, Airlink and its NGO responders sprung into action. Despite challenging customs regulations around aid delivery, Airlink was able to bring together NGO partners in a coordination call to understand how to best work in the country, reduce duplication of effort, and build partnerships to reach more people with multi-faceted aid programs.
One shipment delievered was on behalf of our partner, Buddhist Tzu Chi Foundation. The shipment contained thousands of blankets to help internally displaced people stay warm in camps as the weather gets colder. But these were not just any blankets - Buddhist Tzu Chi Foundation works with factories in China to make single-use plastic water bottles into a recycled polyester thread, and then weaves this thread into a thjick, fleece blanket that is both sturdy, soft, and warm.
Airlink is also working with our NGO partners Global Medic, Convoy of Hope, ADRA, NetHope and CADENA to provide emergency telecoms equipment, WASH (water, sanitation and hygiene) supplies, medical supplies and more.