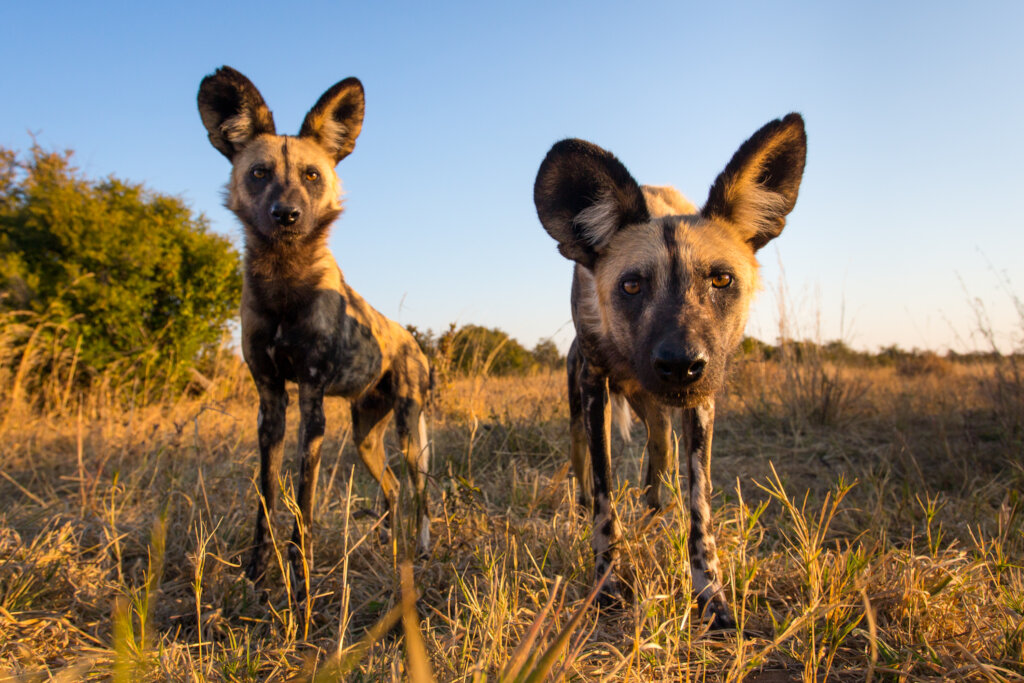 Reports from ground-based conservation partners in Zimbabwe, Painted Dog Conservation (PDC) show a stable, viable population of painted dogs remains in and around Hwange National Park, with 176 adult dogs in 26 packs with an average pack size of 6.6. Four breeding packs were also recorded with a total of 31 pups.
Currently the PDC anti-poaching units (APU) patrol in and around the national park. The APU teams look for all signs of poaching activities including snares, spoor, fires, carcasses, vehicle tracks and gunshots. Their increased presence is a deterrence to would be poachers. The patrols are supplemented by the strategic deployment of the Community Anti-Poaching Units, which now represents 40 individuals. This increase in units has led to the establishment of five bases for an extended period of April to November 2022, which typically sees the highest levels of poaching activity. The performances of both the APU and the Community APU patrols exceeded expectations in the past year. The APU managed 53 patrols a month, against a target of 40 with 3,500 snares removed from the bush, effectively saving the lives of more than 350 animals. The Community APU averaged 23 patrols a month, doubling their target. 3,176 kilometres were patrolled and resulted in 28 poachers being arrested and prosecuted and 1,857 snares removed from the bush, effectively saving the lives of more than 180 animals. These figures are based on conservative estimates that approximately 10% of snares placed in the bush result in the killing of wildlife.
To further prevent poaching, in recent years PDC have also increased its emphasis on recruiting informants from the local community. Currently they have four reliable informants, and their assistance has now resulted in the arrest of more than 20 poachers. PDC have also strengthened their partnership with the local authorities to try and ensure that poachers are convicted according to the letter of the law.
It is vital to encourage local communities to engage in conservation for the wider protection of painted dogs and the entire ecosystem. By conducting education and providing incentives to the local communities who previously impact negatively on the wildlife (not just painted dogs but their prey species) can lead to the desired behavioural change where people take positive action to protect the dogs, their prey, and the habitat. This vital work also involves the younger generation through engaging with them via bush camps which teach local children conservation concepts, an understanding of ecological relationships, the value of biodiversity, an appreciation of painted dogs and the role they play in ecosystems, and to inspire an emotional attachment to the beauty and complexity of nature.
DSWF relies entirely on donations and support from generous individuals like you to continue to fight wildlife crime, protect species and engage individuals and communities to ensure a brighter future for wildlife. So, thank you for your support in helping to give Painted Dog's a chance of survival.
Find out more about our work with Painted Dogs