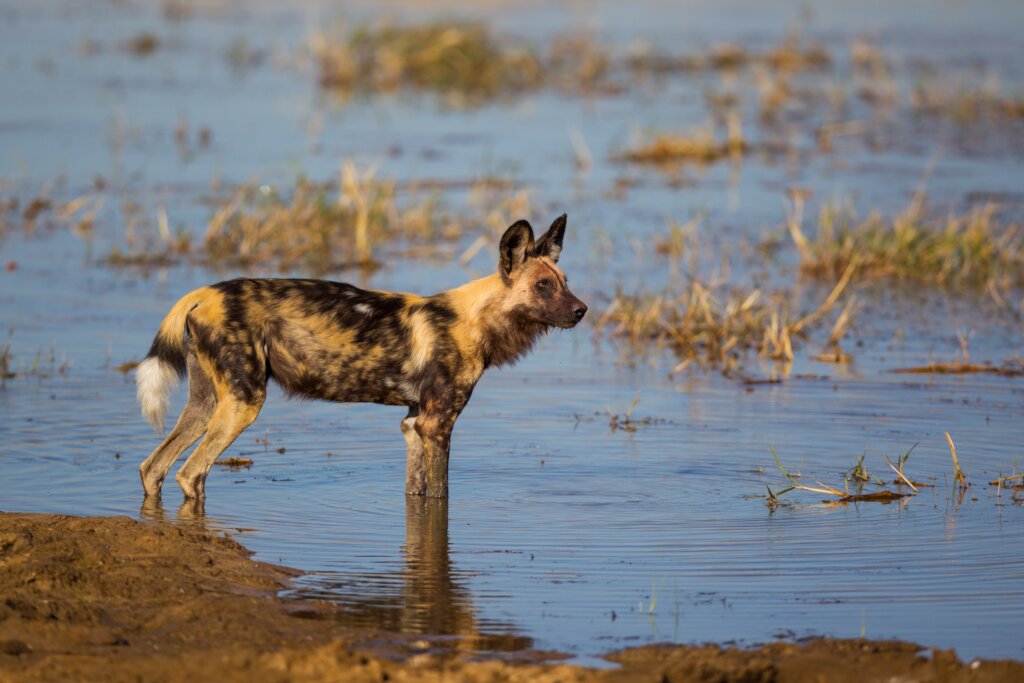 Thank you for supporting David Shepherd Wildlife Foundation (DSWF) Protecting Painted Dogs.
Painted dogs were once abundant throughout the African continent however populations have sadly declined by up to 98% in the last 100 years and now fewer than 7,000 remain in the wild. Challenges ranging from habitat loss and environmental degradation, human-wildlife conflict, subsistence poaching and a lack of education continue to threaten the survival of this iconic species.
DSWF continues to fund ground-based conservation partners based in The Hwange National Park in Zimbabwe which hosts one of the last remaining wild painted dog populations. By adopting a holistic approach to conservation which puts people at its heart, funding will safeguard a vital wildlife population and its habitat for years to come across this vibrant ecosystem.
By funding anti-poaching patrols, the presence of rangers in the park will disincentivise poachers from entering the protected area due to heightened consequences. DSWF will also work to remove illegal snares, which currently kill 10% of wildlife in the park. This will provide a blanket of protection to over 14,000 square kilometres of painted dog habitat. Whilst anti-poaching patrols are essential to deter the loss of painted dogs in the short-term, DSWF will simultaneously support an education programme to foster an emotional investment in nature among children to incentivise them to protect nature and share their experience and knowledge with relatives fostering a community attachment to nature and desire to protect it.
"The threats are many. Loss of quality habitat and poaching represent the biggest problems. Unless we take action to address these threats, painted dogs will become extinct in our lifetime." - Peter Blinston, Painted Dog Conservation
DSWF relies entirely on donations and support from generous individuals like you to continue to fight wildlife crime, protect species and engage individuals and communities to ensure a brighter future for wildlife. So thank you for your support in helping to give Painted Dog's a chance of survival.
Find out more about our work with Painted Dogs
David Shepherd Wildlife Foundation (DSWF) would love to keep you up-to-date with how your generous support is making a difference, share exciting wildlife conservation stories and tell you about forthcoming campaigns, fundraising initiatives and events. Please let us know how you would like to hear from us via our online form: Stay In Touch