Project Report

| Feb 14, 2020
Innovation Starts from the Ground Up
By Ben Blevins | Executvie Dircector.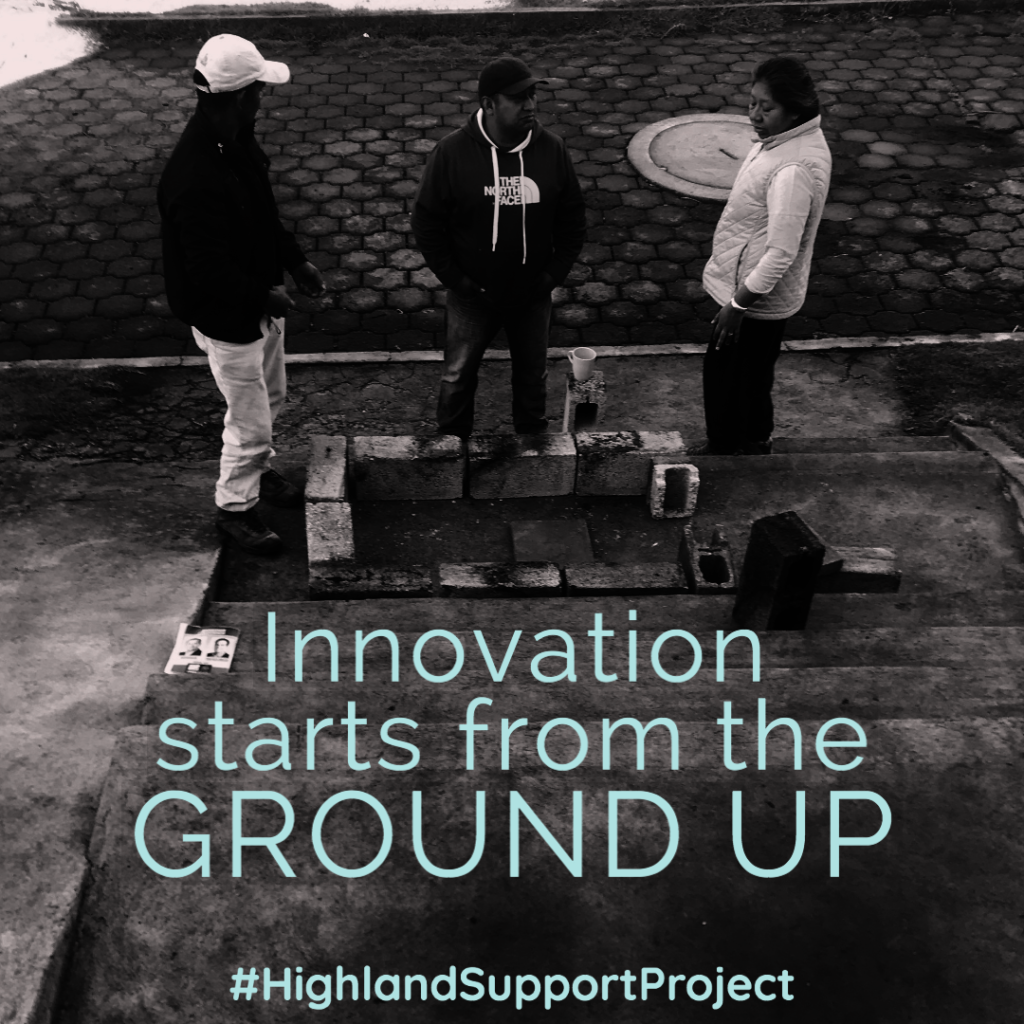 This last year, staff members Guadalupe Ramirez, Giovani Hernandes, and Miguel Rosario labored to innovate the model of indoor cookstoves built in the Highland regions. The objective was to lower carbon emission to qualify for European funding streams that require compliance with international standards. We are proud to announce that independent testing confirmed that our new design meets carbon reduction benchmarks.
The human-centered design process is indicative of HSP's methodology of putting community members' needs first in the design of interventions to address quality of life indicators. Any design process requires cataloging of requirements to obtain an ideal product that meets the circumstances of the user. A school bus and a sports car are both designed to meet a specific need. While a school bus may be fun to drive, a sports car would not function well to transport neighborhood kids to school.
It is the same within the stove design world. Frequently, there is a drive to design the most fuel-efficient stove possible. Over our 25 years of building stoves, we have seen very efficient stoves become very popular with funders, who are not actually using the stoves. One model that was built by numerous organizations and government agencies is lovingly called the crib, because it works very well as a crib for newborns but is neither safe or functional for a family.
A second push is for gas or electric stoves. In the context of the rural Indigenous communities where we work, we do not find these stoves to be appropriate because this represents another cash cost. These families have wood stands and can produce as well as barter for renewable fuel sources. Switching to gas or electric stoves represents a loss of resilience. While they are an ideal solution for urban populations, rural people would have to move somewhere to find a job that pays sufficient to be able to purchase the fuel. Furthermore, in terms of carbon reduction, we feel it is somewhat a wash when considering the energy cost of extraction and transportation of liquid fuel or the environmental impact of hydroelectric systems in mountain regions.
Another design requirement for the stoves built for the Highland population is the requirement to be able to heat homes during the evening. It is cold at 10,000 feet elevation. While a small rocket fuel stove or gas stove may hit outstanding metrics for fuel conservation and upper respiratory illness reduction, this saving would be offset by the requirement to burn biomass for home heating. Therefore, we believe that the best solution is a stove that also functions as a home heater.
A major aspect of our stove program is to empower women with more free time and energy to be engaged in their communities. A requirement for our stoves is that they provide a large workspace for women to prep food. Additionally, they have features that allow women to cook grains and beans from scratch. The problem with a single burner or rocket stoves is that they are not appropriate for large or extended families that are often cooking large quantities of beans and the simmering process for making corn masa that is the most common ingredient.
Safety is also a major concern with many small children in a household. Many stoves that are popular with funders have features that are exposed and we have witnessed many children severely burned from touching exposes metal. The masonry based stoves that we construct both lift the work off the floor as well as provide a barrier to toddlers from touching hot surfaces.
We are very appreciative of the many volunteers that have not only donated time and resources to the stove program over 25 years. We are thankful to the construction workers and engineers that have worked with our community partners and staff to empower them with the skills and tools to innovate, adapt, and take advantage of opportunities. We invite you to join us this year as we bring healing to more families.
Attachments: