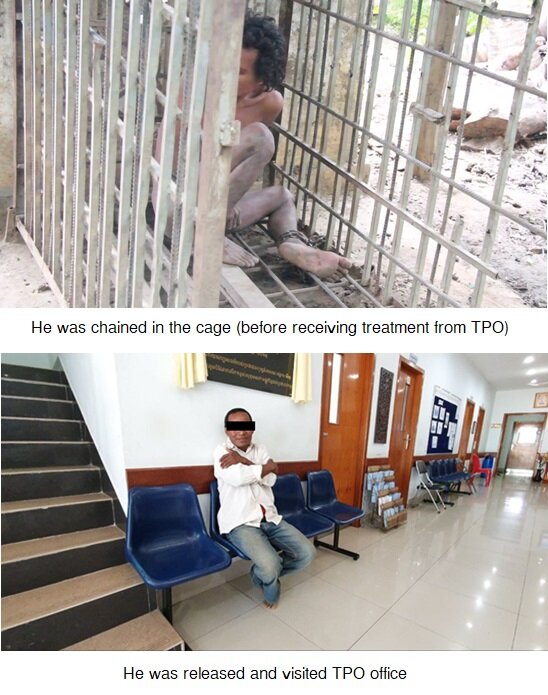 "Mom… please release me from chain, even the spirituals (Ghost) were also released during Pchum Ben day".
A 39 years old man was chained at the back house. When the TPO team arrived one of his legs was in chained and trap in a rusty cage. His body was naked cover with dirt and can't communicate. He sat in silent manner and less impressive with our presence.
He has been detained by his family for many years because of his violent behavior and harm. His aggressive behaviors made the villagers feel scare. He lost insight, cannot communicated, talk alone, cannot sleep, refuse to dress, destroyed materials, tore nets blanket and cloths.
The patents starting to get sick since he was 19 years old. The first symptoms were walking around with inappropriate behaviors. He used to have a treatment from one of public hospital in Phnom Penh and traditional healers and his condition was recovered for a while. But he relapsed after his wife left him. He was chained with less care in a rusty cage because his family feel hopeless to recover.
After 2months of receiving treatment from TPO and it's time of Pchun Ben ceremony (it's is a significant religious ritual for Cambodian people as Buddhists. During this ritual people belief that the souls of ghost are released to get food from their living relative). In the early morning he heard Dhamma chanted by the monks because his house is not far from pagoda. His mom prepared breakfast for him and he said to his mom "Mom…, please release me even the spirituals (ghost) were released during Pchum Ben day". After mom hearing his proposal, she feel shocked and very surprised. She feels excited emotionally because she can't communicate with him for many years. In fact, his mom feels hopeless and never expected to recover. She felt nervous, worried, and excited because she has traumatized caused by his violent behavior. Mom had discussion with family members and then they decided to release him.
After being released, he took a bath for cleaning because he has never taken a bath for so long. In the early morning, he went to the pagoda to attend the ceremony and donated small amount of money in his pocket to the pagoda. The villagers felt very surprised with his presence because they thought that he died for so long actually he was chained. The villagers felt happy with his recovery and give him some money.
Now he could take care himself and his family is very happy and excited with his recovery. They thanked individuals who donate for letting TPO to provide treatment with free of charge and integrate him into family.