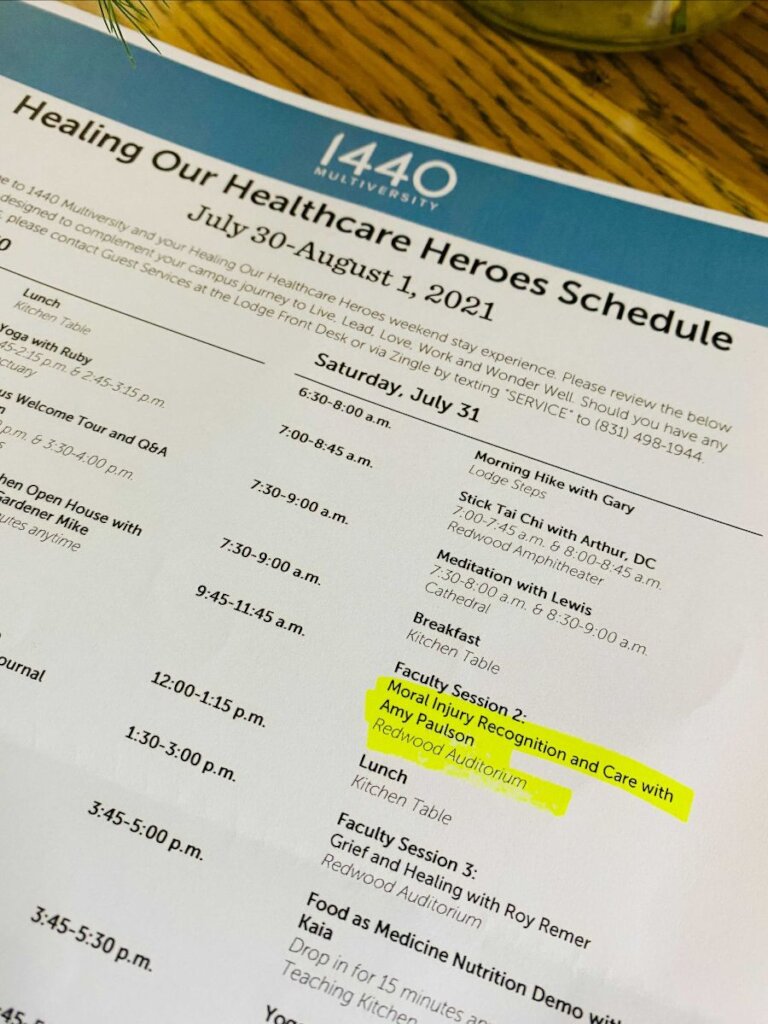 Who heals the healers? Supporting healthcare workers and educators during the pandemic
Recently, Healing Together took part in a unique, two-day retreat for healthcare workers as part of 1440 Multiversity's Healing Our Healthcare Heroes. In partnership with Circles International, Amy Paulson, Healing Together co-founder and CEO, facilitated a workshop for 45 healthcare workers from California. Participants learned how to identify moral injury, how caring as a professional can lead to compassion fatigue, and ways to respond to burnout. A majority of the folks in the room (yes, a physical room, with masks!) were nurses and other professionals who are on the front lines of Covid-19 response.
At Healing Together, we are hearing more and more about the long-term and devastating effects the pandemic has had on the mental health of people on the front lines, especially healthcare workers and educators. More than a quarter of healthcare workers responding to Covid-19 have shown clinical signs of PTSD, a similar rate to soldiers returning from war. We are called to action: Healing Together is committed to providing ongoing trauma-informed workshops directly to these two groups in the US, Nepal, and Uganda. Some of our partnerships supporting healthcare workers include Circles International, 1440, IM4US, and Chapa-De Indian Health, and for educators (K-12 and university faculty) we've been working with Teachers 4 Social Justice, the National Conference on Race & Equity, and more.
Swinging at COVID with Chapa-De Indian Health
The fearsome looking character at the bottom of this update is a COVID virus piñata, which health workers from Chapa-De Indian Health bashed during their 250-person retreat, which included a workshop on moral injury, trauma, and burnout, co-facilitated by Healing Together, in partnership with Circles International.
Sometimes laughter is the best medicine, and despite the grief and pain that so many have experienced, the piñata gave folks the motivation to keep fighting back.
Chapa-De Indian Health is a community health organization that supports indigenous communities in Auburn and Grass Valley. Healthcare workers described the painful realities they've faced during the pandemic, from not having fresh PPE to having to deny family members visits with sick loved ones. The internal conflict of having to repeatedly perform actions that conflict with your internal compass is called moral injury, and can lead to emotional trauma. Participants learned that sharing their experiences and discovering they are not alone is powerful medicine for healing.
Virtual Training
At Healing Together studios, we've started the creative process of planning and filming our very own Virtual Healing Advocacy Workshop! While Zoom has made it easier to run workshops even when everyone can't be physically present, there are still many people who want to become trauma-informed healing advocates and cannot attend a live workshop. To meet this need, we're creating an asynchronous virtual workshop, which means that anybody who signs up can take the workshop at their own pace. It also means that thanks to your support, we can give away this content to organizations around the world who lack financial access to mental health resources. We'll keep you posted on progress!
Thanks for reading about what we've been up to
As we near the 2 year mark of this pandemic, the demand for our work has never been stronger. From the mental health fallout from months of isolation to the trauma of being unable to mourn the loss of loved ones in community... whatever our situation, none of us have escaped this time unscathed.
Thanks to your support, since the pandemic, Healing Together has equipped over 4,700 educators, health workers, and frontline community workers with tools to heal themselves and their communities.
Will you join us in training everyday people to become peer mental health advocates, so we can catalyze a healing movement that impacts thousands more people around the world?