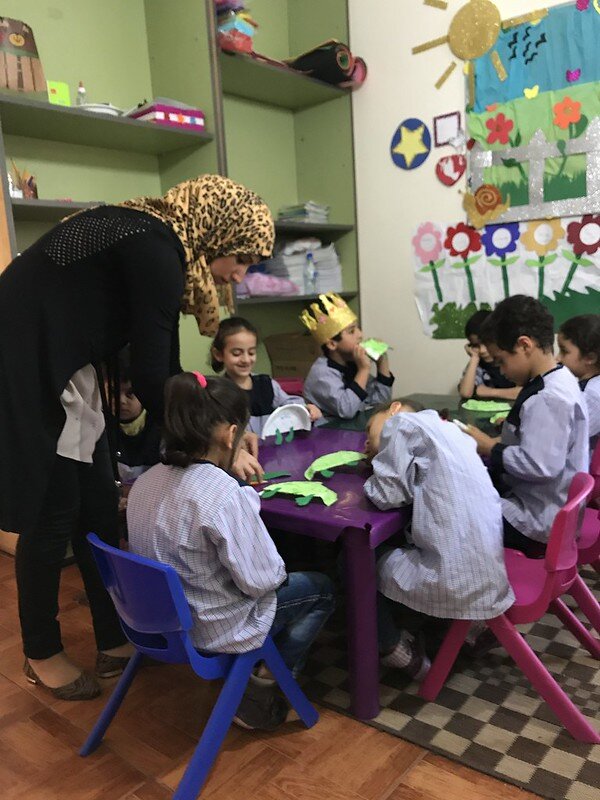 The economic challenges in Lebanonare making a great impact on refugee communities and increased the need to support vulnerable children. This places greater emphasis on the pyscho-social support provided to the children, and to their families.
In the last school year109 children registered with the kindergarten. Thechildren were distributed as follows: 25 in KG1, 59 children in KG2, 25 childrenin KG3.
The kindergarten introduced a new attendance sheet which can be used digitally to ensure that the students attend regularly and enables them to track those who miss school regularly to check on the reason.
Homework is given once a week, but this is not marked strictly. It serves to emphasize that exercises and discipline should be repeated at home.
To create an environment that secures their emotional and social well-beingthe children are exposed to art-based psycho-social activities. These sessions are held on a weekly basis for every class with the psycho-social assistant and the trained teachers. The children were given activities like drawing, play-dough shaping, and expressive acting (for older children in KG3). The psycho-social assistant also trained and instructed the teachers on the type of other psycho-social activities they can provide for the children in class. The activities focus on emphasizing friendship between the children and promoting an anti-bullying environment.
Parents are asked to meet with the teachers, coordinators, and the psycho-social assistant to discuss matters that were related to the children and to follow up on their children's improvement. These meetings also provide a space to discuss the children's environment outside the school context and in the community as a whole. These meetings give the parents a chance to get an insight into their children as well as to discuss other matters that were affecting them. Most importantly, the meetings allow the parents to bond regardless of their nationalities as the similarities in the issues of their children brought them together.
In the same manner, anti-bullying activities are held for the children on a weekly basis and the children are also encouraged not to discriminate based on nationality. These activities promote friendship to improve the children's relations with each other.
Thank you for supporting friendship and integration.