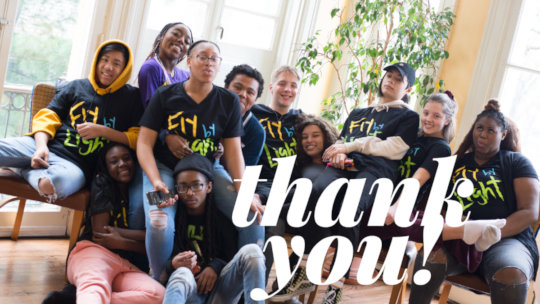 It is my honor to share our Impact Report for the first quarter of 2021. These first few months of the new year have brought incredible highs and lows from the Capitol insurrection that still threatens our democracy to the pace of vaccinations that's finally bringing hope and a sense of normalcy back into our lives and communities.
Yet, we must not allow ourselves to sink back into complacency. This last year revealed how broken our system was, to begin with, and it requires us to rethink how we move forward as we begin to reopen businesses and go back to in-school learning. There's a lot of work to be done to continue to ensure our most vulnerable youth and their families are being supported through what has been one of the most traumatic episodes in US history.
In this report, you will learn more about our programs and how we are healing, inspiring, and building healthy and resilient communities through mental health services, arts empowerment, and peace education.
Thanks to all of you, we have been able to expand our programming to support our youth and their families during this critical time. We are looking ahead to future in-person education and cannot wait to bring our community back together again soon.
In the meantime, here is to rebuilding our community with a wellness mindset—a key initiative we will carry throughout this year, as we work to expand our programming and services.
Highlights from the first quarter of 2021 include:
OCU Programs: One Common Unity has continued with virtual programming this quarter expanding our reach to the community.

Fly By Light Programming: Fly By Light facilitators have implemented weekly after-school programming to 116 youth in virtual spaces. The program sites include Organizing Troupe, Performance Troupe, Washington Institute of Dance, School Without Walls HS, Perry Street Prep MS and Roosevelt HS. Additionally, FBL facilitators have implemented weekly in-school programmingto 49 youth at Perry Street Prep MS and Roosevelt HS.
One Common Unity facilitators are wrapping up various cohorts of the evidence-based LifeSkills curriculum and other environmental strategies through the SAMHSA grant administering LifeSkills to 86 youth at Browne Education Campus, PAUL PCS HS, Roosevelt HS, Stuart- Hobson MS, and Perry Street Prep PCS.
Fly By Light Online: Throughout the fall, facilitators hosted community virtual FBL events: "Mindful Art" with Tyler Grigsby and "Drop Everything and Dance" with Johnee Wilson continued, reaching over 300 community members across 75 hours of online programming, participants of all ages and from across the country tuned in for these special events.
Professional Development for Teachers:

Facilitators work closely with the administration at Roosevelt High School to plan and provide SEL-focused PD opportunities, reaching close to 100 staff members at each session. Most recently with a healing circle focused on compassion, gratitude, resiliency, and enchantment on January 29th that was attended by 120 Roosevelt staff members.
Fly By Light National Training: The final session of the 2020 National Fly By Light Training was on October 30th, with 20 participants completing the full 40+hour training and 28 participants completing over 20 hours of the training.
Mental Health Programming: In Quarter 1 - OCU clinicians provided 311 therapeutic sessions for a total of 259.25 hours of direct therapy. In addition, our licensed therapists provided 479 consultation sessions at their respective school sites. These sessions incorporated Tier 1 and Tier 2 services.
In addition, we're excited to spend the winter on some of the following exciting initiatives:
Parenting By Light: Facilitators continue to host monthly workshops focused on various topics to equip parents with SEL skills. The workshops are delivered in both English and Spanish, and the most recent workshops have highlighted Healthy Communication (2/9) and Relieving Covid created Parental Guilt & Stress Through Self-Awareness (3/31).
Community Conversations:

We launched a monthly community conversations series aimed at raising awareness about important issues to our community. The inaugural conversation in the series will be HERstory: Processing Life Experiences Through The Lens of Black Women and Teens. Stay tuned for our next conversation, open to all.
On behalf of our youth and staff, thank you for your support of One Common Unity. Because of you, we are able to continue building healthy, safe, and resilient communities through the transformative power of education and the arts. We couldn't do any of this without you, and we are so grateful for your support!