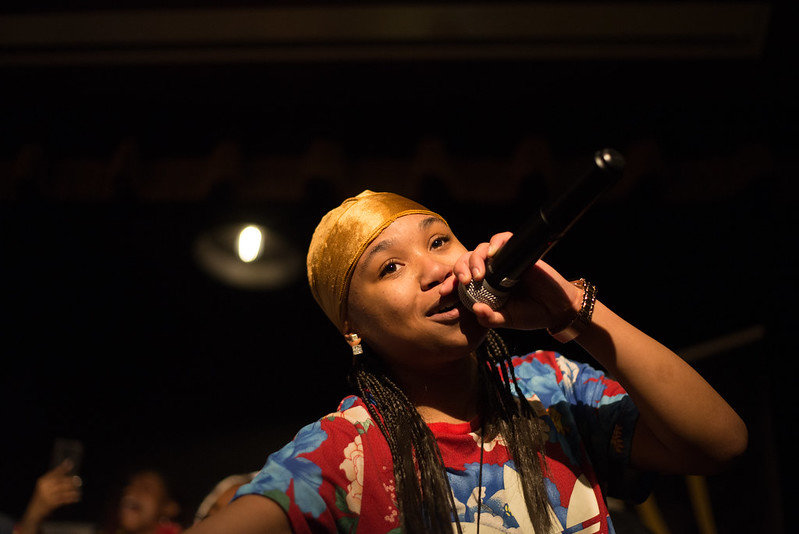 In 2019, you enabled us to serve over 5,000 youth at 24 DC schools, supporting them in building critical skills in social-emotional literacy, conflict resolution, mindfulness, artistic-expression, and harnessing tools to advance peace and justice in their schools and communities. 3,373 students participated in Fly By Light programs. 98 youth engaged in approximately 140 hours of programming, which included after-school workshops, weekend field trips, overnight nature retreats to national parks, and participation in our citywide showcases. 1,271 youth participated in between 8-40 hours of programming through a variety of in-school workshops, tailored to meet the requirements of each school. A further 2,004 students built awareness of self-care practices, social-emotional literacy, or restorative justice through school-wide assemblies or other school-wide initiatives. Looking forward, we are excited to leap into our 20th year as an organization and continue our work of youth empowerment, education, artistic expression, and peace building.
Highlights from the first quarter of 2020 include:
Funding Update: This quarter, we were so honored to receive grants from Walter Brownley Trust and Venable Foundation. We were recently approved as a partner organization with 1% for the Planet. In addition, our end of year campaign brought in a generous amount of donations for our work. We were so grateful to expand our community with so many generous supporters, inspiring speakers and energizing performances from Fly By Light youth and alumni.
Organizing Troupe: We are so proud of our inaugural Organizing Troupe cohort, who held their first day-long retreat in January! This youth-led program grew out of a summer retreat in 2019 where Fly By Light youth ambassadors posed the question, "Why don't we come together more often to make bigger change across the city?" Now students representing 8 different high schools come together each week to talk about what's really going on in DC and how to create systemic change through mindful arts activism. Last month they collectively wrote their vision statement: "To build a safe community that supports and empowers youth through advocating and breaking down oppressive systems for a more accessible life experience." Stay tuned for how their campaign evolves and manifests moving forward! Check out photos from the retreat here!
Mother-Daughter Dinner: On February 27, our program team, along with Program Facilitator and Performance Troupe Director Princess Best organized a Mother-Daughter Dinner at Dunbar High School. It was a wonderful evening for creating space for mother-daughter connection, discussion, and performances over great food. And this is just the beginning - we have our first ever Mother-Daughter retreat day coming up in March!
Media Features: In February, Co-Founder and Executive Director, Hawah Kasat, and Clinical Director, Maria Gomez, were featured on NBC4 to discuss how OCU is transforming school cultures and creating healing in our neighborhoods. We recently received the NBCUniversal and Telemundo Project Innovation Grant Award to support our programs and initiatives.
In addition, we're excited to spend the summer on some of the following exciting initiatives:
Summer Showcase: In May, we are excited to host a number of our youth and alumni for a summer showcase to show off their hard work throughout the year. Stay tuned for more details!
Fly By Light National Training: Join us in July for our second Fly By Light National Training! Building off of the success of our first year, we are thrilled to offer this initiative expanding our programming to include a national training which will certify teachers all over the country to lead Fly By Light chapters in their communities. Our award-winning program model and curriculum includes after-school and in-school workshops, overnight nature immersion retreats, annual city-wide showcases, professional development for teachers, parents, and other school administrators, and youth-led social justice campaigns. This summer, YOU can join educators, artists, and activists around the country who are passionate about building the next generations of changemakers and bring Fly By Light to your school or city! Learn more here.
Mental Health Expansion: In addition, we are excited to continue expanding our school-based mental health services to deepen and strengthen the work we are doing with our Fly By Light students and their families.
On behalf of our youth and staff, thank you for your support of One Common Unity. Because of you, we are able to continue building healthy, safe, and resilient communities through the transformative power of education and the arts. We couldn't do any of this without you, and we are so grateful for your support.