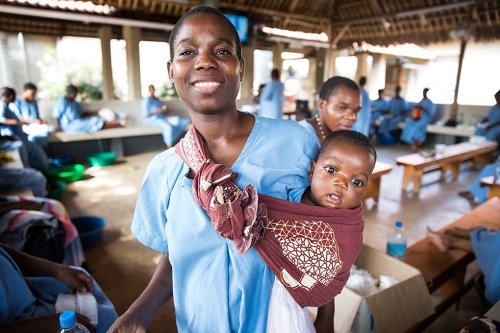 In November of last year, we shared a progress report from the field. For years, Temeke Hospital in Dar es Salaam had one of the highest maternal mortality rates in the region. Thanks to your support, and the hard work of the medical teams on the ground, Temeke reported zero maternal deaths in the month of September. This was an incredible victory for our colleagues at CCBRT, their partners on the Government's Regional Health Management Team, and for Kupona supporters, as we celebrated the fact that our investments were saving and changing lives.
In that November report, we asked you to keep giving. In return, we promised to build upon last year's successes, enabling the teams on the ground to continue improving the skills of healthcare providers; ensuring that they have access to the facilities and the equipment they need to do their job; and decongesting health facilities so that medical staff have the time and space to attend to every patient.
You have continued to show your commitment to our work in Tanzania, giving generously during both our December 2014 and Mothers' Day 2015 campaigns. You set new fundraising records at Kupona, and gave us our most successful GlobalGiving Bonus Day in our history.
You held up your end of the bargain, and we are so happy to be able to deliver on our promise.
This month, the team at Temeke confirmed consistently low maternal mortality rates for the first half of this year. This report included two consecutive months of zero maternal deaths. This news builds upon the successes that we celebrated last year, and demonstrates that our programs are moving in the right direction.
Together, we are taking great steps toward making childbirth safe for every mother and every newborn.
We want to say Thank You. Thank You for standing with us as we tackle the challenge of reducing high mortality rates in some of the most overwhelmed, under-resourced facilities in Tanzania. Thank You for hearing our plea for support, and Thank You for demonstrating your confidence in our team as we continue to save and change lives.
We hope you're as encouraged by these updates as we are. Consistent and positive updates from the field are a sign that the change we have waited for is happening.
Please, share this with your friends and family using the buttons below. Tell them about your donation, show them what a difference it has made and encourage them to join you in supporting our work. Together, by increasing access to high quality healthcare, we are setting people on a path to a healthier and more productive future.
With gratitude,
Abbey