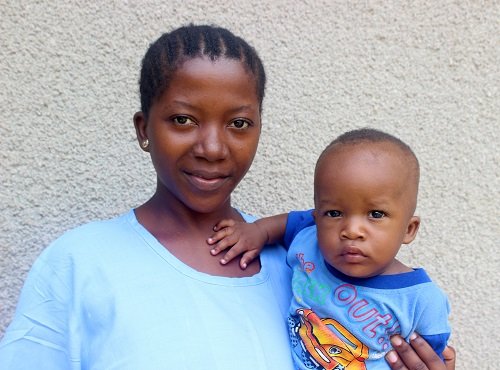 Dear Friends,
Today is International Women's Day, a day to celebrate the incredible progress that you are making happen for women in Tanzania. With GlobalGiving's first matching gift campaign of the year coming up in just 10 days, it's also a great time to remind ourselves to keep pushing for the changes that we know are possible.
Meet Esther
Esther arrived at the health center in Tanga, Tanzania, as a 24-year-old expectant mother and businesswoman, with a supportive family and a bright future. She returned home with a healthy baby, but also a devastating condition that threatened to diminish that future. Obstetric fistula.
After a grueling 12-hour obstructed delivery staff at the Tanga health center were able to deliver Esther's baby safely, but the damage to Esther's body had already been done.
Five days after returning home, Esther noticed she was leaking urine.
Learning to Live with Fistula
"After I developed fistula, I stayed at home with my parents. I was very sad that I could not go to any celebrations or to see my neighbors because I would be ashamed for anyone to see my leaking."
"Before I had fistula, I owned a cosmetic shop. After my baby was born, I could not go back…I had spent the money that I would need to purchase more supplies for my business on my health and fistula expenses."
Esther lived with fistula for seven months. Finally, a doctor told her about our local implementing partner, CCBRT, where her condition could be treated. After a 200 mile journey, Esther was admitted for fistula repair surgery.
Esther's surgery was successful, and she is now recovering, pain-free. She is happy to be completely dry, and to have her beautiful, healthy son. She will soon return home to her family and community.
A stark reminder
Esther's story is one of survival and hope. High quality fistula treatment is available free of charge at CCBRT. Since the program began, thousands of women have had their dignity restored through surgery. With Kupona's support, CCBRT has become one of the largest fistula treatment centers in the world.
The thing is, Esther's story never should have happened.
Prevention is better than cure
Fistula is completely preventable, yet every year, there are up to 3,000 new cases of fistula in Tanzania. High quality, emergency obstetric care would have spared Esther the trauma of living with incontinence.
Your donations to Kupona have taken us one step closer toward eradicating this condition from Tanzania. Your support has helped us to take huge bounds toward improving the quality of maternal and newborn healthcare in some of the most under-resourced health facilities in the region of Dar es Salaam. It has also helped us make incredible progress on the construction of a new Maternity and Newborn Hospital – a hospital that will focus specifically on high-risk deliveries and women with a history of obstetric fistula, like Esther, who are particularly vulnerable to complications in future pregnancies.
We've still got a long way to go
In 10 days, GlobalGiving will launch its first Bonus Day of the year, giving you the opportunity to increase the impact of your donation. Donate on March 18th beginning at 9am EDT and your donation will receive a 30% match from GlobalGiving! So please, mark your calendars, and help us to prevent more women from facing the devastation of fistula.
Thank you for your continued support, and Happy International Women's Day!
Abbey
Did you love this story? We've got more! Check out our blog!
Want to stay updated? Sign up for our newsletter here!