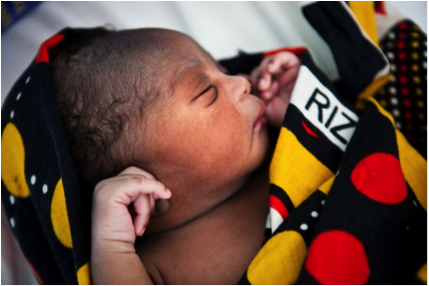 The last few months have been a time for celebration at CCBRT. The first phase of our maternal and newborn healthcare program came to an end, and the results have been phenomenal. With your support we were able to train healthcare teams in 16 facilities, develop hospital infrastructure, distribute life-saving equipment and increase community awareness around safe pregnancy and childbirth.
Since 2010, when the first phase of our capacity building program began, you have helped us to achieve some incredible results:
Over 234,000 women and newborns served

720 healthcare workers trained in basic and advanced life saving skills

380 healthcare professionals trained in early identification of children with disabilities

Quality improvement teams established in 16 facilities, and quality management systems set up to support culture of continuous improvement

Major renovation of maternity facilities (wards/theaters/delivery suites) in 4 health facilities

Over 227,500 posters/fliers/brochures distributed to the community & 225 radio messages aired to raise awareness around disability and maternal healthcare.
Dr. Kawawa is the Coordinator of the Regional Capacity Building Program and is a strong partner of CCBRT; a partnership that couldn't have been built without your support. Dr. Kawawa brings over 40 years of experience in public health to the program, and told us of the great results she has seen over the past few years, particularly in strengthening the healthcare system.
"Since 2010 we've seen tremendous improvements and vivid results. The program has created links between different parts of the system. We've seen departments working more effectively together within health facilities, and managers working more closely with health practitioners. We've seen our work in facilities strengthened by what we do in communities and vice versa. And we've also created links between the national, regional and district health teams so that we all communicate better and understand each other. The whole network is closer as a result."
Construction of the new CCBRT Maternity and Newborn Hospital has also moved forward in leaps and bounds since our last update. This facility is on track to open at the end of 2015, and will provide high quality maternal and newborn healthcare services for emergency and high risk cases in the region of Dar es Salaam. The facility will conduct over 15,000 quality deliveries every year, and will add 200 beds to the region, relieving facilities that are currently overwhelmed by demand.
Your contributions and support have made all of this progress possible, but the struggle isn't over. Tanzania is still one of the most challenging places in the world to become a mother, and we need you to recruit more support for our cause. When potential supporters hear us talking about why they should make a donation today, they listen. But when your friends and family hear you talk about our work as someone who is already a supporter and knows that we are making a difference, they'll act.
Today, we are asking for a few clicks of your mouse: take 5 minutes to share our GlobalGiving page with your contacts and tell them why you decided to donate to us and why they should do the same.
Can you do more? Consider signing up for a monthly recurring donation today. Thank you for your support!