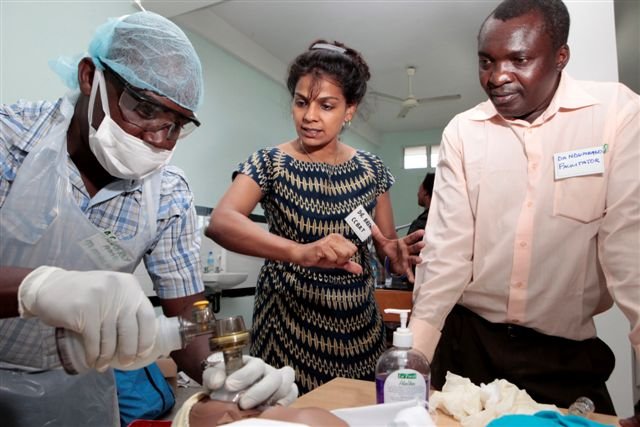 Since 2007, Kupona's implementing partner, CCBRT, has been working with the Government of Tanzania through an unprecedented Public Private Partnership to reduce the staggering number of preventable maternal and newborn deaths in Tanzania and to prevent disability as a result of complications in pregnancy and childbirth. CCBRT is working in 16 public health facilities in Dar es Salaam to improve their standards of clinical care as part of the Regional Capacity Building Program – in tandem with construction of the new Maternity and Newborn Hospital (photos below!) The following first-hand account provides the perspective of a doctor managing one of the 16 facilities.
"A short while ago, this Health Centre was understaffed, ill equipped and almost empty. Now Buguruni has a thriving delivery unit and is leading clinical care standards in the region."
So what has changed? And to what does Dr. Mbaga - Medical Officer in charge of the improved facility - attribute Buguruni's success?
"Since the Regional Capacity Building Program for Maternal and Newborn Healthcare began in Dar es Salaam in 2010, we have seen many changes. But I believe it is the on-going training provided by the program that has transformed our work. In the past, my staff weren't always confident enough to make good clinical decisions, but mentoring, coaching and on-the-job practice has helped us become more competent and knowledgeable."
Particularly noticeable, according to Dr. Mbaga, is the confidence with which nurses and midwives are now able to handle emergencies. "You can't practice in an emergency – at that stage, you work by instinct – but you need to practice to perform well under pressure." Since the program began, regular drills have become part of the routine of the health centre. "If the labor ward is quiet, we'll gather together and work through an obstetric scenario, sometimes practicing three or four times until we get it right. Reviewing our clinical care like this, every day, helps us to improve constantly, and I see that my staff are much more capable as a result."
One of the other keys to boosting motivation, Dr. Mbaga believes, is acknowledging the work people do, and the difficult environment in which they do it. "I always try and give positive feedback to my staff," she explains. "It doesn't cost anything but they appreciate it so much. People like to see their work recognized."
Clinical standards have improved in all 16 of the sites in which CCBRT's Regional Capacity Building Program is working. Buguruni has had impressive gains, with adherence to defined clinical standards increasing from 12% to 90% over the first three years of the program. It seems that practice, mentoring and good communication – all relatively low-cost, low-energy investments – are some of the factors behind that success.
Moving in to one of the first buildings in the new Maternity and Newborn Hospital
We've reached an exciting milestone as we begin to move in to our new medical store warehouse! This is a proud moment for Kupona. It should be for you, too. The medical store will serve both the existing Disability Hospital and the new facility, as we streamline and integrate support services.
Seeing progress and mobilizing resources
In late January, Executive Director Abbey Kocan visited CCBRT. Read about her visit on our blog, or visit our Facebook page to see the latest construction photos.
As construction continues, you can begin to visualize the new hospital filled with mothers and babies who might not have had access to safe maternal and newborn care without the new facility. This blog describing a recent study in neighboring Kenya illustrates the economic and human cost of maternal death. The study states, "A mother's death ignites a chain of disruption, economic loss, and emotional pain that often leads to the death of her baby, diminished educational and life opportunities for her surviving children, and a deepening cycle of poverty for her family."
Access to quality maternal and newborn care. Eliminating needless maternal deaths. This is what it's all about. It's been a multi-year journey, and there is more work to be done to mobilize the necessary resources. Many of you have supported us from the beginning. Thank you. If it's been a few years since you've made a gift, please consider another tax-deductible contribution today. We need your help.