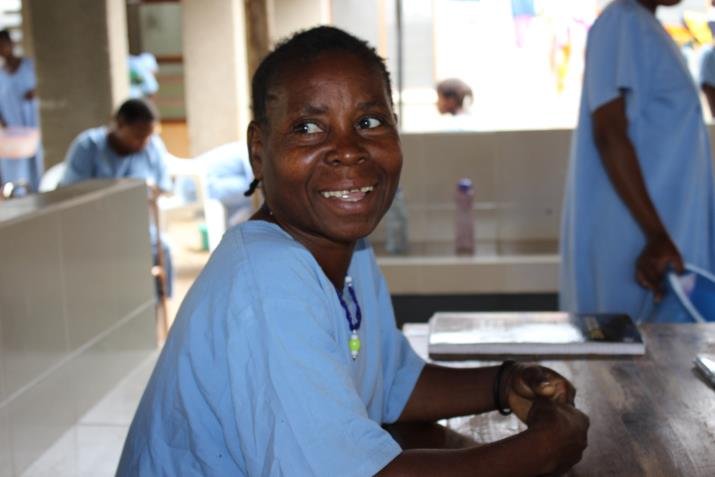 Asha's* Story (*name changed to protect privacy)
When she was 38 years old, Asha gave birth at home. She was in labor for three days. Tragically, the baby did not survive. After this terrible ordeal, Asha realized that she could no longer control her urine. Her husband left her, unable to deal with the problem. "I did not understand the condition or know whether it could be treated." Consequently, Asha lived with obstetric fistula for 15 years.
Asha faced daily struggles and was ostracized from her community. "I wanted to pray in my local mosque, but was unable to because people complained about the smell. It made me feel isolated and depressed." It wasn't until her stepson heard about CCBRT's fistula program on the radio that she thought her condition was treatable. A CCBRT ambassador helped to arrange Asha's journey to the hospital after receiving the money for the ticket from CCBRT via M-PESA mobile money. Asha is incredibly grateful to CCBRT. "Thank you very much to CCBRT…thank you very much for giving me my life back."
While there have been recent changes in Kupona Foundation's leadership, the focus on saving women like Asha, and close connection to CCBRT's activities remains.
Ms. Abbey Kocan took over as Executive Director of Kupona Foundation in early September when Kupona's founding Executive Director, Ms. Katie Flanagan, stepped down to spend more time with her family. Katie will join Kupona's Board of Directors in 2014. Abbey spent five months leading the development of CCBRT's five-year strategy in Dar es Salaam in 2012. She is honored to have the opportunity to build upon the solid base laid by Katie to help CCBRT achieve its strategic priorities over the years to come. CCBRT's CEO, Mr. Erwin Telemans, joined Abbey in New York City last week for a series of meetings with partners and donors to share updates on activities, construction and immediate funding priorities.
One of those priorities is the expansion of CCBRT's obstetric fistula ward. Due in large part to an awareness raising campaign and the innovative use of mobile money to reach the poorest women living in remote areas, 595 women received life changing fistula operations in 2012 - over 50% more than in 2011. With up to 3,000 new cases of fistula each year in Tanzania, most often due to prolonged obstructed labor, there is a growing need. CCBRT has a goal of increasing surgeries to 1,000 per year. Doubling the ward capacity will help achieve that goal. Starting at prevention, construction of the CCBRT Maternity and Newborn Hospital remains on track. The new hospital is expected to open in the second half of 2015. Combined with ongoing maternal health capacity building efforts in 16 lower level facilities in Dar es Salaam, Kupona Foundation and CCBRT will continue to work toward preventing obstetric fistula and other disabilities, sparing women like Asha from years of pain and suffering.
Your support of Kupona Foundation and CCBRT is critical to achieving our shared vision of a Tanzania where people have access to quality disability services as well as safe maternal and newborn healthcare. Your gift counts. Thank you.