Project Report

| May 23, 2019
"My experience - it's unexplainable."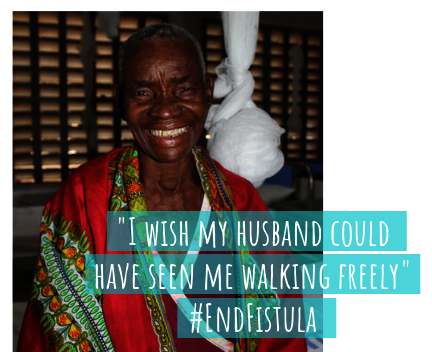 Dear Friends,
Today we're celebrating the sixth annual International Day to End Obstetric Fistula.
Obstetric fistula is a devastating childbirth injury caused by prolonged, obstructed labor without access to timely, high-quality medical care. The injury leaves women with chronic incontinence, leaking urine, feces or both due to a hole formed between the birth canal and bladder or rectum during childbirth. In 90% of cases, the baby doesn't survive the traumatic delivery.
The condition and stigma surrounding it often cause women to be isolated or rejected by their families and communities. Women in disadvantaged communities live with the condition for years – or even decades – because they're unaware that fistula can be treated, or unable to access treatment.
That was true for 82-year-old Msonde, who lived with fistula for 60 years after developing it during the delivery of her second child in 1958. It wasn't until last year that she learned from her niece that she could receive free fistula treatment at our local partner CCBRT. In August, Msonde traveled to CCBRT and underwent surgery that successfully repaired her fistula.
"When I arrived at CCBRT, I could not believe it was possible, but I found many women undergoing fistula treatment," Msonde said after her surgery. "I wish my husband could still have been alive. We are old now, but he could have been able to see me walking freely."
In Jovitha's case, she developed fistula after being in labor for three days during the delivery of her fourth child. Tragically, her baby did not survive. Despite quickly learning that she had fistula, the trauma of the delivery, loss and injury deeply affected Jovitha's mental health and self-esteem.
"My experience – it's unexplainable," Jovitha shared. "I hated myself for three months. I had urine flowing down my legs and was extremely embarrassed. But…thankfully I had that support that so many other women don't feel from their families and communities."
Fistula is treatable through surgery and rehabilitation. What's more, it's preventable – through access to high-quality maternal health services.
This International Day to End Obstetric Fistula, we're asking for your help to eradicate fistula in Tanzania.
Share your support for the global movement to fight fistula by using the hashtag #EndFistula in your posts or stories on social media.
Join the movement. Make a donation in honor of a strong woman or mother in your life. By giving Tanzanian maternal health workers the training and resources to both prevent and treat fistula, your gift gives women like Msonde and Jovitha the chance for a better life.
Regardless of income or location, we believe that NO woman should live with obstetric fistula. We hope you'll join us in making that dream a reality. Thank you!
Sincerely,
Abbey Kocan
Executive Director, Kupona Foundation

P.S. Read Jovitha's full story here, and learn more about Msonde's journey here.