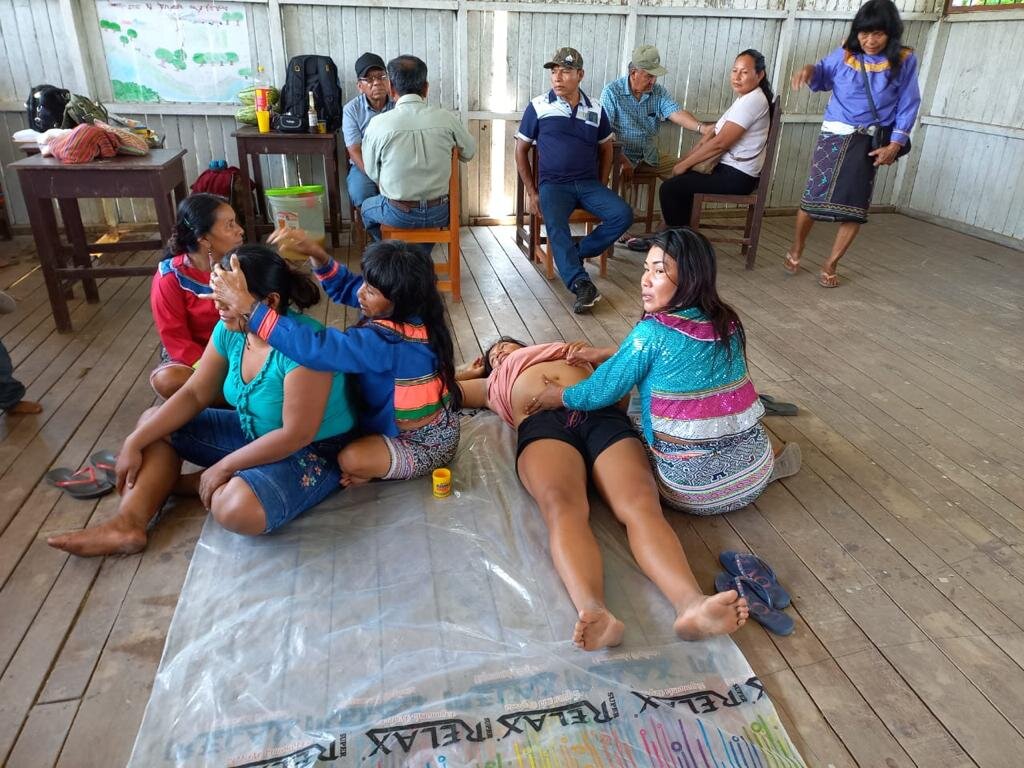 Dear friends and donors,
We hope this latest report from the field finds you well. Since we last wrote to you in June, thanks to your generous support to the "Onanyabo in Action" initiative, ASOMASHK was able to send their health brigade on two more large field trips, reaching the far away rainforest communities along the Pisqui river and in the Contamana area. Altogether, your support has now helped to fund five several week-long health brigades.
From July 18th to august 8th, the delegation of the 4th health brigade visited 11 native Shipibo communities along the Pisqui River, attending 711 patients with diverse symptomologies such as anemia, intestinal parasites, malnutrition, respiratory infections, abdominal, stomach or back pains. From August 29th to September 23rd another brigade, the 5th brigade in total, set out to visit the lower Ucayali River region, where they stopped in 15 villages, offering treatment to a total of 618 patients, children, women, and men.
A short reminder: the brigades are led by the Onanyabo, ancestral Shipibo healers, who are accompanied by representatives of the regional health authorities. The healers provide free medical treatment using ancestral healing techniques combined with standard medical care. Ancestral healing techniques include a wide range of plant medicines and techniques, such as cleanses of bad energy, vaporization, plants to treat ailments, ayahuasca sessions, and massages. The nurses which accompany the Shipibo delegation complement some treatments with standard western medicine (i.e. antibiotics, analgesics, injections, etc.). As during the previous visits, the reactions of the people in the villages are extremely positive.
Furthermore, the project continued to support the strengthening and revitalization of the Shipibo-Konibo culture, their customs, traditions, music, singing, art, history, food, legends, etc., through a weekly radio program called "Jakon Shinan Joi – Cultural Orientation".
Finally, three key representatives of Asomashk, Mateo Arevalo, Walter Lopez, and Elisa Vargas, were able to participate in the 4th Indigenous International Ayahuasca Conference, which was held in Marechal de Taumaturgo, in the state of Acre in Brasil during the first week of October. This indigenous led conference offers an important space for indigenous medics to exchange on their rich medical knowledge. Amongst the participants were some internationally renowned leaders, such as Davi Kopenawa from the Yanomami people. The Shipibo representatives held a series of presentations about their ancestral medical system.
As more communities are waiting to be attended, Asomashk is planning more field brigades for the upcoming months, and we continue with our intention to raise the full amount set as a goal for this campaign, to support the Shipibo healers in their endeavor. Thank you so much for your ongoing support. Without it, all this wouldn´t be possible.
With gratitude, on behalf of ASOMASHK
Chaikuni Institute & Temple of the Way of Light