Project Report

| Jun 14, 2022
Ancestral Shipibo healers reach communities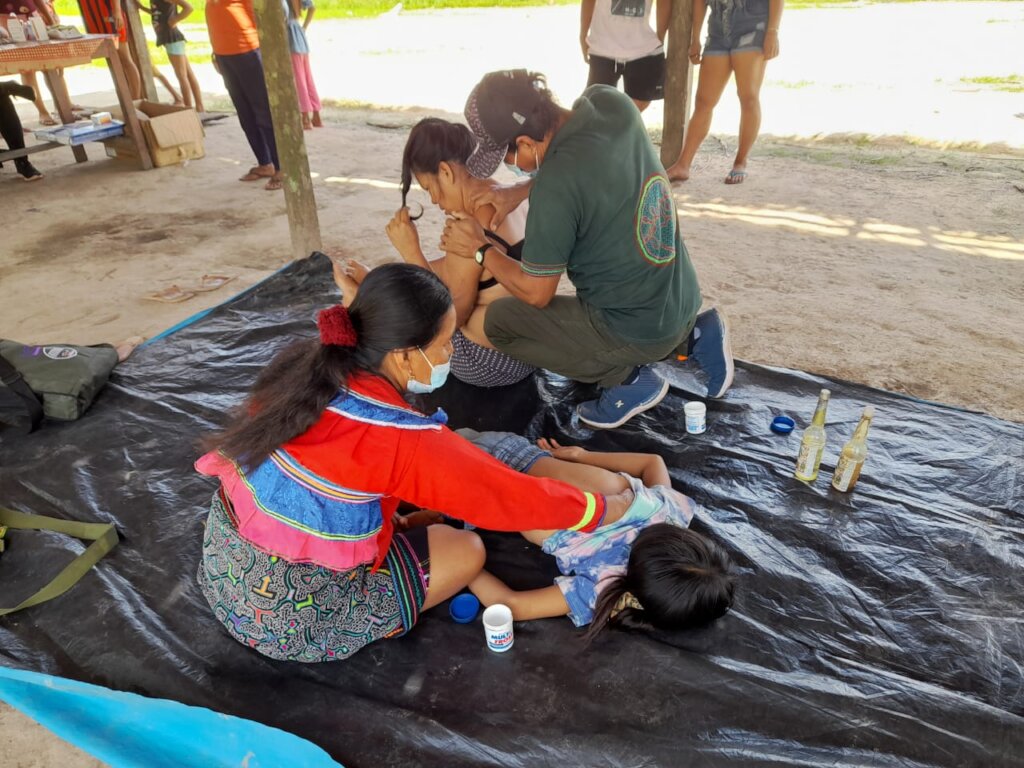 Dear friends and donors,
Thanks to your generous support, the Association of Ancestral Shipibo Healers, ASOMASHK, has been able to bring their "Onanyabo in Action" initiative to distant Shipibo rainforest villages. So far, we were able to send about 25,000 USD to ASOMASHK, half of our goal, making it possible for them to send out three intercultural health brigades, to attend 1375 patients in 26 communities over the last 4 months. Here are some more details from their recent activities.
When we last wrote to you, a delegation of six Onanyabo, ancestral Shipibo healers, accompanied by representatives of the regional health authorities, was about to set out to their first field visit to communities in the upper Ucayali area in the Tahuania district, to provide medical support to eight native Shipibo communities. The brigade provides free treatment using ancestral healing techniques combined with standard medical care. The team also holds information sessions to combat misinformation and promote preventive health measures, much of it in relation to COVID and post COVID, and collects data related to the triage, diagnosis, and treatment of patients for further analysis in the development of strategies for long-term care and crisis response.
From February 11th to 28th, during their first field visit, the delegation of six was able to attend 361 patients with diverse symptomologies. The second brigade, the largest to date, included seven healers and two nurses, visiting 12 communities over the course of three weeks between march and April. They were able to attend 646 people. The third brigade reached 6 Shipibo communities from April 20th to May 2nd, attending 368 patients.
The delegates that visited the communities tell us that, apart from some skeptical reactions from religious groups, the communities are extremely thankful for the visits, and their comments thoroughly positive. Some speak of a historic happening, that for the first time such an intercultural brigade led by ancestral Shipibo healers reach their communities. There are reports of some patients who returned from the city to their communities to be treated, upon hearing that the brigades would reach their villages. Finally, the villagers generally ask for the healers to come back for more visits. Some even went further to speak of the idea of an intercultural hospital, where modern medicine and ancestral plant medicine work hand in hand.
The other important component of this project includes the strengthening and revitalization of the Shipibo-Konibo culture, their customs, traditions, music, singing, art, history, food, legends, etc., through the participation in a local radio program on Saturday and Sunday ever weekend. A team of Shipibo journalists and social communicators have been attending the "Jakon Shinan Joi – Cultural Orientation" radio show every weekend over the last 4 months.
The faraway field visits require important resources to cover the costs of transportation, food, lodging, supplies, materials, and stipends. The fundraising campaign has recently gone a bit slower than hoped. If you are in a position to contribute further, every donation greatly helps and is much appreciated. Thank you for your ongoing support of ASOMASHK's mission to help the Shipibo regenerate from the pandemic and revalorize their ancestral medicinal practices.
With gratitude, on behalf of ASOMASHK
Chaikuni Institute & Temple of the Way of Light