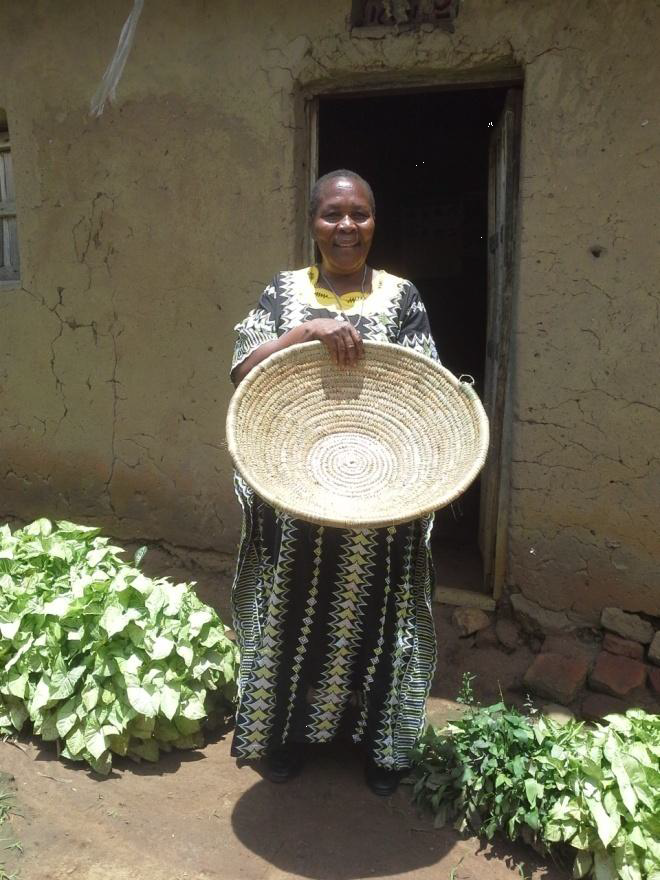 Koto is providing for her family because of YOU!
A few years ago Koto's world was changed forever. Her son and her daughter-in-law both passed away leaving her two grandchildren behind. Koto and her husband took in their grandchildren and cared for them. They did everything they could to provide for them but Koto's heart ached to provide one more thing for her grandchildren...
She dreamed of sending them to school.
Then Koto learned about the Grandmother Program. She joined a Granny Group and learned that she had everything she needed already to help her family. She improved her basket making skills and used micro-finance loans to build her business. Her Granny Group even taught her how to keep a budget.
Today Koto runs a booming business. She makes about 12 baskets every month and sells them each for 5,000 Ugandan Shillings ($1.92 USD). That means that every month she brings in 60,000 Ugandan Shillings ($23.03 USD) to help her family.
Because of YOU, she is able to send her two grandchildren to school and pay for their school supplies!
Knowledge is contagious! Because YOU trained her, Koto is now able to share her knowledge and experience. She plans to offer training in making of baskets and building a business for her fellow grandmothers to help them support their families as well.
The impact that YOU are making today will help Koto, the grandmothers she helps, and generations of children they will raise to escape poverty.
YOU may never see the true impact of YOUR gift but we hope that YOU feel Koto's love and gratitude for YOU today.
Thank YOU!
Join us for the last Bonus Day of the year!
Wednesday, October 15th
9 am EDT to 11:59 pm EDT (or until funds run out!)
Global Giving will be matching donations up to $1,000 per donor at 30%!
There is $75,000 available in matching!
They will be offering a $1,000 bonus award for the most individual donors and a $1,000 bonus award for the most money raised.
Links: