Project Report

| Nov 9, 2017
Nutrition & Fitness Report Update 11/07/17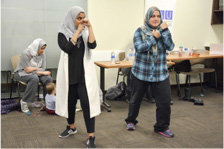 Dear friends and supporters,
On behalf Darfur Women Network, I would like to express my gratitude for your support! We had a great pilot project with our Nutrition and Fitness program. Some members met their preferred fitness goals, while others did not, but we all experienced a great change in connection and learning.
All of us have a dream to continue our Nutrition and Fitness program to maintain our healthy lifestyles. However, we are still dreaming.
I am very sorry for late report. I am waiting for update from students from Butler University. They are volunteering to help with this project through areas of grants, funding and writing as well as seeking out outdoor spaces for gardening provided by churches, organizations, and community centers. I will meet with this group on this Friday, November 10/11/2017.
The Darfur Women Network calls on GlobalGiving to help with this project. Last month, I had to take two immigrant women to fitness club due to recommendation from their doctors. They have membership now, but they walk while wearing Islamic clothes. They can't use machine or attend any classes due to their religious obligation.
One of my plans is to discuss with the students our needs to area advocates to help us to reach out to more people during Year-End-Campaign.
Thank you so much for your support,
Your recommendation and your feedback is valuable to help us to improve this project.