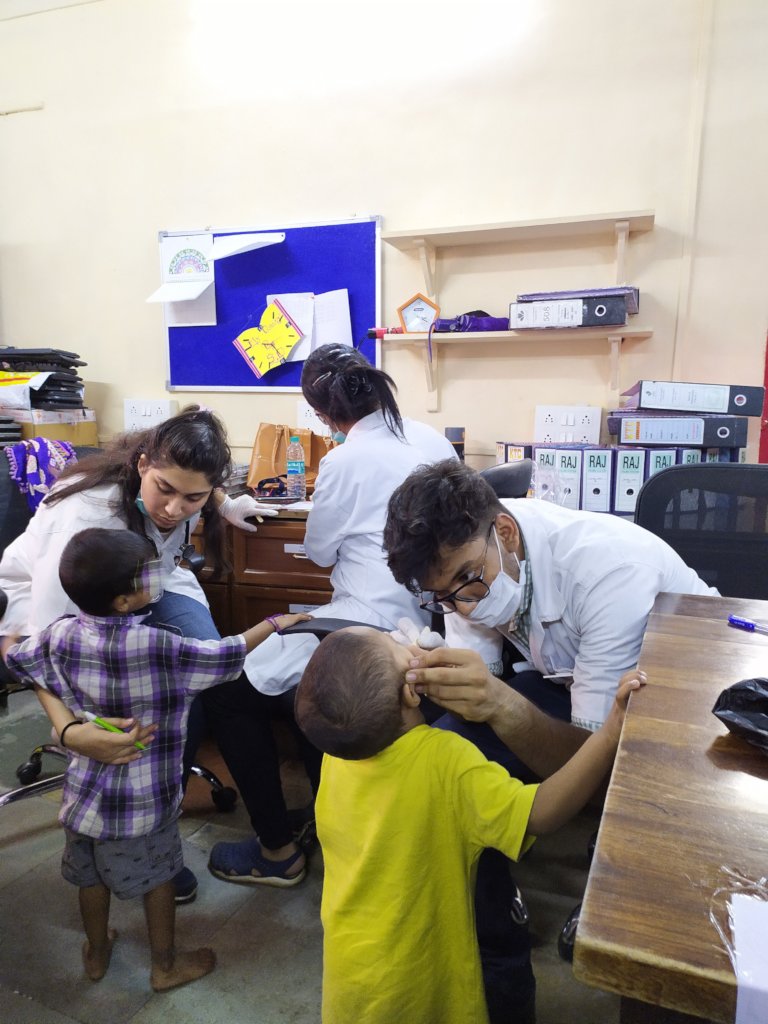 Outreach:
The toddlers of this community are exposed to many forms of violence and abuse due to which they are susceptible to an exploitative environment. Our outreach team puts in a lot of effort to identify theses toddlers so that they can be given services which can help them grow in a holistic environment away from unsafe red-light area or community and give them tools to a better future.
With the continuous effort of our outreach team, this quarter has been able to enroll 8 new members in our Umang program and 379 home visits were conducted to our Umang mothers. Upon enrolments, these beneficiaries have access to kindergarten education (Balwadi), all forms of assistance with their health (ex: referrals, camps, nutritional support, etc.), therapies, interactive activities, exposure and recreational visits and rehabilitative measures like night-shelter house amongst other general support and aid.
Education:
Teachers have continued to follow the academic timetable for Umang Kindergarten which is specially designed keeping in mind the child's holistic development. Teachers have incorporated certain changes in the Umang routine such as they started giving each beneficiary small responsibilities such as helping teachers to bring craft materials, holding papers, holding water bottle and distributing it to other children, folding their cloths and keeping it in the cupboard etc.
Apart from the regular changes in the chores the activities conducted for an overall development of the beneficiaries were odd man out, free play, magic bag activity, taste activity, slate writing, sewing activity,dominoes, identification of alphabets,book reading, five senses activitythese activities are catered to enhance visionary perception leading to cognitive development of beneficiaries, inculcating in them imagination skills to complete any activity, develope their gustation (sense of taste) and improved writing skills, improve gross motor skills along with eye hand coordination, developing an understanding of alphabets which help them in identification of word and basic reading and understanding of five senses.
The overall impact of the educational activities has been positive wherein beneficiaries are becoming more responsive and observant, they understand the instructions easily, they ask questions which shows that they are developing curiosity.
The beneficiaries are able to perform all the activities without any hurdles and the group activities are resulting in the formation of connections/relationship with other children. Younger beneficiaries are showing tremendous improvement in their language skills. They can say words and even form sentences.
In addition, beneficiaries are involved in extracurricular activities such as Art and craft Activities, Rain Scenery –Drawing, Paper fan – Origami, Paper Frog, Rakhi for Rakshabandhan celebration, snail, water color activity,finger painting, Ganapati – Paper cups and Clay, Fish Tank, Paper doll,Crushed Paper Ball were made by the beneficiaries. These activities are conducted to enhance knowledge of beneficiaries about monsoon season, improve fine motor skills, facilitate the creativity among the beneficiaries, bring about intellectual development and provide clarity of various concepts.
Ms Marina Dutta's session are conducted wherein the beneficiaries tend to learn English faster as they hear Marina Dutta communicate in English with them, they also tend to recite the story along with Marina Ma'am which has helped them immensely in language development and understanding of work, they have also become efficient in completing the work Marina ma'am is happy with the performance of the beneficiaries. Beneficiaries have become effective in completing all the activities. Currently focus is being given to Table etiquettes, where the beneficiaries have practical experience of using cutlery on the dining table. The children are learning how to have soup with the help of spoon. It has been noticed that the beneficiaries are improving their five senses, motor skills, cognitive skills and social skills.
Regular monthly assessments are conducted orally for both younger and older Umang beneficiaries. The assessment shows that elder Umang beneficiaries have clarity in speech while pronouncing words which is a sign of speech development among beneficiaries whereas the younger beneficiaries are very good with their general knowledge as they know about animal, birds, parts of body etc.
E learning sessions are conducted for the beneficiaries as visual representation help them in learning faster and retaining subjects longer. By visual and audio representation beneficiaries were taught poems and action songs.
Udaan and Umang sessions are conducted where in the Udaan beneficiaries highlight and teach younger beneficiaries topics of importance and which has relevance to their daily life this quarter the beneficiaries taught Umang beneficiaries about Rainy season, what we use during the rainy season, what care we need to take etc. The beneficiaries were attentive and Udaan's session was very detailed. It has been noticed that the beneficiaries are now well aware about which month rains occur and in what way they can protect themselves from getting wet during rainy season. The clarity of the topic is visible among the beneficiaries as they now immediately ask their teacher to carry an umbrella when it's raining outside.
The other topic covered was good habits the Udaan beneficiaries reiterated to Umang beneficiaries about what is good habits it was noticed that the younger beneficiaries carefully listened to Udaan beneficiaries and after the session have started implementing good habits in their schedule they have started washing their hands, combing their hair and greeting other people etc.
Udaan beneficiaries also teach younger beneficiaries songs during the session Umang beneficiaries learnt a patriotic song along with action. The motive of undertaking this session was to instill the beneficiaries with the feeling of patriotism starting from a young age.
Apart from the sessions and activities for the beneficiaries' regular child future planning sessions are undertaken where the mothers are made aware about their child's progress and are also instilled with skills to help them nurture their child in a better way. As the mother's lack to follow rules and regulations of the organization the mothers were made aware about the rules and policies of the organization. The mother's acknowledged and accepted to follow the rules ardently it was noticed that the mothers who were irregular and did not follow timelines have started following the timelines.
The other topic highlighted was to menstrual hygiene and opening of saving accounts for the children. In detail discussion took place with regards to myth related with menstrual hygiene the mothers were not hesitant and asked queries about the same. It was also explained to mothers how important it is to open saving account for the children for their future education and other endeavors the discussion was impactful as just after the discussion many mothers' came forward to open account for their children.
Mothers were also asked to send the children regularly to Balwadi(Kindergarten). The problem being faced by teachers due to absence was discussed with them and also the benefits of the services provided were again explained. The result of the meeting was fruitful as irregularity among the beneficiary has reduced.
Regular social skill sessions are conducted in topics such as good touch bad touch, toilet training and cleanliness, fighting and hitting other children, not to cling to the visitors or teachers, eat without making fuss, eating healthy and not using abusive language with an objective to bring and overall social skill development which will be helpful for them to start main stream schooling and also help them unlearn certain bad and unhealthy habits. It has been observed that the beneficiaries have become more sensitive towards other children and also children have stopped using abusive words which was learnt as an impact of their community.
Health
Physical Health:
The beneficiaries come from a susceptible background and suffer from malnutrition it is imperative to provide them with nutrient filled meals for their growth purpose as they belong to the age group maximum amount of nutrition is required as the basis of their further physical development taking these criteria into consideration we provide our beneficiaries with healthy and nutritional meal, which is prepared according to the diet chart.
This quarter it has been noticed that the beneficiaries have increased appetite which is a positive sign of good health. Nutritious meal along with timely multivitamins are improving their health along with an overall improvement in their behaviour they are energetic and happy, they participate in all the activities actively.
In order to track progress in health regularly height and weight measurement is done of the beneficiaries an increase in height and weight show a positive development whereas loss in weight indicates health problem or sudden increase in height.
These quarter beneficiaries were taken for monthly medical checkup where in the beneficiaries were thoroughly checked on the basis of the updates provided by the teacher. It is observed that the beneficiaries are not scared of the doctors they confidently respond when they are asked if any health issue is being faced by them. It was noticed that no beneficiary was suffering from any major illness and number of medical referrals are reduced due to maintenance of Hygiene in the shelter.
This quarter dental camp was conducted for the beneficiaries it was noticed that the beneficiaries were excited to show their teeth to the group of doctors. They did not shy away from the doctors. Doctors were child friendly and were trying to make them comfortable.Majority of the beneficiaries were given positive remarks on their oral hygiene since they brush their teeth twice a day.
It has been observed that beneficiaries initially enroll with the organization the beneficiaries have to be taken for frequent medical referrals but as days pass the medical referrals reduce as a result of the services provided.
Mental Health:
Acknowledging the fact that most of our beneficiaries are born into single parents, violent or broken family structures- their first contact with society, we recognize the fact that these toddlers may not have formed satisfying relationships or learnt to emote coherently in their early childhood. To combat further development of their emotional instability and prevent any mental health crisis in the future, we hold various therapy sessions with our Umang beneficiaries. This include art therapy and referrals to external experts for aid with severe mental health issues.
For recreational purposes beneficiaries are taken to garden visits and are engaged in indoor games. During the visits beneficiaries get to engage themselves in many outdoor activities which makes them energetic and happier. It has also been noticed that the beneficiaries are quite relaxed throughout the day after the garden visit and they have a more relaxed attitude and do not throw any fuss around the day.
The beneficiaries are also doing regular exercises and meditation. This calms the beneficiaries down and make them physically fit at the same time. Exercising makes them energetic and keeps them productive throughout the day. The beneficiaries like to participate and do exercise daily.
Recreation:
All festivals are celebrated with the beneficiaries to make them understand about varied festivals and why they are celebrated. This quarter rakshabandhan was celebrated where the younger beneficiaries tied Rakhi (a decorative thread to be tied on the wrist as a promise of protection, love and care) to the older beneficiaries as sign of brother hood. A feeling of protection towards each other was inculcated among the beneficiaries. Gopal Ashtami celebration also took place where the beneficiaries learnt that handi (pot) has to be broken during this festival. It was explained to the beneficiaries that during the celebration of the festival team work is required. The beneficiaries enjoyed bursting of balloon instead of breaking the pot. The beneficiaries were made to wear handmade tiara a replica of the tiara that Lord Krishna wears it gave the beneficiaries excitement to celebrate the day.
Independence day was also celebrated by the beneficiaries they were made to understand about the country and to made aware about Independence Day. Udaan beneficiaries started the celebration with imparting the information about the freedom struggle and the Independence Day of the India. For Umang beneficiaries it was more of a story so they were paying good attention. They could identify the Indian Flag. The celebration was followed by National Anthem.
This quarter teacher's day was celebrated wherein during Balwadi classes, Program Manager asked all the children to say thank you to their teachers and wished them Happy teacher's day. In the evening a combined Celebration was conducted with Udaan team. Udaan kids made greetings for all the teachers and facilitated the teachers by giving them the greeting card and chocolates. Through this celebration the toddlers learnt to respect teachers as it has been noticed that a beneficiary after each activity thanks the teachers.
Exposure visit was conducted for the beneficiaries they were taken to visit Ganapati pandal at the eve of Ganesh Chaturthi. The exposure contained of the visit to Pandal but in the way while walking through the market, they got exposure of fruit vendors, Cobbler, Shops selling different items as well as vehicles. They also went to the Police station where they come across with Police officers in their uniforms and Police vehicle the Children were astonished to see police officers and when asked who would want to be police officer, all elder beneficiaries yelled and raised their hands. It was observed that the observation skill of the toddlers has improved and they consider every minute detail that come in their way.
Capacity Building:
A full day was conducted by ICRI to enhance skills of Balwadi teachers for improving quality of education and to train the teachers different effective methods such as Project Method to teach the beneficiaries about certain concept. It was explained to the teacher that projects change depending on the age group of children. It has been noticed that regular sessions motivate the teachers to use different techniques to teach the beneficiaries better. The dedication towards work and to perform better has increased.
The other session was conducted to introduce alphabets and to teach Phonics to the children of different age group. Through these session teachers are equipped with the skills of introducing alphabets in different methods and not just by writing or learning alphabets by heart. They have conducted activities such as identification of alphabets to introduce the alphabets to the toddlers. The impact of the session is positive as teachers have started making a weekly plan for conducting activities which shows improvement in their working methods. Also, teachers are preparing various Teaching- Learning aids to conduct the Balwadi activities which shows the enhancement in their teaching methods.
Looking at the need for staff training this quarter support staff and teachers underwent a training on "Work Ethics and Responsibility" and Stress Management. During the training the resource person conducted various exercises and games to engage the team. The staff participated whole heartedly they were quite open and expressive which made the session interactive. The staff members learnt about team work and maintain a healthy work relationship by helping one another.
Success story:
ABC, 4 years old, was enrolled in AAWC Day care shelter few months ago. Her mother put her in day center due to her erratic work life and inability to look after her daughter. During initial days, ABC used to cry a lot every time use to ask to let her go to her mother. Once done with crying she used to sit alone in the corner, she avoided other children and did not even respond to teachers, she did not participate in any activity. She was even reluctant to eat lunch.
She was given time to settle in and teachers did not force her to participate in activities; they gave her space and respected her comfort zone. However, teacher used to have healthy dialogue with her time to time in which they introduced her with other children and other teachers. Gradually they asked her to sit in the circle with other children, on which she gave positive response. Once she started observing all the activities she was developing interest to be part of the activities. The improvement shown led teachers to understand her willingness to participate they started taking her in various activities. She has now been participating in all the activities and developing in all aspects.
Pictures: