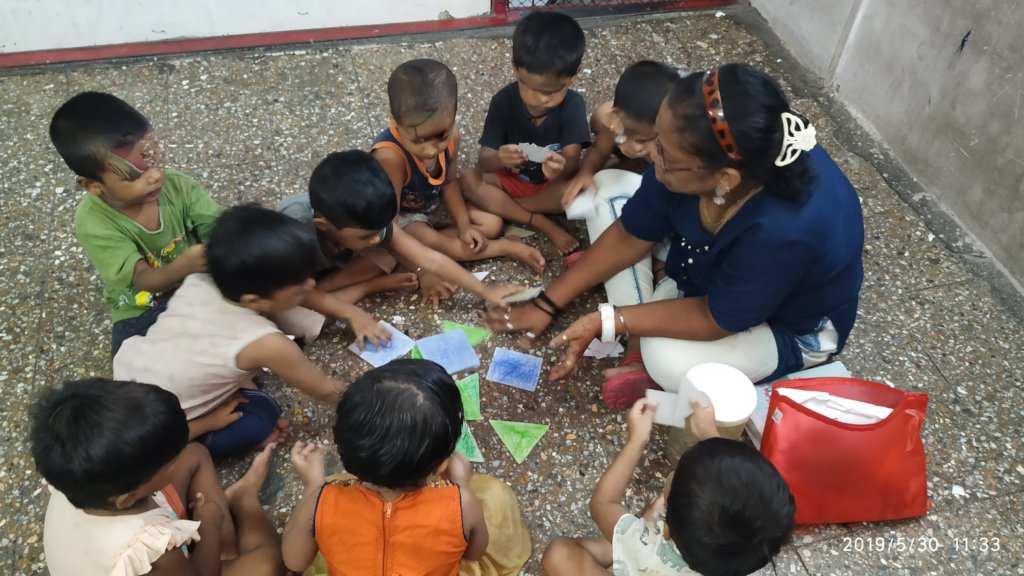 Ritu* 5 years old, she was enrolled in AAWC night shelter two years ago. When she was enrolled she was very weak, she could not even walk properly as her mother suffers from health issue she could not take care of her daughter's health properly. Instantly Ritu was given five times nutritious meal according to the diet chart along with calcium and Vitamin D syrup on daily basis to strengthen her bones. Considering her weak health, teachers started conducting fine and gross motor skills activities with her. Teachers also observed that she had not developed her speech when she was 3 years old, so they focused on her language development as well. With such continuous efforts of teachers, she started showing improvements while playing games and reciting poems. Not only her muscles strength improved but also she started to speak in lower tone. Day by day she is improving, her participation in the outdoor activities has increased tremendously.
Outreach:
The toddlers of this community are exposed to many forms of violence and abuse due to which they are susceptible to an exploitative environment. Our outreach team puts in a lot of effort(s) to identify theses toddlers so that they can be given services which can help them grow in a holistic environment away from unsafe red-light area or community and give them tools to a better future.
With the continuous efforts of our outreach team, this quarter we have been able to enroll 11 new members in our Umang program and 453 home visits were conducted to our Umang mothers. Upon enrolments, these beneficiaries have access to kindergarten education (Balwadi), all forms of assistance with their health referrals, camps, nutritional support, etc., therapies, interactive activities, exposure and recreational visits and rehabilitative measures like night-shelter home amongst other general support and aid.
Education:
This quarter the teachers continued to follow the academic timetable for Umang Kindergarten which is specially designed keeping in mind the child's holistic development. The beneficiaries have been taught alphabets and numbers, poems, storytelling in order to improve their understanding of English language and also enhance their speaking skills.
The timetable also consisted of the following activities: odd man out, matching the pairs, taste and guess, bottle activity, magic bag activity, read the picture, clay activity, sharavanbhed (Identifying the different sounds), object discrimination, three corners and free games. These activities were done to explain the children about five senses, bring about cognitive development, improve speaking skills, to develop the sense of touch, to develop the sense of movement which is in medical term called as proprioceptive senses it involves the ability to perceive certain things even when eyes are closed, improve visual perception, improve auditory perception and improve fine motor skills.
It was observed that each activity catered to the overall development of the beneficiaries. The beneficiaries paid attention and they learned about various taste, sound, discrimination between different objects, balancing, their sense of touch and movement improved. This has helped in instilling confidence and enhancing their communication skill.
This quarter teacher's not only focused on their academics but also have started to focus on their social development. The objectives of all activities were mainly related to promote their social and emotional development. The activities were involved around the sense of self, responsibility of self and others; and social behavior. Through the activities such as observation game, Friendship, Role-play and teacher assistance etc.; teacher tried to improve the abilities of the children to adjust in new situations, to respect and care for classroom environment and materials, the ability to recognize the feelings of others and respect others.
This quarter e -learning sessions have been conducted to help the children learn more through visual perception. The topic conducted on e-learning was about the earth, moon and sun. The children were astonished to see how the earth looks from space and they had many questions regarding the water bodies visible and living beings. Along with this video they also got an opportunity to explore google maps and understand India is a part of the earth.
The other session was to explain the beneficiaries about water cycle which was done through storytelling and chart as the story was about water cycle the concept of rain became very clear to the elder Umang beneficiaries and they were very attentive and also cleared their doubts through questions.
Another group session highlighted the importance of water and why we should not waste it. The session was interactive and filled with questions from the beneficiaries which made the session helpful and gave a better understanding of water and its use to the beneficiaries.
This quarter Ms Marina Dutta's sessions were conducted in which she conducted activities such as yoga, puzzles, life of Mahatma Gandhi and storytelling through flash cards and collage making. The activities involved in Marina Dutta's session have the objective to develop the Physical-Motor skills, Cognitive- Language skills and Social- emotional skills among the beneficiaries. It has been observed that the techniques used by her is effective as she influences the children to speak loud and clear in her session because of which the speech of many beneficiaries has become clear.
This quarter monthly assessments were conducted to understand better the area in whichbeneficiaries require more development on. These assessments are conducted orally and the development made by the beneficiaries is clearly understood through their performance.
This quarter Udaan and Umang session were conducted to form a mentor-mentee relationship among the Udaan and Umang beneficiaries and to represent Udaan beneficiaries as a role model for Umang beneficiaries. In this quarter Udaan beneficiaries have been teaching songs and poems to the Umang beneficiaries, they also tell them moral stories so that they inculcate good values in them, the Udaan beneficiaries have also started teaching their younger counterparts about clock and how to read it starting with the numbers it shows, though the beneficiaries find it difficult to understand the functioning of the clock still the Udaan beneficiaries are trying to make them understand how a clock functions. The Udaan beneficiaries also with the help of a chart have explained the lifecycle of butterfly to the beneficiaries and the concept was explained in very simple words and it was understood by the beneficiaries very clearly.
In this quarter the child future planning session (CFS) was conducted to inform the mothers about birth Certificate and Birth Affidavit which was a repeated session to make the mothers understand the importance of the identity documents of children required for school enrollment.
The other topic covered was the consumption of tobacco by the mother's in front of children and the harmful implication on their health as the explanation was done through a skit performed by our Udaan beneficiaries it had an impact on their mothers. They understood it very clearly that it is not correct to consume tobacco for their health as well as in front of their children and they always need to keep it out of reach of children.
The other CFS meeting topic was to make the women aware about family planning. This topic was addressed because it has been observed that the beneficiaries were not aware of family planning. As it has been observed that though they are unable to take care of their children still they are expanding their family which is putting financial pressure on them. In this meeting, beneficiaries were first informed about safe sex, contraceptives and importance of family planning. It was observed that the mothers were quiet uncomfortable to share their thoughts with regards to the same but they did understand the importance of family planning.
Social skill sessions are also regularly conducted with the beneficiaries on topics such as Good touch bad touch, Toilet training and cleanliness, No Fighting and hitting other children, not to cling to the visitors or teachers. Eat without making fuss. Not using abusive language. This session is conducted to inculcate good social abilities which will help them to become more social when they start going to school and also to help them unlearn certain bad and unhealthy habits.
This quarter group session was conducted to inculcate the habit of sharing and caring for others this was done through storytelling and video presentation on pet animals and the reciprocation of affection and care from the animals when showed care. The beneficiaries understood the topic very clearly.
Regularly art and craft activities are conducted with the beneficiaries to enhance their skills this quarter the beneficiaries have learnt to make carrot out of paper, wall hanging and collage. The beneficiaries also learnt finger print painting using water colour.
Health and Nutrition:
Physical Health:
As the beneficiaries come from a susceptible background and suffer from malnutrition it is imperative to provide them with nutrient filled meals for their growth purpose as they belong to the age group were maximum amount of nutrition is required as it is the basis of their further physical development. Taking these criteria into consideration we provide our beneficiaries with healthy and nutritional meal, which is prepared according to the diet chart.
During this quarter, a new diet chart was introduced to the beneficiaries in accordance with the season as it is summer season a lot of liquid items Ampanna (raw mango Juice), buttermilk etc has been added to keep the children hydrated. The new diet has been relished by the beneficiaries. The multivitamins were also given at the right time daily to the beneficiaries.
This quarter whenever the beneficiaries had any health issues they have been taken for referral to both government as well as private hospitals. It has been noticed that referrals are reducing in number and none of the beneficiaries have been suffering from major illness.
Regularly monthly medical checkup is conducted by taking all the beneficiaries to the nearby hospital. This is done to keep a track on all the beneficiaries health under the supervision of doctors and nurses this helps us detect the smallest of illnesses which helps us treat it at the earliest.
This quarter general health camp was conducted in collaboration with the doctors from E- ward. During the camp the beneficiaries were asked about their problems, checked and were prescribed medicines accordingly. Most of the beneficiaries had slight cold and cough. The team of doctors had come along with medicines hence the beneficiaries were immediately provided with the same.
Mental health.
Acknowledging the fact that most of our beneficiaries are born into single parents, violent or broken family structures- their first contact with society, we recognize the fact that these toddlers may not have formed satisfying relationships or learnt to emote coherently in their early childhood. To combat further development of their emotional instability and prevent any mental health crisis in the future, we hold various therapy sessions with our Umang beneficiaries. This include art therapy and referrals to external experts for aid with severe mental health issues.
In order to provide a congenial environment and sufficient amount of exercise we take the beneficiaries for garden visits where they play games and outdoor activities are conducted. The beneficiaries are also involved in many indoor games that help them improve their concentration and thinking capability.
To maintain good health, we conduct fitness activities such as yoga and sports. The beneficiaries are regularly involved in exercise and meditation that keeps them energetic throughout the day and has also helped the children calm their behaviour.
Recreation:
This quarter for recreation purposes children were taken for garden visits regularly where they played various type of games and also got an opportunity to play with mud and create shapes out of it.
This quarter the children celebrated mother's day by putting forward many performances for their mother's they danced, they sang songs and also recited poetry. It was an emotional moment for the mothers to see their children perform in front of them. As a way to express their wishes the beneficiaries also made card for their mother's.
This quarter laughter day celebration took place in collaboration with Book a Smile, initiative of Book My show. In the celebration a show was presented by a Ventriloquist Artist and Charlie Chaplin artist. The beneficiaries at first were scared of the toy with which the ventriloquist was performing but they slowly were amazed to see the toy talk. The beneficiaries enjoyed the Charlie Chaplin show they were laughing to their hearts content and also few beneficiaries got an opportunity to be part of the show. After this all the beneficiaries danced on their favorite song along with Charlie Chaplin.
This quarter Eid was celebrated with the beneficiaries wherein the beneficiaries were taught to make star and moon along with this activity the beneficiaries where explained why Eid is celebrated. The beneficiaries enjoyed biryani and Sheer Kurma and also got an opportunity to hug and wish each other Eid. Immense joy was reflected on their faces.
This quarter the beneficiaries for recreational purposes were taken to YaYa play zone and Wonder park, the children enjoyed both the places and got an opportunity to play different games and enjoy a train ride in the park.
Capacity Building:
This quarter the Kindergarten teachers underwent training conducted by ICRI in order to improve the quality of education in the Umang program and to help the teachers imbibe different methods of teaching English Language to the toddlers. In the training first teachers learned about phonics which is essential for them to understand as it forms the basics of the language development for children. As the session was interesting teachers developed the interest to learn more about Phonics. They also learned the various tips regarding ice-breakers before starting any activities. It has been noticed that teacher's immediately started implementing the activities they have been taught in the training sessions. They have learned that every activity has objective behind it and they first need to have an objective and then see if the objective is being fulfilled after implementing the activity.
The other training conducted by ICRI involved training the teachers how to introduce numbers through readiness activity. This training helped our teachers to understand the procedure and the sequence of introducing maths- shapes, sizes, counting etc.
The staff members attended a training session conducted by the occupational therapist that aimed to familiarize the staff with Child Psychology and counselling and the process of learning among children.
The session involved making the staff familiar with the importance of five senses in children, the importance of sense of balance and sense of movement. The staff members brought forward all the activities that they are conducting with the beneficiaries to familiarize them with their senses. The participation of the staff and efforts were appreciated by the therapist.
The other session involved information regarding visual perception and auditory perception and different activities to be conducted keeping in mind various concepts to develop visual perception and auditory perception was highlighted. Concept's such as form constancy, figure group and scanning, spatial relationships and discrimination was explained in detail along with examples that made it very clear to the staff member's when and where they could utilize it.
The other training session of the occupational therapist was based on stress management. She introduced the staff with various techniques of stress management amongst children as well as the staff themselves. The techniques taught was easy and the staff has been able to implement it easily. The techniques taught have made it easier for the staff to handle children sensitively with behavioral issues.
Pictures: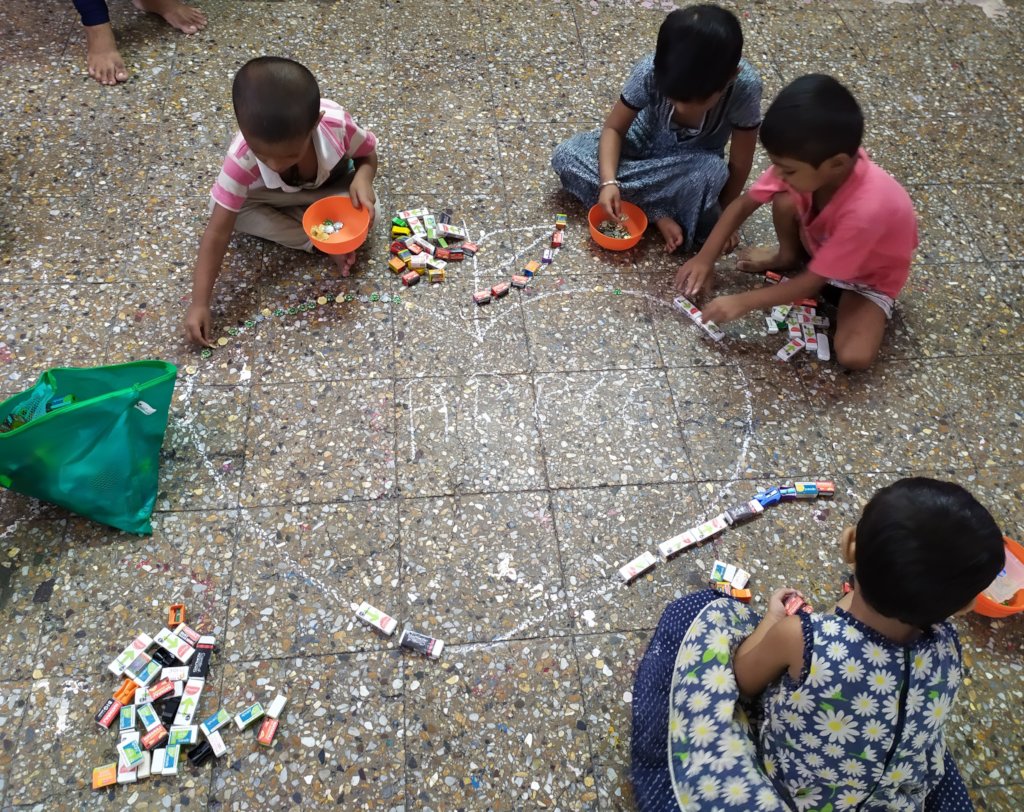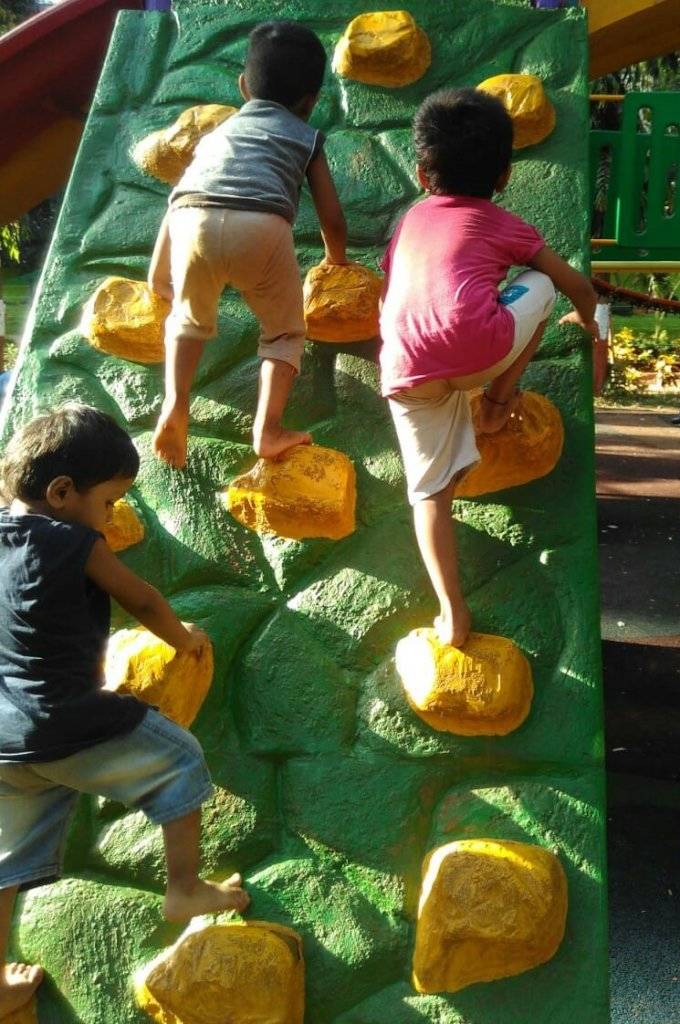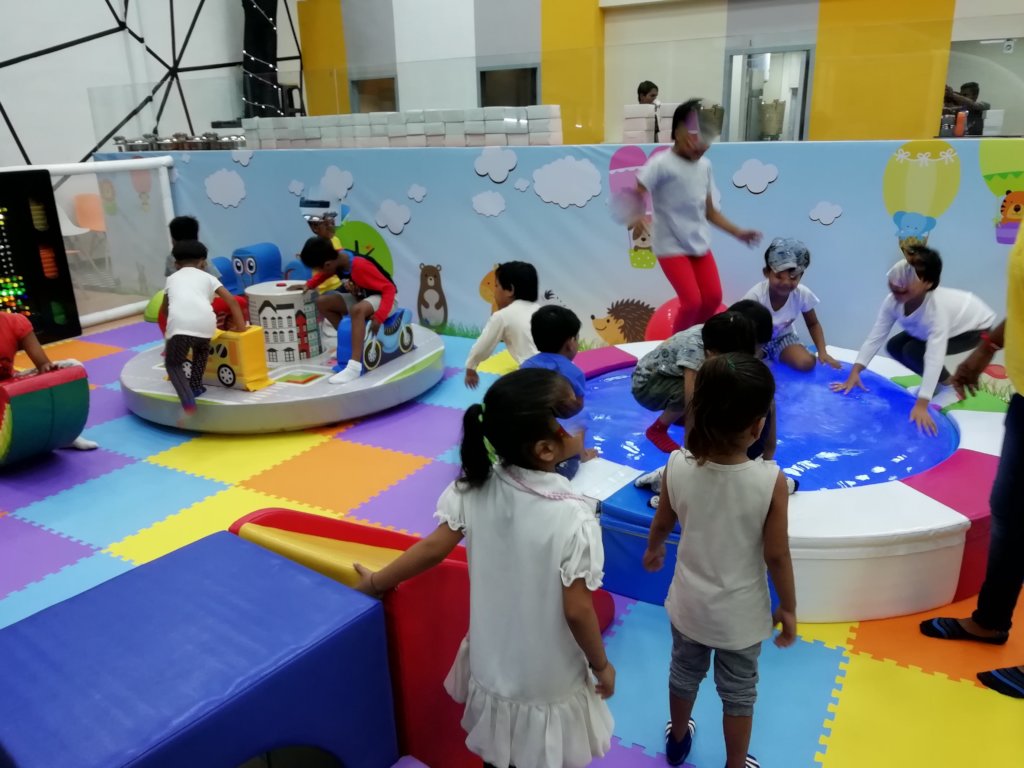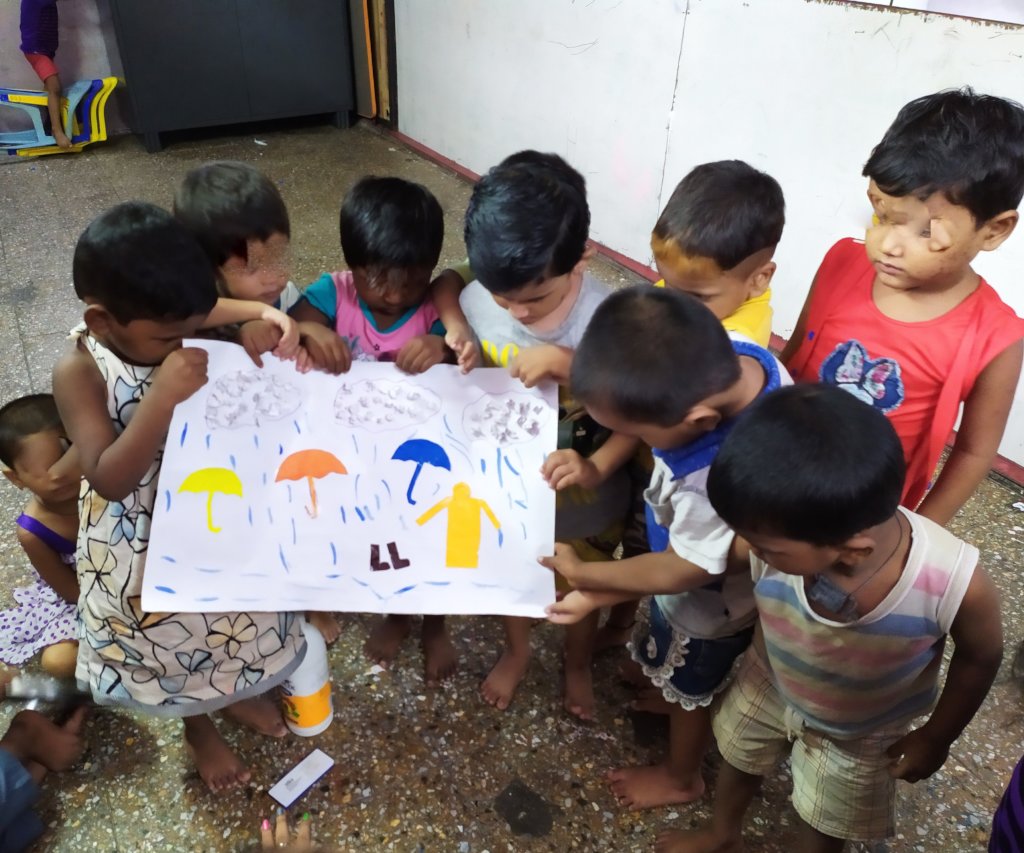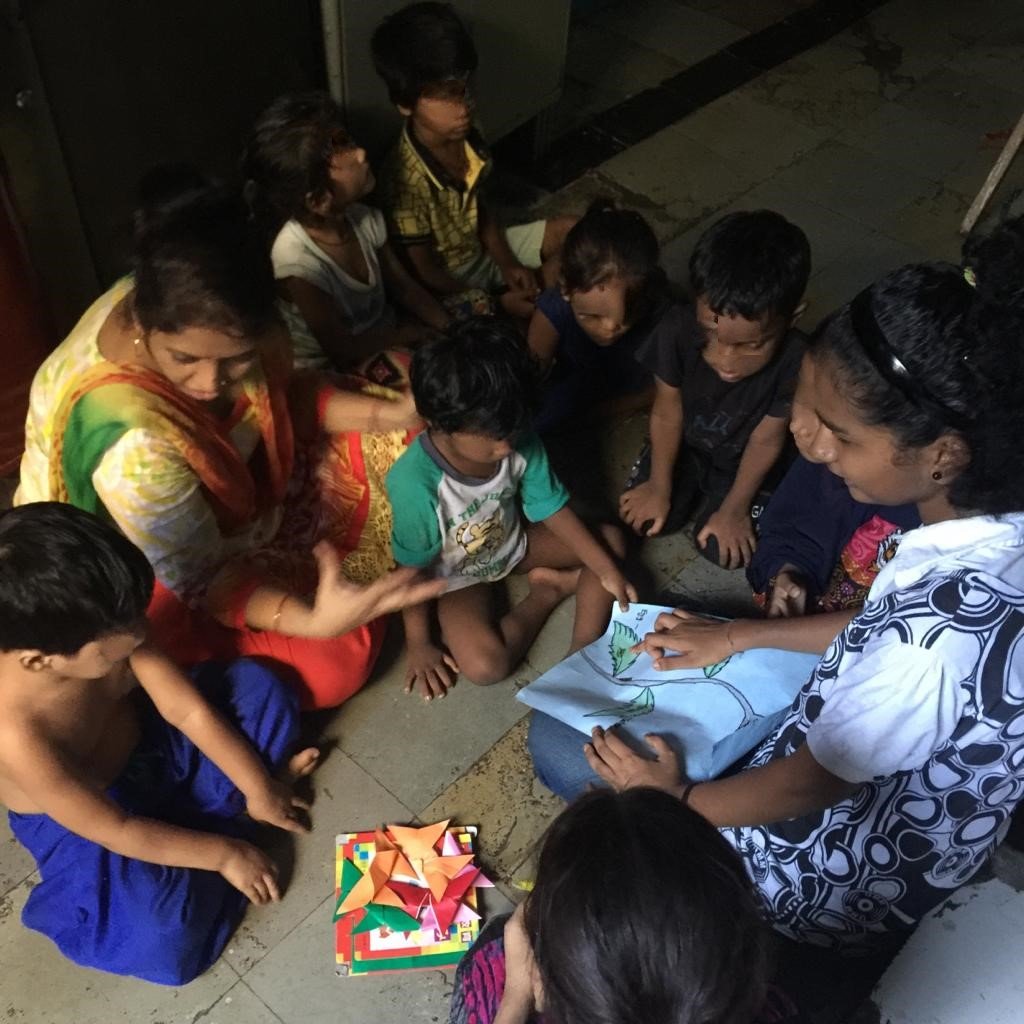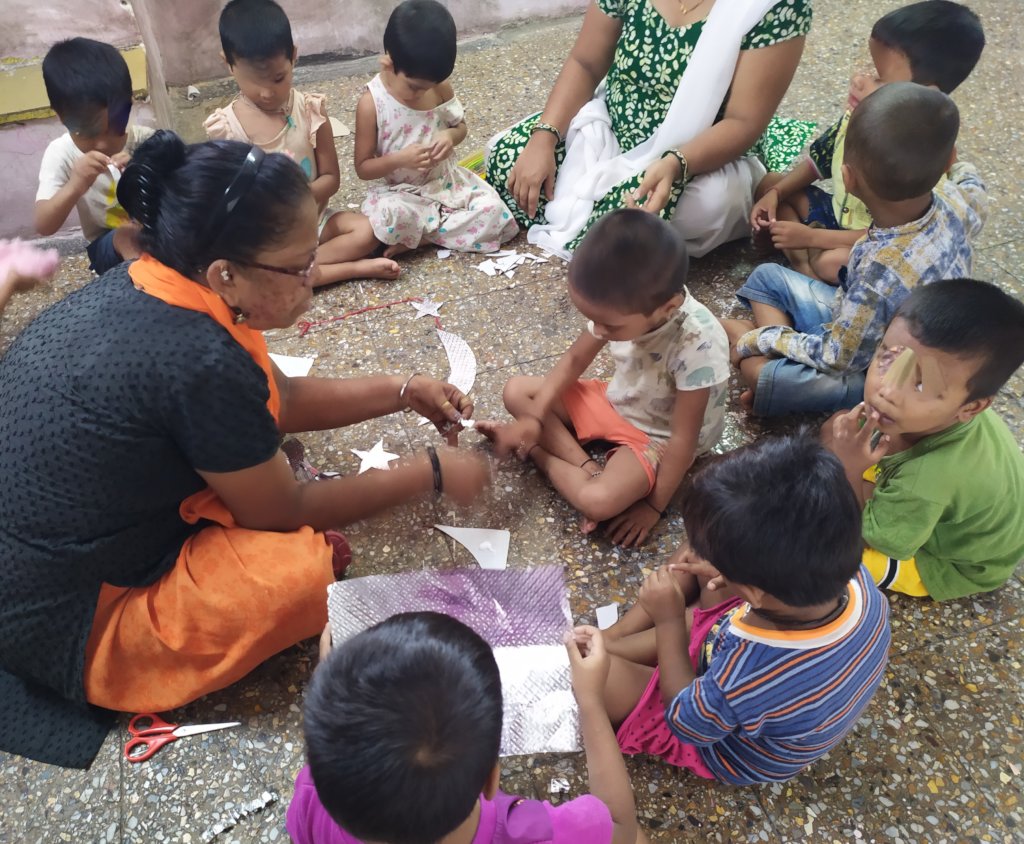 Attachments: