"Teacher, when I keep my child at other organization, I can see how bad they treat my child. I like to see the love and care the child gets here at AAWC. Thus I want him/her to live in this organization for 24 hours."- Umang Mother.
Outreach:
The toddlers of this community are exposed to many forms of violence and abuse due to which they are susceptible to an exploitative environment. Our outreach team puts in a lot of effort to identify theses toddlers so that they can be given services which can help them grow in a holistic environment away from unsafe red-light area or community and give them tools to a better future.
With the continuous effort of our outreach team, this quarter has been able to enroll 9 new members in our Umang program and 443 home visits were conducted to our Umang mothers. Upon enrolments, these beneficiaries have access to kindergarten education (Balwadi), all forms of assistance with their health (ex: referrals, camps, nutritional support, etc.), therapies, interactive activities, exposure and recreational visits and rehabilitative measures like night-shelter house amongst other general support and aid.
Education:
During this quarter a new timetable for Umang Kindergarten was introduced which is designed specifically keeping in mind the aspects of child's development. It includes activities such as Free play which contains making collage out of buttons, paper balls, stickers, identifying the sound and the object from which it is produced, counting, observing and sharing about any object, matching the pair, classification, identifying the differences between two objects/place etc.
Due to these activities being conducted as part of the timetable the beneficiaries sensory and auditory skills have improved and they are able to identify shapes and sounds easily. This skill has helped them learn shapes, size, colours, animals, birds and vegetables.
Apart from basic education such as alphabets and numbers teachers have also tried to teach words related with our day to day life such as (Day-night, sun-moon, fast-slow etc) the objective of this is to make them understand the difference between different actions, things and commands.
They have also introduced new activities such as putting different things in the box such as beans, pencils using extractor in one hand with the objective of improving their fine motor skills as well to promote their cognitive development. It was noticed that each beneficiary was using a different technique to put the objects in the box.
Overall this quarter it has been observed that children are more participative and interested in the activities due to the innovative learning techniques being used for teaching. The rise in their interest has led to an increase of learning. Though few children still do require the support of their teacher in reading and writing.
This quarter we had educational session by Ms. Marina Duttawith the beneficiaries in which she conducted yoga for children, storytelling session , Exploring and Discovering the Life of Mahatma Gandhi using Flash cards and with the help of replicas of Mahatma Gandhi's Spectacles, Turban, Chappals, Spinning Wheel, Indio, Salt, pocket watch, Radium Torch, Inedible Ink, Three monkeys, Collage of crazy Chinese floor Mosaics and freedom fighters while listening to music from Bluetooth speaker, Sorting collage material with delight and folding flag handkerchiefs.
E-learning sessions were conducted with the beneficiaries where in videos are shown of various fruits, vegetable, domestic animals and wildlife. This quarter the children were shown videos of water conservation wherein explanation was given to children how we should not waste water and conserve it for future utilization. The children listened attentively but due to their short time of concentration it was difficult to explain the whole concept of rain to them. But when questions were asked to the children it was observed that they understand basics like the tap should not be kept open from a longer time as they were thinking and replying to the questions.
The other session was on five senses video in the relation to the topic was shown and then children were asked to relate their part of the body with the senses it was observed that the children understood the five senses well and were able to point the correct part of the body.
Regular 'Children Future Planning Sessions' (CFS) during mother's meeting was conducted during this quarter which was included information about Measles and Rubella vaccinations. It was noticed that the mothers during the meeting were attentive as they were not aware about the vaccination. We imparted all relevant information regarding the vaccination and also requested them to spread the word in the community.
In the CFS meeting we also discussed about the health, progress and development of their children and in which they need to give more attention and we showed them art & craft things which were prepared by their children. They were really happy to see the things prepared by them. Apart from this we even shared the incidence of chicken pox and explained to them that as it was a communicable disease we had to send the children home as it could have affected the health of other children. After hearing this the mothers of the beneficiaries were very supportive of the decision and they well understood the reason behind the decision made.
The other CFS meetings objective was to inform the importance of birth certificate and birth affidavit to the mother's. As it one of the necessary documents required for school admissions. They were informed about the process of school admission and the documents required and were also requested to submit the document which will help us for the school admission or else would create a hindrance during the child's admission in upcoming academic year. It was seen that the mother's understood the importance as two mothers' immediately showed interest by approaching us to help them obtain birth affidavit of their child.
This quarter on a daily basis social skill sessions were conducted on topics such as good touch, bad touch, greetings of the day, good habits to maintain hygiene, toilet training, good manners and eating everything without making fuss.
The beneficiaries were taken for an exposure visit to Kidzania (an amusement cum career guidance cum entertainment park) in order to understand the roles of different professions (doctor, fire fighter and police men) through practical implementation as they provide set up of hospital emergency room, Police Station and fire brigade office along with fire extinguishing tools.
Along with the role playing activities the kids also got an opportunity to visit the factory set up of Kellogg's and fruity. The beneficiaries were shocked to see the preparation of these items as they consume it at a regular basis. It was observed that the beneficiaries were disciplined and attentive during the process The beneficiaries enjoyed the visit and snacks provided.
Health and Nutrition:
Physical Health:
As the beneficiaries come from a susceptible background and suffer from malnutrition it is imperative to provide them with nutrient filled meals for their growth purpose as they belong to the age group maximum amount of nutrition is required as the basis of their further physical development taking these criteria into consideration we provide our beneficiaries with healthy and nutritional meal, which is prepared according to the diet chart.
During this quarter, the diet chart was regularly followed and Kellogg's has been added as a new addition to their breakfast which is enjoyed by the beneficiaries and the multivitamin supplements were provided in the right time. Their height and weight assessment were regularly done so that we can track the improvement in the beneficiaries' health.
During this quarter regular medical check-ups took place along with a health check-up camp where in the beneficiaries were given de- worming medicine and vitamin E supplement. The beneficiaries were not detected with any major or chronic disease. Most of the children have majorly complained about cold and cough and skin irritation.
"They have good oral health, most of the children have clean teeth."- Dentist
Not only a health camp but also a dental camp was conducted the assessment of which showed no significant oral problems. This reflects that the oral hygiene of our beneficiaries are well maintained.
One of the health related challenge we faced was chicken pox as it is an airborne disease and lack of space led to the spreading of the disease among other beneficiaries
Mental health:
Acknowledging the fact that most of our beneficiaries are born into single parents, violent or broken family structures- their first contact with society, we recognize the fact that these toddlers may not have formed satisfying relationships or learnt to emote coherently in their early childhood. To combat further development of their emotional instability and prevent any mental health crisis in the future, we hold various therapy sessions with our Umang beneficiaries. This include art therapy and referrals to external experts for aid with severe mental health issues.
In order to provide a congenial environment and sufficient amount of exercise we take the beneficiaries for garden visits where the play games and outdoor activities are conducted.
To maintain good health, we conduct fitness activities such as yoga and sports.
'On Sports day we saw that beneficiaries who were quiet, are being so sporty and are playing with the fellows actively', a staff attendant shared her observation.
This quarter we held the annual sports for our Umang beneficiaries. They were very excited during the entire event and were also very happy to participate in all the sports activities that was organized. Activities such as Running race, Lemon and spoon, Frog Jump, Potato race, and throw ball were conducted. It was very interesting to see that the beneficiaries understood the activities and knew that it was a competition they were happy to receive chocolates after the event.
Indoor games are also included such as Catch and throw game, Bowling, Blind man's bluff was played in the center. Teachers also give them time for their free play where they play with the toys according to their choice.
This quarter free dance hour was conducted by the volunteers from ceres global the beneficiaries enjoyed the music and danced their heart out. It was noticed that the children were following the steps of the volunteers attentively and were trying to do it exactly the same way.
In order to provide a time of enjoyment along with making them understand our of various festivals this quarter we celebrated Makarsankranti wherein the beneficiaries participated in kite making the beneficiaries were very excited when the elder beneficiaries were sharing how they flew kites with their elder siblings when they go home, younger beneficiaries were quite overwhelmed to see the kites with beautiful designs. The teachers along with the kites explained them reason for celebrating Sankranti through telling them a story.
We celebrated republic day with the beneficiaries where the beneficiaries sang national anthem along with the teachers and as part of art and craft session made the national flag.
Teachers celebrated Shivaji Maharaj Jayanti by sharing the story of Shivaji Maharaj with Umang beneficiaries. Umang beneficiaries actively listened to the story and were quite amazed to hear about battles and horses.
This quarter we also celebrated Holi with our Udaan and Umang beneficiaries during the celebration all Udaan and Umang beneficiaries were asked to stand in a row in pair facing each other. Then one by one teacher distributed colors to Udaan and Umang beneficiaries, then they both applied the colors to each other. Then with the joy of having colour on their hands, all children became so excited that they started throwing colors to each other and started applying it on everyone including teachers and staff. They also reciprocated in the same manner. Few of the Umang beneficiaries were scared and were not comfortable to play initially but once they realized that everyone is having fun, they were also participating in the celebration. All beneficiaries were dancing and jumping with the joy after seeing everyone specially the teachers in colorful faces.
Night Shelter:
We also run our own rehabilitative night shelter for the most vulnerable toddlers and adolescent girls of women in prostitution. Acting as a safe space away from the disturbances and brutalities of the red-light district, our night shelter provides a home for many young children who have never known the comforts of a family and healthy living. With a capacity of 25 toddlers, the members of the night shelter have access to all the other Umang activities like education, health, empowerment, extra-curricular, recreational and exposure visits, and celebrations held at our centers.
Capacity building:
In this quarter we have had in house training for our Balwadi teachers by Mrs. Vijaya Murthi from ICRI (International child resource institute) about the issues regarding early childhood education and talked about various methods through which we can improve the quality of preschool education in AAWC. The topic for the training was "Upgrading ourselves professionally as pre-school teachers'"
The session reflected how through games & songs the teachers can sustain children's interest & attention. For this various action songs were demonstrated with the aspects of learning like vocabulary building, concept development, engaging physically to decrease restlessness, learning different new ideas & so on. Through games similarly mathematical concepts were taken up & demonstrated as to how children will get clarity in these concepts which will smoothly assist them in learning like before, after, higher, lower & so on.
Vijaya Ma'am used demonstration technique to show the teachers how to tell stories though teaching skills & techniques of Voice modulation, facial gestures, eye contact & body language. In addition, a session on self-esteem as to how most of us have a low self-esteem & why. The teachers were also guided as to how to strengthen their self-esteem.
In order to have prolong effect of the training assignments have been given in forms of questions, which will help the teachers to reflect upon to improve their work skills.
Weekly training sessions are also being conducted where in Mrs., Shaila Chitnis teaches our teachers to make puppets and how use these puppets to facilitate an interactive session among the teacher and beneficiaries. According to her puppet can help the children to develop language skills as when the teacher uses puppet and speak as puppet, children listen and identify from where the sound is coming, once they realize it they try to understand the relation between the sound and the movement of the puppet. This activity makes them think and learn in fun way.
These sessions are having a positive impact as apart from the regular academics, study material the teachers are trying to focus on how beneficiaries can develop their knowledge and learn in a simple way with some game based study interaction. Such as Alphabets recognition with the use of Name cards, pista shells, 01 to 10 numbers counting with the use of cold drink bottle caps, recognition of Ascending and descending numbers by jumping on that particular number box (01 to 10 numbers) and Learning with Puppets.
Success story:
Rina* now 4 years old, was just 2.5 years old when she was enrolled in the day care shelter of AAWC. Her mother could not take care of her during night due to exigencies of her work. Her mother is highly active in the red light area as a result her mother used to drop her at the day care shelter she realized that her daughter is learning so many new constructive things so she started trusting the organization and kept the child in night care shelter. Initially Rina* used to do sexual enactments and used to hit/bite other children. Thus no one wanted to play with her. In academics also she was very weak as she didn't participate in any activities. However, with staff's perseverance and support, after months, she showed lots of improvement, she not only participated in all the activities but also performed well. She has improved her social skills as well. She has become friendly and she takes care of young beneficiaries, she has also understood the concept of good touch- bad touch. She loves and takes pride in assisting the teachers during the activities.
Pictures: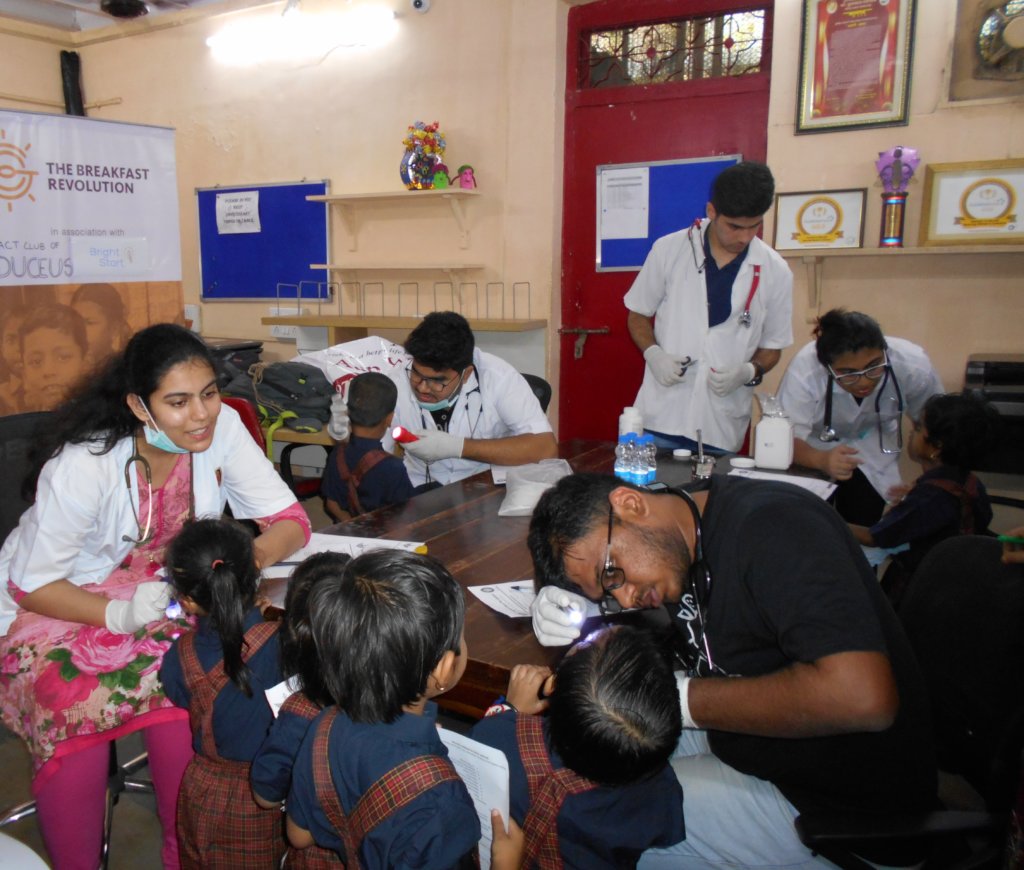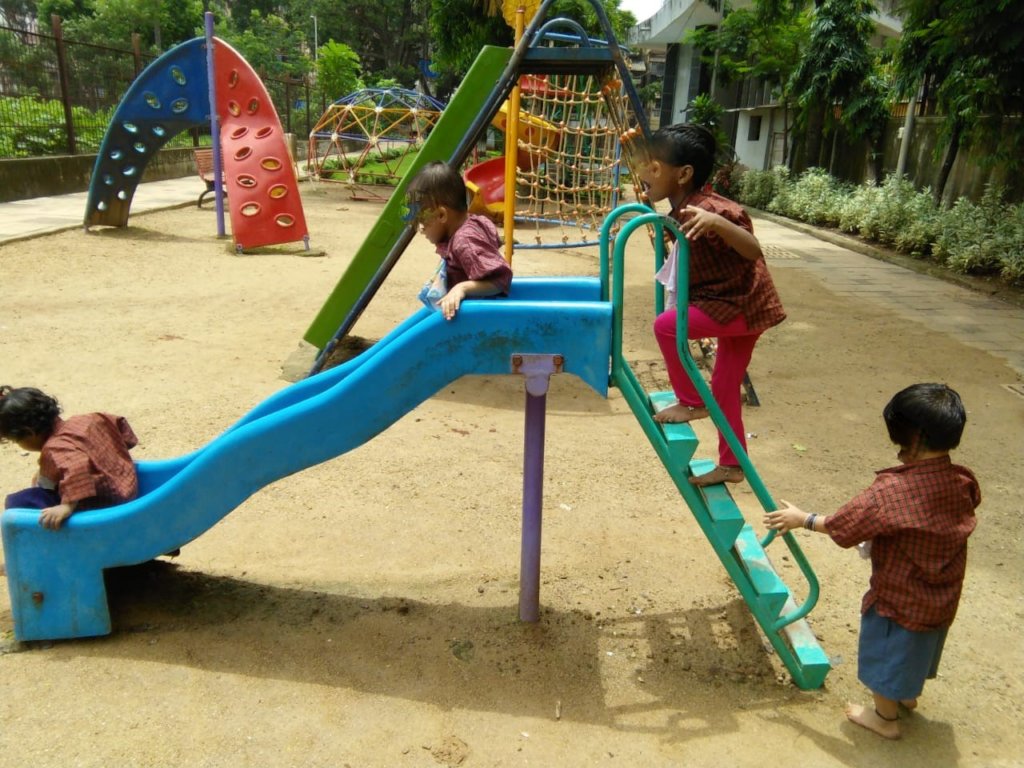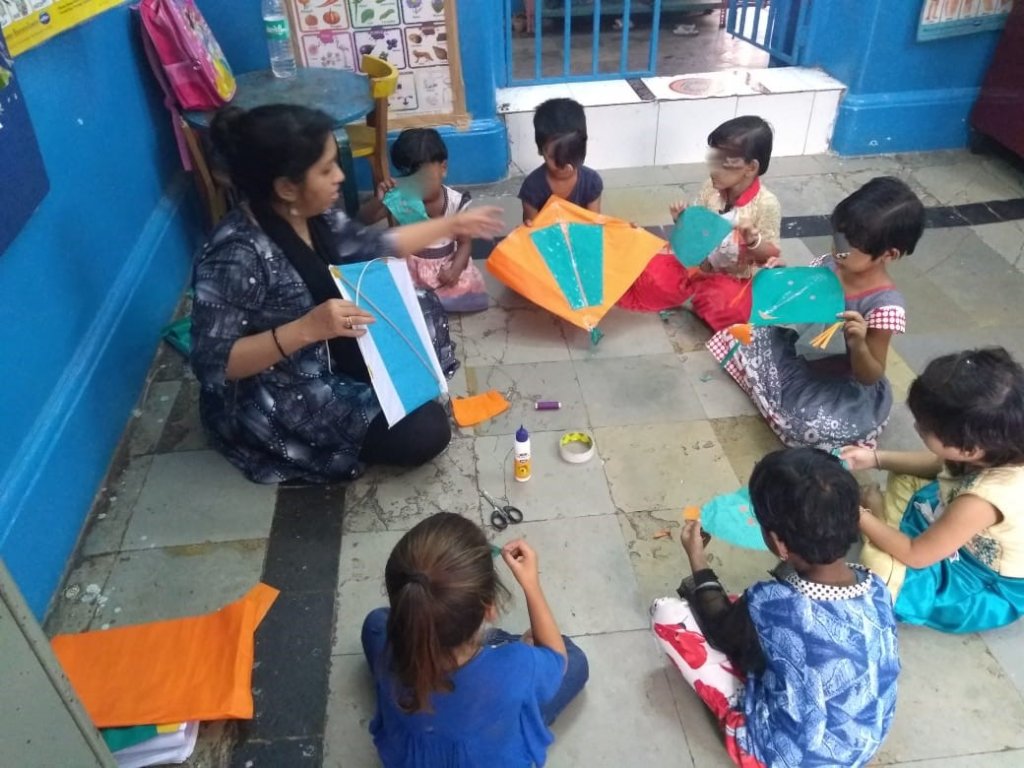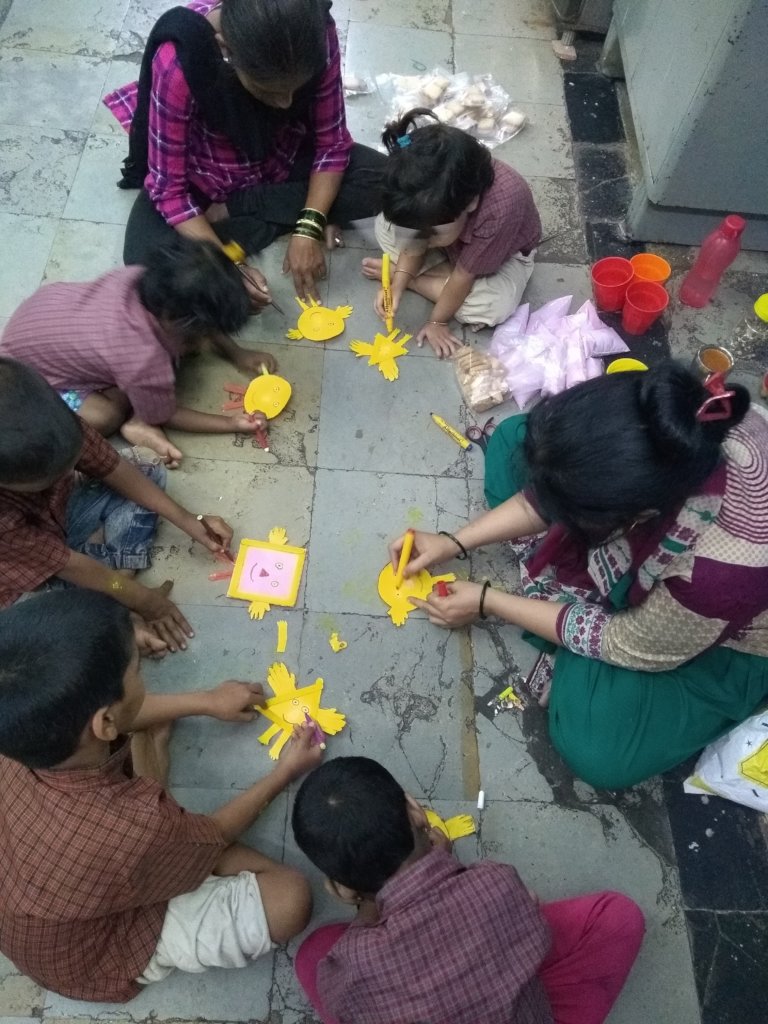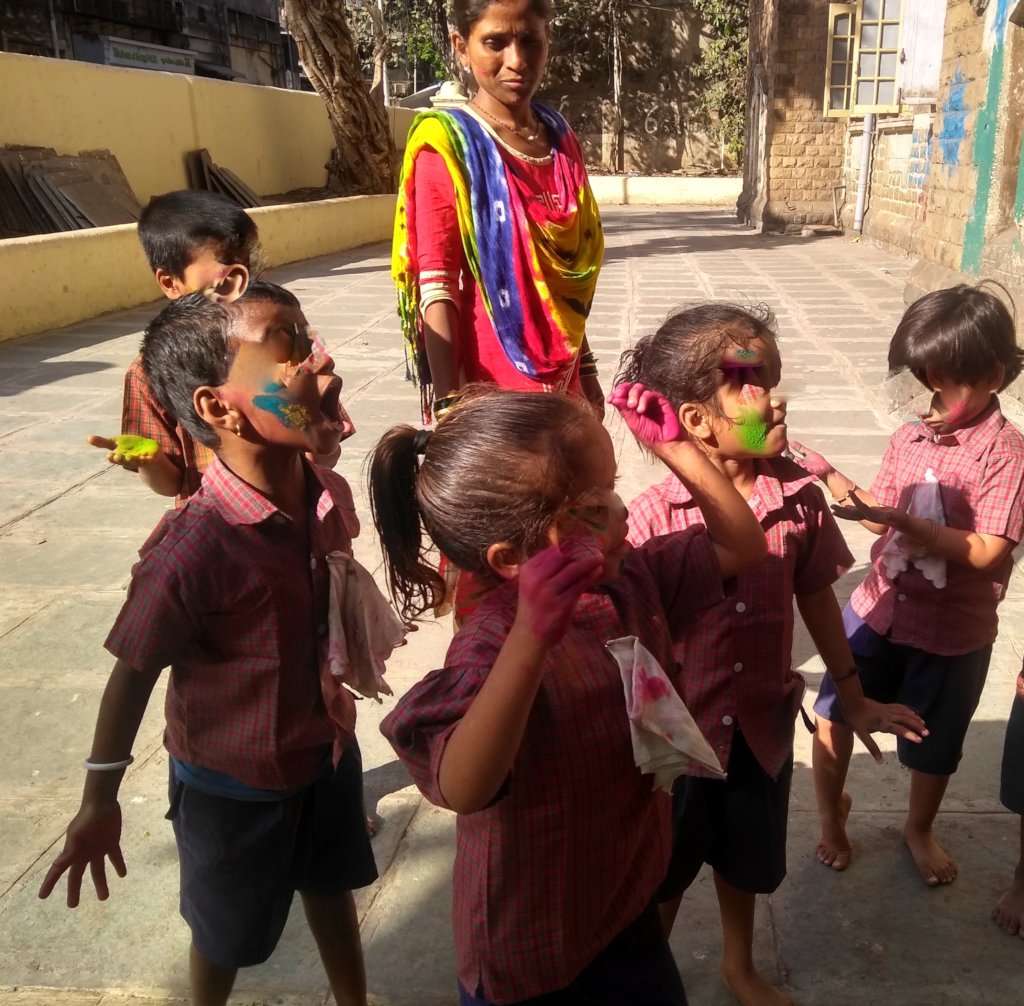 Attachments: