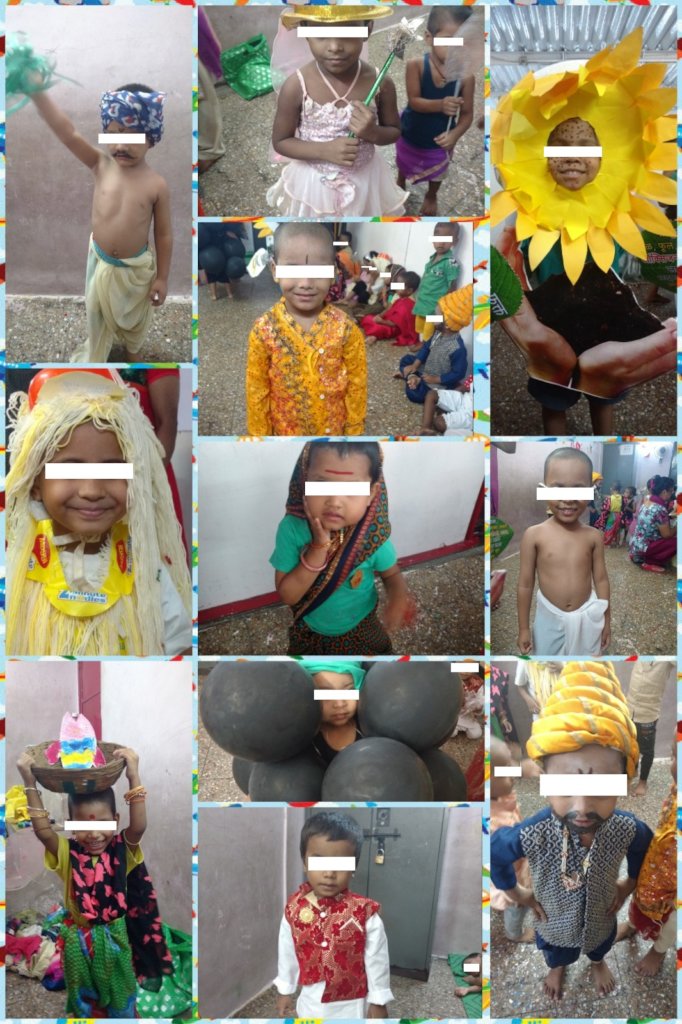 "When Shahid* wrote 1 to 100 on his slate without copying, my heart was filled with JOY. I kept the slate aside and showed it to everyone in the office. I could see how Shahid* was proud of himself. Being a first-generation learner, as his mother is illiterate; she does not even understand poems or oral alphabets that he utters in front of her. Shahid* has become a success story for Umang" – Umang Program Manager.
"You guys are doing excellent work, and these children are so amazing, they are so knowledgeable and well aware about certain things which shows that they are being empowered here. We felt very proud to associate with AAWC."- Gilbarco Team member.
Outreach:
The toddlers of this community are susceptible to many forms of violence and abuse, such as being used as pawns for gambling and drug peddling, being exposed to pornography, physical fights, harassment of their mothers or other female family members, and sometimes even being assaulted by themselves. Considering such an exploitative environment, our outreach team is the first and usually preferred point of contact between Apne Aap Women's Collective and the community inhabiting Kamathipura and Falkland Road, the red-light districts of Mumbai.
With the aid of our dedicated outreach team, this quarter 7 new members joined our Umang program and 516 home visits were conducted to our Umang mothers. Upon enrolments, these beneficiaries have access to kindergarten education (Balwadi), all forms of assistance with their health (ex: referrals, camps, nutritional support, etc.), therapies, interactive activities, exposure and recreational visits and rehabilitative measures like night-shelter house amongst other general support and aid.
Education:
"Teacher, my son has become so used to being at school that when he is at home, he asks me to drop him at school. He says that his teacher has called him to study."- Umang Mother.
This quarter, our Umang beneficiaries continued to learn alphabets, numbers, colors, shapes, Basic English and Hindi poetry and other fundamental literature of a kindergarten. 214 written and oral assessment for our Umang beneficiaries were done in the last three months. Most of our beneficiaries did well in the assessment, and some have even developed their understanding of alphabets and numbers better because of illustrated charts and regular poem practices.
The teacher's in order to improve the method of teaching have started creating teaching- learning material which include making of puzzles and cards in addition they have also started conducting activities like collage making which promotes cognitive development among the beneficiaries.
This quarter to improve the general knowledge of the children the method used by teachers was pictorial representation of famous personalities and followed by special days and the significance. For instance, the picture of Mahatma Gandhi was shown to the Children and then they were explained why Gandhi Jayanti is celebrated this helps develop interest in children's mind and grabs more attention which helps them learn and retain things better.
This quarter we have started a collaboration with International Child Recourse Institute, which work with educating Balwadi teachers in early childhood care and education. We now get weekly visits by specialist Ms. Shaila Chitnis who comes to observe the Balwadi program and then discuss with the teachers about methods of teaching. She has also given illustrations of various activities that will promote the cognitive and physical development etc.
Apart from these assessments and activities, we have also maintained our regular garden visits- while constantly introducing newer games and activities to maintain their attention.
Additionally, this quarter, all the staff at both of our centers have participated in two session on the Juvenile Justice Act 2015 and POCSO act 2012(Protection of Children from Sexual Offence Act 2012). Both these trainings were very successful and staff gave positive feedback and requested more such trainings in the future.
Health and Nutrition:
At AAWC, we place utmost importance on the health and nutritional aid provided to our beneficiaries. Acknowledging the fact that all of our members are from a highly vulnerable and marginalized community, and live in environments that often trigger ill health due to undernourishment - our activities range from spreading awareness on general hygiene, sanitation, and required medical support to holding quarterly health camps targeting specific ailments. We have also arranged periodic supply of sourdough breads, healthy salads and sandwiches, which complement the beneficiaries' daily meals with varied tastes. MR vaccination to all the day and night shelter children were done.
Along with this, we aid our beneficiaries with specialized awareness programs for their mothers (ex: neonatal care, medical treatments for contagious diseases, seasonal healthcare, etc.), routine medical referrals, nutritional aid provided through a well-designed diet chart, multivitamin and protein supplements, following up with hospitals and doctors, etc. Nutritional aid in the form of healthy and warm meals, protein and multivitamin supplements, moringa (drumstick) seeds and soymilk is provided on daily basis. This quarter, we also had our General Health Camp in October.
Counseling:
Acknowledging the fact that most of our beneficiaries are born into single parents, violent or broken family structures- their first contact with society, we recognize the fact that these toddlers may not have formed satisfying relationships or learnt to emote transparently in their earl childhood. To combat further development of their emotional instability and prevent any mental health crisis in the future, we hold various therapy sessions with our Umang beneficiaries. This include art therapy and referrals to external experts for aid with severe mental health issues.
Empowerment:
This quarter, we focused on the procurement of identity documents for the children. For those mothers who have birth certificates of their children AAWC has now helped those children get Aadhar cards (social security number). We have also discussed saving habits at our Child's future planning meeting where mothers were informed about the opening a savings account process and encouraged to open them for their children. Which lead to two women opening saving accounts after the meeting.
Having noticed that the Umang beneficiaries are closer to the adolescent Udaan girl beneficiaries of AAWC, we realized that designing a few sessions between them might lead to positive changes in both sets of beneficiaries. This quarter, the Udaan-Umang sessions included storytelling and games on the themes of discipline, morals, and kindness. Our Udaan girls had a resourceful and interesting time at these sessions, and have been displaying small gestures of positive behavior like, helping their peers to sleep, taking care of their younger friends, and helping the teachers in managing discipline in classes etc. As assumed, these sessions have led to higher bonding amongst them, with the Umang toddlers finding role models and mentors in their older counterparts.
"My child whenever he sits down for eating, he joins his hand and utter certain words, all my friends look at him and says that my child is very sincere. I know it is all because he comes to AAWC and learns such good habits." – Umang Mother.
We have continued our new activity on social skills this quarter. These sessions aimed at educating the young Umang children on behavior aspects and routine formation. From teaching the children about washing hands regularly before meals to toilet training for the extremely young, these sessions are imperative in creating a fundamentally healthy and socially adept child. We also teach the children about "good touch and bad touch", about not fighting with one's peers and about eating without making fuss.
We also run our own rehabilitative night shelter for the most vulnerable toddlers and adolescent girls of women in prostitution. Acting as a safe space away from the disturbances and brutalities of the red-light district, our night shelter provides a home for many young children who have never known the comforts of a family and healthy living. With a capacity of almost 40 adolescent girls and 25 toddlers, the members of the night shelter have access to all the other Umang activities like education, health, empowerment, extra-curricular, recreational and exposure visits, and celebrations held at our centers.
Recreational Activities:
Activities such as indoor and outdoor games, arts and crafts, story-telling sessions, watching quiz on television, etc. were held this quarter for our Umang beneficiaries. A few of the indoor activities include catch and throw for developing motor skills, drawing, hand clapping games, In and Out etc. All of our beneficiaries have enjoyed these activities, and often look forward to more of these due to the fun and informal nature of such events.
Celebrations:
"Teacher, Aap Kitne thak Jate honge na harr roj" (Teacher, you must be getting tired daily). These are the words uttered by one elder Umang beneficiary as she was exhausted by enacting one Balwadi (Kindergarten) teacher and teaching younger Umang beneficiary during Teacher's Day Celebration. When she was teaching younger beneficiary ABC the way we teach I felt very proud of myself, as this is the result of our efforts. Hearing all children wishing us Happy teacher's day and Thank you, my heart was filled with Joy. – Umang Balwadi teacher
During this quarter, we have had many lovely celebrations, which have really been the highlights of this period. We have celebrated Gandhi Jayanti on 2nd of October marking the birth anniversary of Mahatma Gandhi.
We have also celebrated Navratri during which our team organized Fancy dress for the beneficiaries; they became flowers, fruits, famous personalities such as Savitri Bai Phule, Chacha Nehru, and Professionals such as doctors, police officer, Vegetable vendor etc. One beneficiary became Maggie, which surprised everyone. In the afternoon, all beneficiaries played Dandiya and Garba (Gujrat State Dance Form) with the teachers and Udaan beneficiaries. All beneficiaries were given their favorite Gulab Jamun (Indian Dessert) sweet.
Children's Day was celebrated by making crafts with paper and they enjoyed watching photos of their previous Diwali celebration.
However, the big celebration this quarter was of course our Diwali celebration for which our Udaan girls had prepared a Diwali performance of drama, dance, singing and games, which our Umang children participated in with lots of joy. Beneficiaries were given new clothes to wear and they made beautiful sky Diwali lanterns, with which they decorated the room. During the celebration they all joined teachers and program manager to dance to the song "Happy Diwali".
Program manager also took this opportunity to discuss with children about how harmful and dangerous firecrackers can be and explained them why they should refrain from bursting them during vacations. Before going home from Diwali break small toddlers were gifted slate and pencil and elder children where gifted notebook and pencil to take them along with them at home.
On 21st December, we celebrated Christmas with all the Umang and Udaan beneficiary. They decorated room with Christmas Tree, red caps, Santa clause made with craft paper and symbols of gifts, chocolates etc. Teachers told them stories about Christmas and why it is celebrated. All the beneficiaries were given gifts in which they got beautiful soft toys. Teachers sang songs such as Jingle Bell Jingle bell along with the beneficiaries. On this occasion they were given Chocolates, and cookies all beneficiaries enjoyed a lot.
Pictures of the Umang beneficiaries activities and celebrations: