Project Report

| Feb 22, 2023
Not for Sale : Rescuing Victims of Human Trafficking -Interim Report for Period Nov 2022 to Jan 2023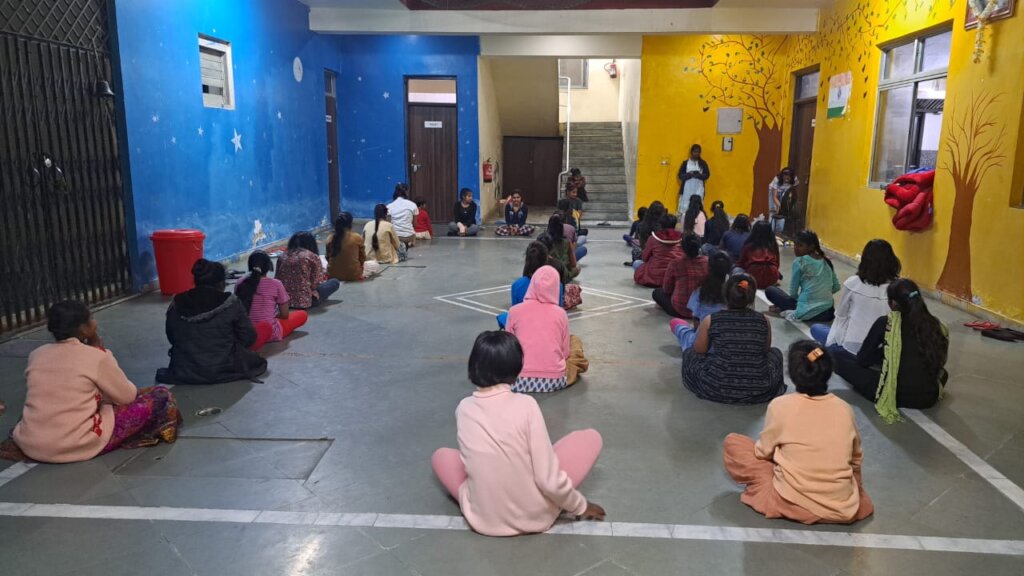 Introduction
The Project outlines the work done by Rescue Foundation in and around the North of India. The Rescue Foundation Team works through the Protection Home Licenced by the Govt in Delhi
Rescue Foundation not only rescues Women & Children who are victims of Human Trafficking across the country but the Delhi Team partners with other Civil Society to rescue children who are trapped in Bonded Labour working as Child Labourers in factories, industries. They live and work in these hazardous conditions exposed to injuries, accidents, lack of basic facilities, at times exploited phyisically and sexually. The sad part is that this most often happens with the knowledge of the parents and relatives.
As the Home is licensed to operate as a Child Care Institute we also see many children being admitted by the Police or the Child Welfare Committees. Most of these children are in need of immediate Care & Attention due to the fact they are run away kids, missing children, neglected or abandoned by their families.
The Home also sees some admissions for one night stay of women and girl children for night stay in case of abuse, or emergency.
Rescues/Admissions/Discharge
Total No of Major Girls Admitted 1
Total No of Minor Girls Admitted 32
Monthly Average of Ghildren Cared 38
Total No of Major Discharged & Handed Over to Families 1
Total No of Minor Discharged & Handed Over to Families 31
Montly Average Girls attendin Vocation Traning
Tailoring 38
Computers Basic 20
Zumba, Yoga, Dance 39
Education
Attending School 9
Attending College 3
Skill Building Training
16 Girls have been attending a Inclusive Skill Building conducted by another Organization. This Program intends to prepare the Major Girls to be job ready at the end of the 9 months training sessons. Topics such as Conversational English, Computers, Mathematics, General Knowldege, Self Images and other sessions are conducted
Success Story
Name of child: Radha (Name changed to maintain identity)
Age-17+
Marital status- Unmarried

Brief Details of the Child:-
The child is a resident of Rescue Foundation(CCI) , as she has been living for more than 1 year
by the order of the Child Welfare Committee Alipur for the care and protection. The child does
not have any connection with family members as her father has passed away during Covid-19
Pandemic and she tried to connect with her elder brother but they don't want to talk to the child,
the child is emotionally attached with one of her friend namely Muskan.
Educational Background
The child studied till 5th class and she dropped out from school due to conflict with family
members and never enrolled in school again.The child wanted to enroll in further education in
10th class from NIOS but her basic literacy is not up to mark.
Emotional and Mental Status of the child:-
The child is very positive and calm by Nature , the child is very possessive towards those people
who are very close to her and she is very emotional towards them, the child is well mannered
and sincere.
Present status of the child:
The child is very calm and has appropriate behavior at the institution also the child is good
command in Tailoring and she design the dresses and stitch that as well as the child is trainer of
Zumba at the institution along with that she is enrolled in Inclusive Skill Training which Job
oriented and the child wants to open her own Boutique, after the technical and advanced
training of Tailoring.
Workshops / Sessions /Celebrations / Department Visits / Exposures
Workshop Conducted by Leo Club on English Speaking
Workshop on Mental Health
Observed World AIDS Day by learning more of the topic and how to prevent it
Management Meet by the Delhi Child Protection Unit
Delhi Darshan for the Children to learn more about and historic places in Delhi
Training and Mock Drill on Fire Safety by the Fireman
Awareness on Personal, Environment Hygiene
Celebrationn of Community Festivals Makar Sankranti & Lohriri
Welfare Officers Visit from the Distrct Health Department