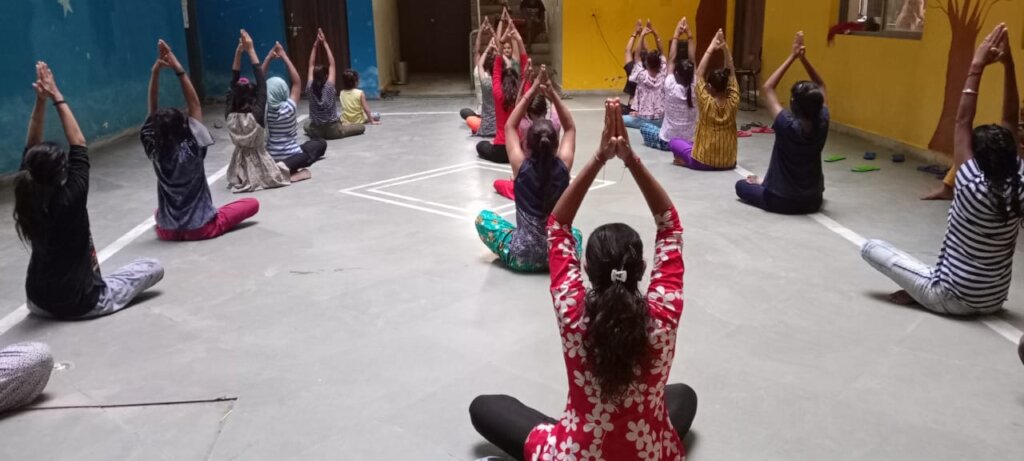 As per the NCRB 2018 data, over two lakh women and children went missing in India.

Over 90% of women and girls trafficked across the globe are forced in to sexual exploitation; they are lured in false promises of better lives, jobs, education, even love. Traffickers prey on their vulnerability and coerce them into prostitution. (Source: UNODC,2018)
In order to make them comply, trafficked women and girls are subjected to physical, emotional, and sexual torture. They are also made to serve 20–30 customers a day. We've also discovered during rescue operations, women and girls are cramped in dark spaces with little to no ventilation.
Since 2000 we've been conducting rescue operations pan India and have rescued over 6000 women and girls. We currently operate 4 fully equipped shelter homes. We are also entrusted by various government stakeholders to provide care and shelter to women and girls rescued by the police and other anti-trafficking organisations.
Rescued women and girls require immediate medical attention and counselling. To ensure that our women and girls receive the best treatment, we collaborate with government and private hospitals as well as engage with mental health groups. We also have in-house counsellors and physicians on call. Each girl has a unique care plan that is established with consideration for her best interests. The girls receive training from a variety of vocational trainings, including computers, tailoring, bag and jewellery making, beauty therapy, spoken English, and basic reading. They are also provided help for their official education through NIOS, government schools, and colleges.
Our residents are also a part of the Children's committee in each home where leaders are groomed to represent the peers and actively participate in the management of the shelter home.

Our legal teams work alongside shelter team and beneficiaries to help them claim compensation and assist the state in prosecuting perpetrators.
Our goal is to help women and girls who have been forced into prostitution, by rescuing them, and provide them with all the support they need to recover and move forward with their lives.
Statistics from 1st February 2022 to 31st May, 2022 of (NORTH ZONE ONLY):
Number of Investigations: 12
Number of Rescue Raids: 08
Number of Rescued Victims: 99
Admitted to our Delhi Home (includes victim transferred from government homes and/or by police): 96
Repatriation of Victims (handover to Parents or Native Ngo): 76
Total Number of Girls Provided with Medical treatment/Check-ups:
• General Check-up: 99
• Hospital Visit: 08
Other Updates:
One of our partner NGO conducted series of webinars on cyber security for our girls in Delhi Home. Girls were informed about multiple cyber scams and how they can ensure their safety from such scams.
In the month of March, with the partnership of Delhi Police, we conducted a 10 days self-defence training workshop. Over 40 girls participated in the workshop and were trained in basic self-defence training.
Celebrations and events an important part of our working, as it helps us to expose our girls to the external world and prepare them to sustain in the society. A major celebration in the month of March was International Women's Day. Our girls rehearsed for group dance and group songs for Women's Day Celebration. They also talked about the strength and perseverance of women and how grateful they are to be born as one.
10 girls from Delhi Home went to Haridwar and Rishikesh for the annual picnic with our founder and shelter team. It was an enriching experience for all our girls.
Recommendations:
To help us raise more money, we would appreciate it if you would spread the word about Rescue Foundation to other potential contributors both domestically and internationally.
We humbly ask you to visit as your visit will give you the chance to personally evaluate our progress and see the possibilities Rescue Foundation has to establish a prestigious position in the field of combating forced prostitution and human trafficking.