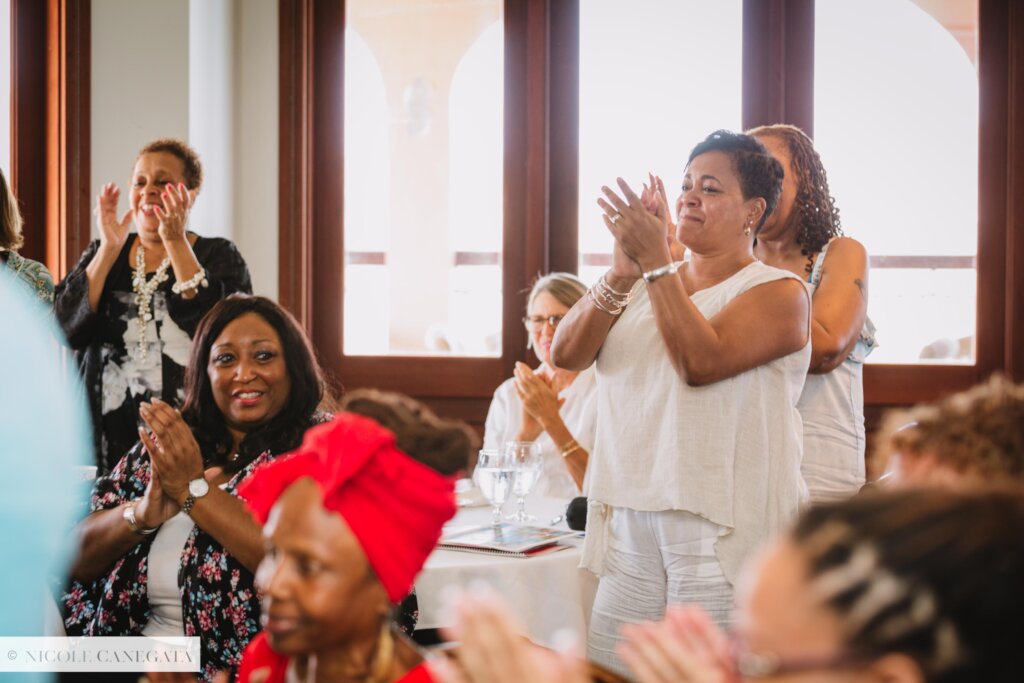 Since our last report in October 2022, a new year has arrived and so, to all of our friends and family at GlobalGiving, we extend our sincere wishes to you for a year filled with good health and happiness.
St. Croix Foundation and our community have been partnering with GlobalGiving now for over 5 years. In that time, we've endured a protracted recovery from two back-to-back Category 5 Hurricanes, a global pandemic, social and political upheaval, as well as industrial threats to public and environmental health. But together, we have remained resilient and grown stronger.
This past quarter, our Nonprofit Consortium has once again been very busy, hosting our fourth environmental townhall to give our people voice while also cataloging the story of our collective work and impact – from data to our lived experiences serving a marginalized people and place. And so, we begin 2023 in full stride, and we hope you know that we are, quite simply, grateful for GlobalGiving's constant presence, advocacy, and friendship.
Community Townhall Gives People a Voice on Imminent Health & Environmental Threats
On October 22, 2022, less than a week after we sent you our last report, the Environmental Protection Agency announced that the oil refinery on our small island, one of the largest in the world, "poses the risk of a fire, explosion or other 'catastrophic' releases of 'extremely hazardous substances'." The refinery, now under the ownership of Port Hamilton Refining and Transportation LLLP (PHRT), was closed in May of 2021 after it "rained oil" on residents. In the wake of its closure, the aging facility (c. 1960s) is still warehousing toxic chemicals that continue to threaten our people and place.
Once again, the stakes could not have been higher, and four members of the Nonprofit Consortium's Environmental Sector – St. Croix Environmental Association (SEA), Crucian Heritage and Nature Tourism (CHANT), VI Good Food Coalition (VIGFC), and St. Croix Foundation (SCF) – again partnered to host another emergency townhall on this critical issue.
On December 15, 2022, the Nonprofit Consortium hosted our fourth Engage VI Environmental Townhall, entitled Ensuring a Safe St. Croix: Status of the Oil Refinery & Next Steps, opening space for community voice and advocating for sound measures to address the "ticking time bomb" sitting on our shores. The U.S. Environmental Protection Agency's (EPA) Administrator for Region 2, in attendance at the virtual townhall, updated the community on the results of the EPA's inspection of the refinery after its closure and outlined their next steps. Ultimately, federal agencies present at the townhall assured residents that they would be monitoring the safe repairs of the facility and removal of the chemical stockpiles throughout the course of 2023 – and that owners would be required to fulfill all regulatory obligations in order to maintain and operate the facility safely. Also in attendance were representatives from the U.S. Occupational Safety and Health Administration, V.I. Territorial Emergency Management Agency, and the Sierra Club National Clean Air Team. 100 people attended the virtual convening with another 200 views online.
Just this week, as we write this report, the EPA has distributed a new press release, announcing that Port Hamilton Refinery and Transportation's application to conduct repairs and remove toxic chemicals from the plant has been "conditionally approved" by the EPA. Repairs to corroded systems will begin in March of 2023 and removal of the chemicals will begin in April. According to Reuters, "U.S. regulators say the new owners cannot restart the plant unless they obtain a Clean Air Act permit, which could cost hundreds of millions of dollars and take three years or more. The owners are appealing the decision, according to court filings."
Since 2019, St. Croix Foundation, alongside three small organizations with no more than 2 staff members each, has been on the frontlines of this crisis by capturing data, bringing resources to community, holding space for community voice— and maintaining open lines of communication with federal regulators and national media. It has been a long 4 years as the fight for environmental justice continues. But through the collective and vigilant efforts of the Foundation adjoined with these grassroots, community-rooted civic warriors – all women – we have already ensured a more equitable and just response.
Moving forward, our Nonprofit Consortium Environmental Sector will continue to be in direct, and regular, contact with the EPA and national network partners to begin planning our next steps and developing our Environmental Justice Agenda.
Our Annual Philanthropy Retreat Returns!
In 2020, St. Croix Foundation, side-by-side with our 30+ partners in the Nonprofit Consortium, hosted our fourth annual Philanthropy Retreat—and then COVID-19 shut the world down. For the next two years, our Nonprofit Consortium members worked on the frontlines of the pandemic, serving a predominantly Black community that was still in recovery from the 2017 hurricanes, not to mention grappling with deadly fumes from the oil refinery.
But the relationships and skills honed among our nonprofit partners since we launched our Consortium back in 2016, in conjunction with the small network of national partners from our first and subsequent Philanthropic Retreats, have empowered us to leverage our collective assets to meet the varied and rising needs of our community. To date, the national partnerships being nurtured have generated over $3,000,000 in funding for St. Croix nonprofits, and the Foundation has also connected local nonprofits to relevant intellectual brain-trusts and funding networks in targeted 'sectors' including arts & culture; the environs; health & human services; and youth & education.
Today, after a 2-year pause due to COVID-19, we are so pleased to announce that St. Croix Foundation for Community Development will be hosting our 5th Annual Philanthropy Retreat this February 16th through February 18th, 2023, on the island of St. Croix. Designed to be an intimate gathering for national and international foundation executives, the 3-day retreat will offer 20 senior executives the opportunity to learn about the inherent challenges and assets of the territory's social and economic landscape. The theme for this year's convening is centered on the power of place-based philanthropies like us, and some of our peer organizations in the rural south and Puerto Rico, to achieve deeper and more holistic social impact and equitable outcomes for marginalized communities. The retreat will also explore and challenge philanthropy's current paradigm, which often serves as a 'funding gatekeeper' that prevents the (equitable) flow of resources to those closest to the ground.
Entitled The Power of Place: Reframing Old Paradigms in Philanthropy to Build Radical New Systems of Equity, Rooted in Place, the invitation-only convening will feature guests and speakers from across a diverse philanthropic landscape, including Association of Black Foundation Executives, Black Belt Community Foundation, The Bridgespan Group, Foundation for Appalachia Kentucky, Vieques Conservation and Historical Trust, GlobalGiving, The Winthrop Rockefeller Foundation, W.K. Kellogg Foundation, and more. Members of St. Croix Foundation's Nonprofit Consortium, Crucian Heritage and Nature Tourism, St. Croix Environmental Association, and the Virgin Islands Good Food Coalition will lead a panel focused on collective impact and environmental justice, with other local nonprofit partners hosting activities throughout the three days.
Because GlobalGiving was one of the very first (and most sustained) partners to join us for our annual Philanthropy Retreat and provided ongoing support for our Nonprofit Consortium, as we roll into our sixth year of convening, we are reflecting on the work we've accomplished together Unquestionably, we know we couldn't have done it without YOU. And, because of you, we are optimistic about the work we will achieve in the future.
Thank You!
Wikipedia defines Ubuntu as a Nguni Bantu term meaning "humanity". It is sometimes translated as "I am because we are" (also "I am because you are"),[2] or "humanity towards others"… [It] is often meant in a more philosophical sense to mean "the belief in a universal bond of sharing that connects all humanity".[3] Here on St. Croix, our civic sector is actively leveraging community-rooted collaboration to fully deploy our assets before, during, and after a crisis for the most vulnerable among us. Every village, every community - every place - has the power within it to confront the most intractable problems we each face. And with partners like GlobalGiving, we will continue to unearth and bring to light the full power of philanthropy--- Together.