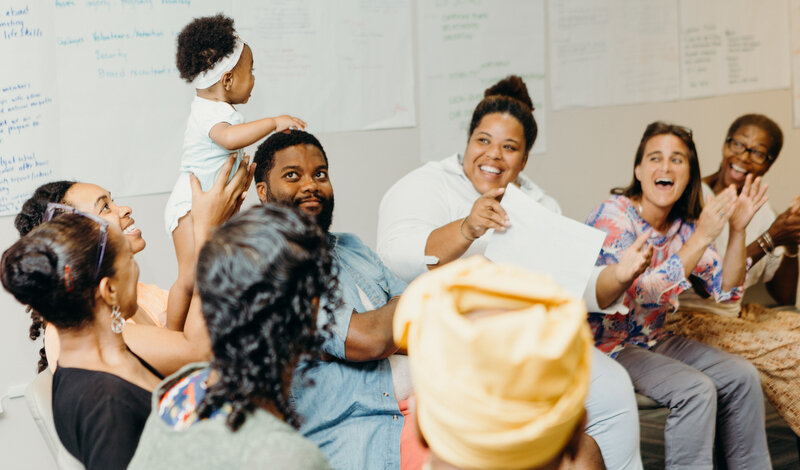 In the U.S. Virgin Islands, our territorial (colonial) status matters in so many ways. Politically marginalized and geographically isolated, our nonprofits actually perform many of the services that municipal government offers with full statehood. And so, when it comes to having a healthy, strong civic sector on the island of St. Croix, the stakes are high indeed – particularly during times of crisis.
In past reports, we've talked about the civic sector as an often overlooked yet powerful driver of equitable and sustainable community advancement. In fact, it is our theory that nonprofits, beyond the critical nature of the direct services they provide, are the "missing ingredient" to informed and effective policy that truly serves and supports the needs of the People. And so, we are pleased to report that in this past quarter, St. Croix Foundation's Nonprofit Consortium continues to turn theory into practice.
This summer, the Nonprofit Consortium led a powerful and informative forum for political aspirants and is laying the groundwork for town halls that will further amplify community voice in the face of gentrification. As we write, we think of our family and friends at GlobalGiving, who recognized early on what could be and helped to bring the Nonprofit Consortium to this pivotal juncture. Thank you!
The 3rd Bi-Annual A-Political Forum Lifts Community to the Center!
As grantmakers, fiscal sponsors, and program administrators ourselves, St. Croix Foundation has witnessed the impact of nonprofits – as collaborators, innovators, and social disruptors, they are capable of serving under extreme circumstances with scarce resources. But their unique ability to represent, give voice to, and intentionally advocate for policies that meet the needs of unseen and unheard members of a community is critical.
Recognizing this, in 2018, our Nonprofit Consortium (NPC) hosted its first Bi-Annual A-Political Forum, presenting the civic sector's "platform" to political aspirants and incumbents during a significant election year. And, this September 28th, the NPC held our 3rd A-Political Forum, entitled Civic Leadership & Shared Power, once again turning the tables on aspiring senators and governors by requesting they listen during the forum rather than speak.
In the 2-hour forum, which attracted over 60 registrants, NPC members presented specific examples of nonprofit collaboration across the Consortium's four "sectors," including (1) Arts, Culture, and Crucian Heritage (2) Health and Human Services, (3) Education and Youth Development, and (4) the Natural and Built Environs. CMCArts, the only accredited museum in the territory, cited its ability to reach cancer survivors with art therapy offered by the VI Breast Cancer Project and expand its educational programming through cross-collaborations with Fueling Youth Reading is Leaders in Training (FYR is LIT). And that was just one example.
NPC members also spoke in depth about the reach, influence, and impact of the nonprofit sector, emphasizing the need for policymakers to collaborate with nonprofits as more than an afterthought. The Women's Coalition of St. Croix detailed the history of specific legislation around sexual assault and the age of consent that it had helped to pass within the USVI territorial government, thereby changing and saving lives. NPC members also spoke about challenges around data collection and some of the current limitations with publicly available data in the Virgin Islands. The St. Croix Long Term Recovery Group highlighted best practices that neighboring islands have implemented around disaster recovery funding, and veteran sector leaders facilitated a discussion about what an optimal collaboration between the public and nonprofit sectors could look like and achieve.
With more than 25 political aspirants and governmental staff present during the forum, our NPC successfully made the case to reserve a nonprofit seat at every table, informing and developing policy. Calls to make public a recording of the forum have been testimony to its impact, again proving what can happen when we harness the collective power of community-rooted organizations.
Forthcoming NPC-led events include a series of environmental townhalls, to cover topics such as brownfield sites and blight, and the redistricting of our historic town to allow development, as well as a series of meetings with newly appointed territorial agency Commissioners to connect them directly with the nonprofit organizations who are doing work within their spheres of influence. Together, the Nonprofit Consortium is changing the way in which nonprofits are perceived in the Virgin Islands, a long overdue phenomenon that will have a direct and positive impact on St. Croix's most vulnerable and underserved residents.
Thank You!
With the increase in natural disasters, heightened political and social unrest, and sudden economic shifts – not to mention the echoes of COVID-19 still reverberating across the globe – policymakers, nonprofits on the frontlines, the private sector, and the field of philanthropy itself are asking the hard questions. How do we achieve equity and justice for the smallest, the most disenfranchised, the most fragile among us? The Nonprofit Consortium is actively proving that an empowered civic sector embeds equity and sustainability into all efforts.
As our President, Deanna James, said at our A-Political Forum, "We fundamentally believe in people and in a just society – and this really is just the beginning." And we thank GlobalGiving for sharing these values and being a part of it all.