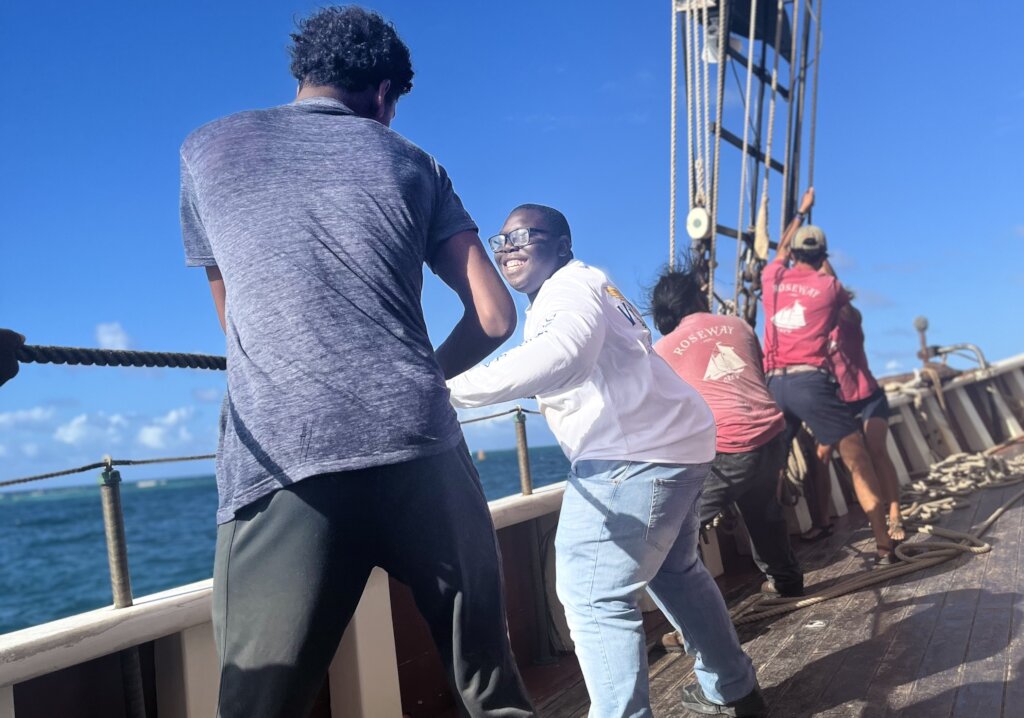 The past few months have been busy for St. Croix Foundation's Nonprofit Consortium as we continue to build capacity around our Nonprofit Consortium for 2022! To date, members of the Consortium have convened six times to plan this summer's activities, which include another town hall series, a professional development series, and an A-Political Forum. As outlined in our last report, the Foundation's goal for this year is focused on identifying new funding opportunities for capacity building for our civic sector. As local and federal recovery dollars from the 2017 hurricanes begin to flow into the community, building voice and power rooted in community is crucial to advancing the wellbeing of every resident. With thanks to all of the nonprofits, national partners, and of course, GlobalGiving, today the Nonprofit Consortium is a bonafide community asset!
Meet the 2022 Nonprofit Consortium!
St. Croix Foundation is pleased to introduce our family at GlobalGiving to the members of our Nonprofit Consortium. As a body, members of the Consortium pledge to collaborate within and across sectors, engage in convenings and workshops, and work toward a unified vision for St. Croix. Our members to date are diverse and represent all four sectors of our civil society!
Caribbean Center for Boys and Girls of the Virgin Islands
Caribbean Museum Center for the Arts
Crucian Heritage and Nature Tourism (CHANT)
Frederiksted Health Care Center, Inc.
FYR is LIT (Fueling Youth Reading is Leaders in Training)
Helping Ordinary People Every Day (HOPE)
Liberty Place
Lutheran Social Services of the Virgin Islands
Music in Motion School of Higher Dance
Per Ankh
St. Croix Council of Elders
St. Croix Environmental Association
St. Croix Landmarks Society
St. Croix Long Term Recovery Group
Virgin Islands Breast Cancer Project
Virgin Islands Domestic Violence and Sexual Assault Council
Virgin Islands Good Food Coalition
Virgin Islands Partners for Healthy Communities
Women's Coalition of St. Croix
World Ocean School
Yvonne A. Galiber Foundation, Inc.
Grantmaking + Collective Work = Exponential Impact!
The past 31 years have taught St. Croix Foundation that funding, while critical, is only part of a formula for equitable social impact. In fact, it is people, unified by a vision, that leads to true change. Recently, our Nonprofit Consortium has proven once again that collective work, coupled with flexible funding, has an exponential impact that is sustainable!
As reported at the beginning of this year, SCF's CARE Fund recently awarded $160,000 to 11 of our Consortium Members for emergency COVID relief with funding from GlobalGiving. In the past three months, SCF awarded another $15,000 to the St. Croix Long Term Recovery Group to provide Disaster Case Management to elderly residents for the renovation of historic properties damaged in the 2017 storms. In total, the CARE Grant has awarded $175,000 in the past six months… but that funding has been leveraged several times over for greater impact and operational and programmatic capacity building.
In testimony to the impact of collective work, a cohort of our CARE Grant awardees has been collaborating on multiple levels and in doing so has achieved a true multiplier effect. World Ocean School, for example, took children and families to the sea through their marine STEM program– and contracted fellow NPC partner, Crucian Heritage and Nature Tourism (CHANT), to offer a cultural and historic tour from the water. World Ocean School and CHANT both expanded access to their programming while also supporting CHANT's operations. While working with World Ocean School, CHANT also provided facilities for FYR is LIT (Fueling Youth Reading is Leaders in Training) to conduct a leadership development session for their teens. CHANT's discounted fee for space allowed for more program funds for FYR is LIT while also powering CHANT's own operations. FYR is LIT also worked with Caribbean Museum Center for the Arts (CMCArts) on facilities and programming, who in turn did the same with the Virgin Islands Breast Cancer Project!
If this sounds like an intricately connected civic system, it should! Organizations flexed and pivoted as needed, found new resources, and met the spirit of the Nonprofit Consortium: collaboration and capacity building for organizations and the nonprofit sector as a whole to serve our People. By themselves, each organization would have undoubtedly had impact – but together they are proving the true power of relational work.
Advocating for Greater Investment through the Community Reinvestment Act
As part of the Nonprofit Consortium's strategy for 2022, we also wanted to provide a quick update on our work to identify diverse funding sources to support our nonprofits.
Recently St. Croix Foundation, joined by CHANT and the Christiansted Community Alliance, presented at the FDIC's webinar, Community Reinvestment Act for Community Based Organizations in the US Virgin Islands: Partnering for Success. Presenting on the impact of the civic sector and community-driven investments, our Nonprofit Consortium partners highlighted the impact of nonprofits and educated the financial community on dynamic, community-rooted opportunities for deeper investments. Together with both the FDIC and local banking institutions, the Consortium will continue conversations around advocating for equity and for creative investment mechanisms that serve to build nonprofit capacity and catalyze deep social impact.
A Townhall to Preserve Place & Create Space for Community
One of the unfortunate realities of disaster recovery is that it often places the well-being of already vulnerable communities directly into the hands of external mega corporations, consultants, and construction firms that do not necessarily reflect the values and vision of the affected people. While development is critical for the island of St. Croix, if it is not directed by the indigenous truths of the people who live here, it will not benefit rank-and-file residents. As defined by the National Community Reinvestment Coalition, "Gentrification is a term used to describe what happens when lower-income neighborhoods receive massive levels of new investment, adding amenities, raising home values and bringing in new upper-income residents. This can lead to cultural displacement, when members of a racial or ethnic group who were longtime residents of gentrified neighborhoods are pushed out."
Today, as local and federal recovery dollars have reached the Virgin Islands, so too have developers. To make room for a massive influx of disaster capitalists, protected historic properties are under threat of redistricting to allow a broader and deeper footprint for development. The stakes couldn't be higher, as all factors known to lead to gentrification are currently in place.
As such, SCF's Nonprofit Consortium is committed to empowering residents to lift their voices, use their influence, and drive the vision for what their neighborhoods look and feel like. To provide a neutral space for convening, this summer the Nonprofit Consortium will host a Community Townhall, during which residents and invited guests will explore policy around redistricting, describe lived experiences with gentrification, disaster capitalism, and most importantly learn about successful stories of community-rooted recovery.
As stated at the Nonprofit Consortium's 2020 A-Political Forum, "development from within" is a model that focuses on building local capacity by placing our Black Virgin Islands culture at the center of business development, putting our people at the forefront of all we do, and celebrating the contributions of our people, culture, and community.
The Bi-Annual A-Political Forum: Advocacy for Nonprofits and the Community We Serve
In response to such threats, since 2018 St. Croix Foundation and our Consortium have been hosting A-Political Forums. Scheduled during election years here in the U.S. Virgin Islands, political aspirants are invited to listen to our Nonprofit Sectors' Platform. When the Nonprofit Consortium hosted its first A-Political Forum, roughly 30 nonprofits came together, with each of the four sectors presenting their impact and challenging candidates to consider the civic sector's platform as the voice of the voiceless and vulnerable in our community.
This year, St. Croix Foundation's Nonprofit Consortium is hosting its Biannual A-Political Forum on September 28th at 7:00pm. Open to the public, the virtual town hall will feature sectors representing (1) Arts, Culture, and Crucian Heritage (2) Health and Human Services, (3) Education and Youth Development, and (4) the Natural and Built Environs. The Consortium will once again invite all candidates on the ballot to attend – not to speak but to listen to each sector present data on how nonprofits in the community are performing, how philanthropic funding is flowing, and what service gaps exist.
Ultimately, the Nonprofit Consortium's objective is to educate potential legislators on the voice and power of the civic sector and nonprofits' role as accountability partners and catalysts of equitable development. As the Consortium confirms details on the Forum, we'll be updating our website and Facebook page.
Gearing Up...
After nearly six years of collaboration and realizing objectives in every priority area – from organizational and sector-wide capacity building to new funding opportunities – the Nonprofit Consortium is demonstrating a new framework for disaster recovery that is profound. With growing appreciation for the ingenuity and courage intrinsic to our sector, the Consortium continues to amass people-power. Today, St. Croix Foundation is gearing up to deepen our support. We're now designing a professional development summer series for our nonprofits and exploring subjects such as board governance, understanding federal funding, and the rules of advocacy for 501(c) organizations.
But, in as much as the Foundation is supporting the Consortium, this effort is also helping the Foundation reframe our narrative about this cadre of community warriors who are shepherding social transformation amid crises. Because here's our reality: our civic partners not only represent a steadying force in our community, but they are also consistently filling critical service gaps while moving the needle forward on equity and social justice issues for the most vulnerable and underserved residents of the U.S. Virgin Islands.
Today, with our sincere appreciation to GlobalGiving, we can report that the Nonprofit Consortium is now poised for even greater social impact work. Thank you!